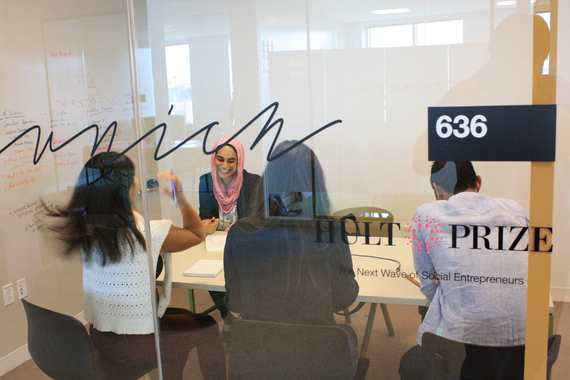 Designing and running a business incubator is no easy task. Yet, startups from Singapore to Nigeria to Boston are being actively recruited with promises of funding, advice, free working space, and great networking opportunities. Although the service model varies greatly based on geographical location, company stage, industry focus, and even compensation model, incubators have gradually become ubiquitous in a new reality where both private and public stakeholders see startups as a panacea for job creation, economic empowerment, and profits. In fact, models like Paul Graham's Y Combinator, which takes a 7% equity stake and whose holdings are now worth in excess of $30bn, have further validated the economics of the space.
The Hult Prize has run an incubator based out of Boston, Massachusetts for the last three years. In that time, we have learned a great deal about how to be effective. In keeping with the incredible pace of our industry, we've pivoted, improved, re-aligned, and re-designed our incubator program almost every year. Naturally, the stage and industry of the targeted entrepreneurs will impact the content being offered. Although there is no formulaic approach to running a successful program, and the ability to adapt on short notice is key, we do see some very strong success factors that we believe position an incubator for the greatest impact:
1.Choose a Governing Philosophy
Based on the length of the incubator as well as the stage of the companies being targeted, we've found that taking a structured and holistic approach is most useful. Although all events and content are optional for all entrepreneurs in the Hult Prize Incubator, we've partnered with leading academics and thinkers to create a bespoke curriculum based on the human-centered design process first pioneered by Thomas Edison in his New Jersey laboratory. His hypothesis was that smart people from different backgrounds create the best ideas when working closely together and testing/ prototyping often. This philosophy, in part, informs the types of entrepreneurs who enter our incubator (multi-disciplinary teams with great intellectual curiosity and grit) as well as the build-up of speakers, workshops, artifacts, and even social events being offered over its course.
2.Provide Ample Opportunities for Feedback
Startups that join an incubator will undoubtedly need to raise funding, find customers, prototype their products and services, and build meaningful partnerships. Every one of those interactions requires some sort of pitch by the entrepreneur. No team will be able to anticipate every question they will receive, but that doesn't prevent them from preparing and practicing with as diverse an audience as possible. At the Hult Prize Incubator, we organize weekly pitching opportunities for the startups with leading external judges in formal spaces hosted by local partners. The judges rank our entrepreneurs every week, run a detailed Q&A with each team, and provide extensive feedback. This forces the teams to repeatedly improve their offerings, simplify their messaging, and constantly iterate. We even invite a panel of 10-14 year olds to serve as judges one week for a different and unique perspective.
3.Plan Social Interactions and Fun
Although most people don't equate running an incubator to party planning, creating great opportunities for networking and community building is an essential factor for success. At the Hult Prize Incubator, we take it to the next level by providing full time living spaces for our entrepreneurs that include shared kitchens, movie nights, family style dinners, and even some informal 'fireside chats'. This year, we partnered with Boston-based Krash to enable this. We've found that living together makes a tremendous difference for our startups (relative to years when they were not). Living together has been an important part of creating a shared experience, enabling personal relationships and building lifelong friendships. In addition to the co-living, we also run social events from picnics to bowling throughout our program.
In keeping with the entrepreneurial ethos, allowing participants to manage their own schedules, decide where to spend their valuable time, and focus on developing actual prototypes, artifacts, and brands are important parts of the co-creation process. Overwhelming startups with back-to-back content through workshops, speakers, and other events can be counter-productive. While we do provide a lot of content at the Hult Prize Incubator, we have learned that keeping everything optional is the optimal way to keep teams engaged and productive. In addition, we limit our speakers' time, and encourage one-on-one sessions that teams can sign up for in advance if they are interested in directed guidance. This helps us save our content providers valuable time. This way, we save valuable time on the part of our often busy content providers.
5.Assign Each Startup a Personal Coach
In addition to the shared content and experts coming through the incubator, startups benefit from having mentors and advisors who can work with them on a day-to-day basis over an extended period of time. In addition to seasoned executives and leaders, entrepreneur coaches add significant value. The experience of starting and launching a successful business is challenging, and there are no better experts than entrepreneurs who have already done this. At the Hult Prize Incubator, we select a group of coaches, and we assign each to work with one team throughout their stay. Some choose to keep working well beyond that period and end up taking equity, and that is a measure of success for us. This year, for example, we were lucky enough to have mentors working with our teams like Larry Slotnick, one of Zipcar's first employees and the founder of Taza Chocolate.
6.Offer Flexible Working Spaces
Entrepreneurs are complex; they are eccentric. While most of the time they are eager to share their idea with the world, sometimes they need a private, protected space where they can be introspective, pivot, and innovate. We found that providing space for each startup, accessible only to them, is as important as providing shared space that includes conference rooms, open plan classrooms, printing and computer facilities, and larger auditorium style spaces. Although the latest trend in working spaces is the open plan office, we find that teams are able to better focus when they're also offered some privacy.
The best speakers, judges, corporate supporters, or workshop managers are those who also engage directly with teams to create value. We started our incubator program three years ago hoping to secure enough content partners and were just thankful that they'd be willing to volunteer their time, knowledge, and/or space. Over time, we pivoted to focus on those who could also invest, partner, advise, or otherwise support our startups. MASS Design Group's CEO and Founder Michael Murhpy, for example, ran a great workshop this year but also partnered with one of the teams to design their physical space. Mintz Levin's Kristen Gerber spent at least 40 hours providing legal advice to our entrepreneurs for free beyond her initial speaking engagement.
The Hult Prize Incubator is a critical component of our annual acceleration program, which runs for 12 months and both culminates and re-launches at the Clinton Global Initiative meeting in New York every September. Each year, we seek to improve our offering to the entrepreneurs in a significant way, and like our entrepreneurs, often iterate, pivot, and innovate to adapt with each new cohort and the changing sector. Although not every incubator will be run in a similar manner, these principles are essential building blocks that will ultimately lead to better outcomes, and more successful entrepreneurs.
Related