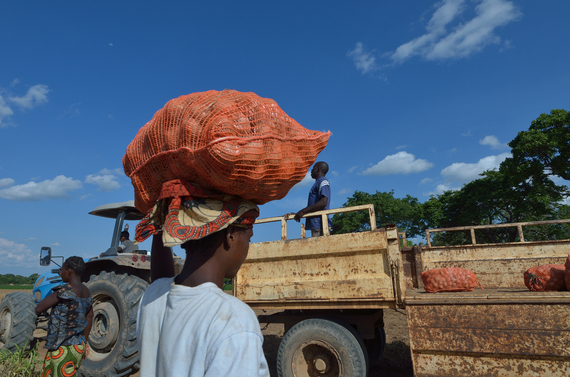 The adoption of the Sustainable Development Goals and the Paris Agreement on Climate Change were compelling victories for global diplomacy. Yet these successes only mark the beginning, not the end, of the road. It is now our collective responsibility to ensure that we turn our promises into bold action. For no region is this more important than Africa, where despite more than a decade of growth, millions of people still suffer from poverty and hunger, or are threatened by conflict, instability, or environmental destruction.
While all issues identified by the SDGs are important in today's interconnected world, there is one area where urgent action can disproportionately increase prosperity in communities across Africa. This critical area is African agriculture and food systems. A healthy and well-nourished population is a prerequisite for eradicating poverty and driving equitable growth, and yet in Sub-Saharan Africa, one in four people are still chronically short of food and millions more lack proper nutrition. These numbers are likely to get worse due to rapid population growth and the impacts of climate change. Yet, Africa's agricultural potential is huge and it can be unlocked.
First, we have to significantly increase productivity. Cereal yields in Africa are lower than half the world average. This is not, as anyone who has visited rural Africa knows, due to a lack of effort by African smallholders. It is because farmers lack appropriate resources, critical inputs such as high-yielding seeds, and modern technologies. Adopting efficient policies and scaling-up investment in agriculture, including in research, development and innovation, is crucial for improving both the productivity and sustainability of agriculture. As floods, heat waves and other extreme weather events become more frequent and more severe, farmers need access to drought and heat-tolerant crop varieties and smart irrigation technology.
Second, we have to connect smallholders to markets so that they can sell their produce. This primarily requires governments to invest in the necessary rural infrastructure, but corporations also have a crucial role to play. They can expand links with farmers' organisations and local agribusinesses and share market access with small-scale farmers in order to develop the value chain. Responsible companies now understand that businesses can benefit from working in partnership with local communities and become a source for growth and stability.
Third, we must ensure that agriculture and food systems improve nutrition. Meeting the different nutritional needs of African communities is key to beating hunger and would help millions of children to live healthy and productive lives. Decision makers need to adopt policies that help smallholders produce nutritious foods such as vegetables, pulses, and fruits, and invest in the development and promotion of new, more nutritious crop varieties that are rich in vitamins and minerals.
As Kofi Annan will stress in his remarks at the 7th Creating Shared Value Global Forum in Abidjan on June 21, a strong and sustainable agricultural sector is crucial to building prosperous societies in Africa. It is for this reason that the Kofi Annan Foundation launched the African Food Systems Initiative, which brings together leaders from all sectors to assist smallholder farmers to increase productivity, enter the value chain, and produce commercial surpluses. If we get this right, we will not just drive inclusive economic growth and employment, but also help make Africa the world's next breadbasket.
Fabian Lange - Associate Research Officer at the Kofi Annan Foundation.
The Kofi Annan Foundation mobilises political will to overcome threats to peace, development and Human Rights.
This post is part of a series produced by Nestlé, in conjunction with the Creating Shared Value Forum (21 June, Côte d'Ivoire, 9 am CET). The Creating Shared Value Forum brings together high level panelists such as Kofi Annan and Michael Porter to discuss how governments, civil society and the private sector can work together to address major socio-economic challenges and accelerate sustainable development in Africa. For more information about the Forum or to follow the event live, click here.
Popular in the Community