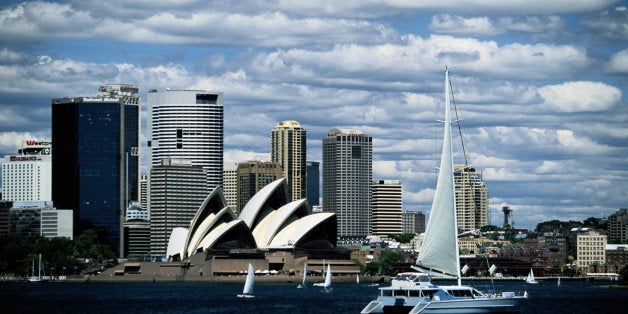 Once averse to high-density living, Sydneysiders are driving an unprecedented apartment boom, which should be good for the environment -- but it's costing us and our climate more than it should.
With more than 100 apartments going up in the City of Sydney a month, the market has exploded. The previously industrial Green Square district, between the southern CBD and the airport, is going through such rapid growth that by 2030 it's projected to be Australia's most densely populated area at 21,000 people per square kilometre.
People are moving into these areas for the convenient access to employment, shops and cultural life, and high-density living can be more sustainable. But on average, the current design and operation of high-rise apartments means they cost more to run and have a bigger environmental footprint than standalone houses.
At first glance, this seems counter-intuitive. How can so many people sharing a building be less sustainable than a family living in a free-standing house?
The answer is that up to 60 percent of the energy used in high-rise apartments is in the common areas -- the lighting, the lifts, large fans running 24/7 in car park basements to maintain air quality, pool pumps and so on. Water is not separately metered, offering no incentive to be water wise.
We can fix this. What it would take is a mix of state and local policy initiatives, and there's a window of opportunity to make those changes at the moment, with relevant reviews and legislative-reform processes underway. And in doing so, we'd be setting an example for the UN's Sustainable Development Goal 11, Sustainable Cities and Communities.
In 2013, the City of Sydney ran a trial program with 30 inner-city apartment buildings, and the results were promising. Buildings that took part in the Smart Green Apartments program dramatically reduced their water use (by 25 percent) and energy use (by 30 percent), saving an impressive $90,000 per year on average.
The savings were achieved through simple measures that paid for themselves in two to four years, such as installing LED lights, light sensors in common areas, upgrading fans and other equipment.
If strata managers and owners' corporations were able to build the awareness, knowledge and capacity to implement these changes, it would translate to far more sustainable buildings, and significant savings for owners and tenants.
Right now, there are three significant opportunities to drive these changes and significantly improve the sustainability performance of apartment buildings.
First is a review underway into the NSW Government's environmental targets for apartments -- known as BASIX -- which require new dwellings to reduce their environmental footprint against a "baseline" or "standard" building. As it stands, the BASIX target for apartments is half the target for stand-alone dwellings and the baseline has not been updated in more than a decade.
With the rapid pace of technological change, there are now many more cost-effective ways to save energy and water. The review, which started more than two years ago, proposes a very small increase in the BASIX target from 20 to 25 percent. Our work shows a target of 55 percent could be achieved with measures that would pay for themselves in under two years.
Second, a Strata Bill currently under development by the NSW Minister for Fair Trading includes a commendable proposal to require contributions and sinking funds to address maintenance issues, which left untouched can become expensive time-bombs. This is a great opportunity to make measures to maintain and improve the resource efficiency of a building part of the building's routine management.
Third, it's time we put in place performance benchmarks for apartments with mandatory disclosure on sale or lease, as with residential buildings in the Australian Capital Territory (and commercial buildings in NSW), which would give the market a clear incentive to invest in greener buildings.
It's always cheaper to design buildings the right way the first time, rather than fix them later, and in the next eight years, 90 percent of the 20,000 new buildings to be built will be high-rise apartments.
In July alone, the City of Sydney council received a record 2,400 development applications for new apartments -- so we know this apartment explosion will continue. It's a positive trend, because Australia has one of the biggest ecological footprints, but if high-density is to work we need to modernise the policy settings so residents moving into new apartments are moving into sustainable, affordable homes.
Sydney is a member of C40 Cities Climate Leadership Group, and has committed to the global Compact of Mayors.
This post is part of a series produced by The Huffington Post, "What's Working: Sustainable Development Goals," in conjunction with the United Nations' Sustainable Development Goals (SDGs). The proposed set of milestones will be the subject of discussion at the UN General Assembly meeting on Sept. 25-27, 2015 in New York. The goals, which will replace the UN's Millennium Development Goals (2000-2015), cover 17 key areas of development -- including poverty, hunger, health, education, and gender equality, among many others. As part of The Huffington Post's commitment to solutions-oriented journalism, this What's Working SDG blog series will focus on one goal every weekday in September. This post addresses Goal 11.
Support HuffPost
The Stakes Have Never Been Higher
Related
Popular in the Community