In early August, Pittsburgh residents will have a precious opportunity to redistribute all of their "gently used" stuff to nine community organizations and non-profits in one fell swoop via the 2nd Annual Pittsburgh ReuseFest.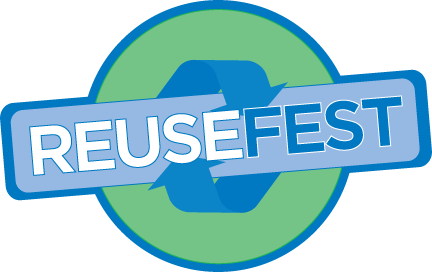 This four-hour event is a relatively simple concept -- you pull up your vehicle with all of your stuff, volunteers unload and sort it among the nine organizations. You don't even have to sort! And off you go after completing a very short form.
The first event in 2012 drew nearly 200 carloads and generated a lot of donations including:
30 bikes for Free Ride Pittsburgh plus assorted parts and tools
1,000 pounds of building material for Construction Junction
Over 400 reusable tote bags for the region's food pantries
Over 100 pounds of reusable medical supplies + 50 devices for Global Links
The event was so successful that Goodwill Industries had to send a second truck to the site to transport the excess donations. Organizers have addressed that by moving the event location to the Goodwill headquarters to make it more convenient to manage. This has the added benefit of increasing the sustainability by reducing the number of trucks traveling around the region for an environmental event.
But beyond the good feeling of sharing our excess material goods, does this really have an impact on the "culture of reuse?"
For 20 months, I coordinated a Pittsburgh reuse project -- we collected gently used tote bags for distribution to the region's food pantries. We collected people's extra bags, we collected corporate donations and we collect excess promotional items. We collected over 30,000 bags plus thousands of other items including reusable travel mugs, pens, binders and many many chip clips. The project's huge success was our ultimate downfall -- what began as a human services effort to support the 200,000 neighbors relying on food pantries evolved into an environmental project and quickly morphed again into a full-fledged logistics and inventory operation. It was far beyond the scope of a group of volunteers to continue this effort without funding, storage and other business tools.
So what impact did 20 months of intensive awareness raising on reuse have on the general culture? My sense is that not much. Yes, we put 30,000 bags into the hands of people who needed them, but we had no way to measure if they themselves reused the bags. Certainly a win for dignity and practical access to food (you try carrying 50 pounds of food on the bus with two kids using flimsy donated plastic bags) but even trying to address reuse was an assault on dignity and the realities of people living in poverty.
What about the donors? Do I see more tote bags in use? Not really. I have my own nice stash, but still forget them. We had a campaign in mind to promote reuse -- in true Pittsburgh vernacular "Yinz Got Your Bags?" but we never reached the point of implementation. I recycle more now because I learned A LOT about recycling, but that's a serious challenge -- recycling does not lower consumption and doesn't necessarily do enough to offset.
The major takeaway for me was that people do have stuff that can be reused, even if they themselves aren't the ones to do so. Everyone has extra tote bags (and bottles, pens and other "swag".) Many people have building supplies leftover from projects or bikes their kids outgrew. A lot of us have half a ream of bright pink paper shoved in a drawer from that one time we had to print flyers. And the amount of excess inventory in the promotional products world is staggering -- it was not atypical for someone to ship 500 bags to my home.
We have a lot of stuff. We have neighbors who need stuff to increase the quality of their lives and strengthen their day to day survival. What we don't have are enough connectors, enough systems to efficiently get the stuff from the people who no longer need it to the people who very much do.
Pittsburgh has a terrific program called "Pittsburgh Cares" that connects volunteers with volunteer opportunities. The United Way connects donors with charities. Our regional Food Bank connects the food industry with hundreds of food pantries and feeding programs. But when it comes to reuse -- its mostly individual, sporadic efforts. One local agency needed forks for their soup kitchen. Fortunately a very popular blogger promote the concept and the forks found their way to the organization.
I can attest that the need for bags is great -- I routinely received calls from agencies in need of suitcases, purses, backpacks and even umbrellas. The biggest barrier for them? Storage and staff to manage in-kind donations. Ironically, it is the recipients of the largesse who have the most to teach the rest of us about reuse - they know how to do it well, often out of necessity (a so-called poverty skill) but they lack the resources to facilitate that redistribution.
So why not a reuse system? Would the operational expenses offset the real cost of these items going to waste? That's an analysis we didn't learn in the School of Social Work. But the success of the Pittsburgh Reusefest suggests that the idea has legs (or wheels.) But who is going to pay for someone to manage redirecting this excess to the organizations that most need it? The manufacturers and retailers? Environmental programs? Human services funding?
For more details on the Pittsburgh ReuseFest, visit the ZeroWaste Pittsburgh website. All of the participating organizations accept donations on a year-round basis so even if you cannot get to the event, you can help your own reuse skills. And if you live in another community, you can call and ask. Soup kitchens can often use tableware. Foster care agencies need suitcases. Just start asking.
Full Disclosure: I am coordinating the presence of the Gay and Lesbian Community Center at ReuseFest which is collecting backpacks, messenger bags and school supplies to help about 50 local homeless LGBTQ students and our youth outreach projects.
Calling all HuffPost superfans!
Sign up for membership to become a founding member and help shape HuffPost's next chapter