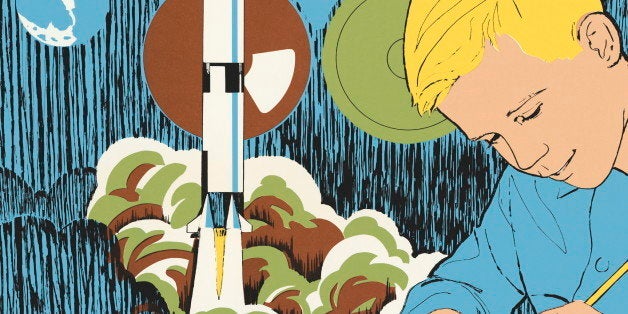 Intellectual stagnation is the root of all darkness. Historically characterized as a period of repression and social disorder, the Medieval era, which lasted approximately 1,000 years after the fall of the Roman Empire, left little to no records of contributions to the fields of art, science or philosophy. Devoid of such treasures, it makes sense that this duration is often referred to as the Dark Ages.
Fortunately, the Renaissance was born, revitalizing art, architecture, literature and science, and marking the transition to the modern era. Today, we are in need of another renaissance -- one that ignites and celebrates academic, business and social impact achievements made possible through STEAM (Science, Technology, Engineering, Art & Math) as one force. This cultural development is imperative for the future of America's prosperity and for elevating the human condition, as science ushers in truth and knowledge and art, by virtue, delivers communication and expression.
With today's emerging technology trends, there has never been a more crucial or ideal time for cultivating a STEAM movement, and for making it fun and engaging. The quest is permeating the U.S. government, being beckoned by our education system and being led by entrepreneurs and the youth.
Case in point: the masterminds behind the Los Angeles-based think tank, Two Bit Circus, are pulling magic out of their sleeves to bring their high-tech, educational STEAM Carnival to cities across the U.S. Rebooting the traditional carnival with lasers, interactive games and robots, Two Bit Circus is in high-octane fundraising mode half-way through their Kickstarter campaign.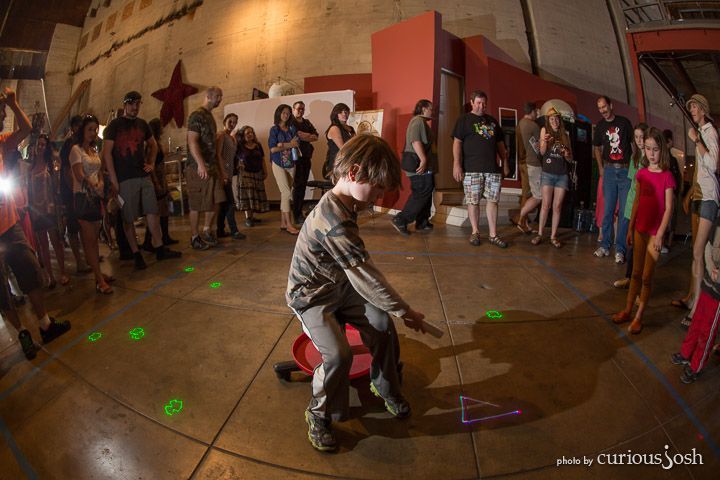 Two Bit Circus headquarters in Los Angeles
Our world is only as limited as our dreams and follow-through. The creators of the STEAM Carnival are living proof that business, education and fun can live as one entity.
"Regardless of the industry, it's getting harder and harder to function in this world without employees with a firm grasp of STEAM concepts," said Two Bit Circus CEO Brent Bushnell.
Whether it's designing, prototyping and fabricating products, implementing, marketing and sales services, STEAM-related disciplines are fundamental to most steps in the process. Businesses must understand that availability of employees trained in these disciplines will keep their products and services competitive in the global market.
To have the competitive edge necessary for successfully navigating today's business landscape, STEAM-minded young people are needed. It just so happens I know a handful.
What We Can Learn From Teens On STEAM
During the last three months, I've had the privilege of collaborating with a group of profoundly compassionate and brilliant teens. Not only have they restored my faith in the moral fabric of our country, they have reclaimed the elements that many times over have made the U.S. great -- imagination and action. After reading this, they'll know that even though I'm far from being a mom, I often call them my kids.
Jack Andraka
Jack is 16. After he won the top award at Intel ISEF 2012 for discovering a non-invasive method to detect early-stage pancreatic cancer, I made it my mission to speak with him. Jack is currently working on a handheld body scanning device designed to detect any disease immediately.
Adora Svitak
Jack introduced me to Adora. At 15, she's an internationally published author, activist and speaker well-known for a TED talk she gave on what adults can learn from kids. Dedicated to social justice, she will undoubtedly end up in the White House one day.
Abby Harris
Astronaut Abby is a 15-year-old girl with a dream of being the first astronaut to go to Mars. This month, she'll be attending a legendary Russian Soyuz space launch as a VIP guest of her mentor Astronaut Luca Parmitano.
Easton LaChappelle
Self-taught inventor, Easton, is 17. Using a 3D printer in his bedroom, he built a robotic prosthetic arm controlled by brainwaves. Yes, brainwaves! This got him invited to the third annual White House Science Fair where he met Jack.
Mariah Reyes
Mariah is a 16-year-old motivational speaker and mentor. As an advocate for the Dream Project, she educates young adults on global issues based on the United Nation's eight Millennium Development Goals. When she was 15 she started a clothing line made from recycled trash.
Naomi Shah
The inaugural first-place winner of the Google Global Science Fair, 17-year-old Naomi is making clean air more accessible to everyone. She developed a biofilter that can be used in heating, ventilation and air conditioning systems.

Daniel Hernandez
Daniel is a 19-year-old professional magician, social activist and an actor currently studying at The American Academy of Dramatic Arts LA. He found his love for performance early on through magic, which led him to the stage.
This group of young people, the STEAM Carnival, and STEM education initiatives such as US2020, which is dedicated to providing one million science, technology, engineering and math mentors to schools across the country, are building the STEAM Renaissance. We are embarking on an era of light and achievement. Let's work together to ensure it flourishes for centuries to come.
Calling all HuffPost superfans!
Sign up for membership to become a founding member and help shape HuffPost's next chapter