We live in a "have it your way" society, where everything is customizable and immediate. From cars and computers to sandwiches and suits, you have the power to upgrade this or downgrade that to fit your needs and preferences.
Humans love options, and having a preference is in our nature. So why wouldn't it be the same when it comes to faucets and toilets? In our work across nine countries around the world providing access to safe water and sanitation, our team at Water For People knows that innovation is key and one solution does not fit all.
Today, an estimated 2.5 billion people don't have access to proper sanitation. That's 2.5 billion different preferences, budgets, and varying levels of access. And in India alone, a country of over 1.2 billion, 626 million people defecate in the open.
Things are changing, and choices and preferences are coming into play in a big way. People want more than a temporary latrine -- they want to own a bathroom that gives them pride.
Together with the Government of India's Ministry of Drinking Water and Sanitation, Water For People is empowering households with the e-Catalogue for Individual Household Toilets. This new Android and flash-based app gives users the opportunity to design toilets from the ground up to fit their needs and their budget.
In essence, it is SimCity for toilets. Customers can design their dream lavatory using various construction materials (brick, fly ash, stones, etc.), a variety of septic tanks, different doors, and an assortment of pits. From there, the tool, which can be used on desktops, laptops, or Android devices, generates an animated image of the design and the anticipated costs. Customers can then download the design and a list of materials to take to their sanitation entrepreneur, Rural Sanitary mart or Point of Purchase -- think of these as toilet malls, one-stop sanitation shops.
This is all part of Water For People's mission, and specifically its Sanitation as a Business program (SaaB), to increase the demand for household toilets, which ultimately improves health and reduces open defecation -- a major issue in rural and impoverished regions around the world.
"Customers can be counseled and motivated to choose the right toilet within their budget," explains Arumugam Kalimuthu, Water For People-India's country director. "Not only promoting livelihood but also safe and sustainable sanitation options."
Steve Sugden, Water For People's senior program manager for sanitation, says that, at its core, SaaB is about creating an industry that "separates and keeps people separated from their shit." It is about working on the ground with local governments and entrepreneurs to drive up demand through subsidies, access, and behavior change.
The Ministry sees the e-Catalogue as a great tool to help them reach full sanitation coverage across rural India by October 2, 2019, under the Swachh Bharat Mission (Gramin.) And they are confident that this "informative, engaging, and innovative" app will be an integral part of their success.
Moving forward they will teach the sanitation entrepreneurs how to use the app and ensure that every household knows it exists. Because when it comes down to it, awareness is key to ensuring continual progress toward achieving full water and sanitation coverage for Everyone Forever.
View how the new app works below, and then visit WaterForPeople.org to learn more about SaaB.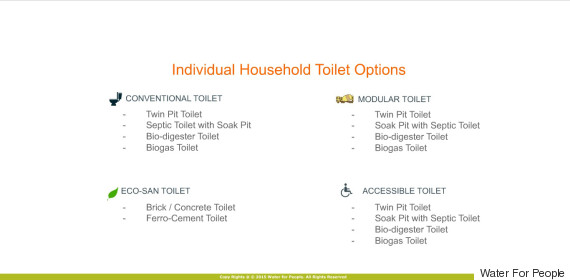 The e-Catalogue gives customers the opportunity to pick the type of toilet that suits their preference and budget. This gives them ownership, and helps them feel more connected to the investment.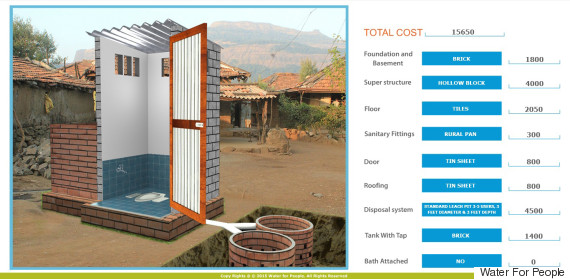 The e-Catalogue gives customers the opportunity to pick the type of toilet that suits their preference and budget. This gives them ownership, and helps them feel more connected to the investment.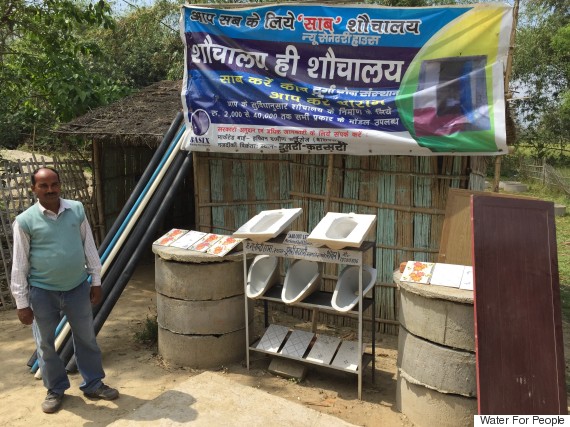 When the customer is happy with their toilet plans, the e-Catalogue generates a design and a list of supplies that can be taken to their local sanitation mart for purchase.