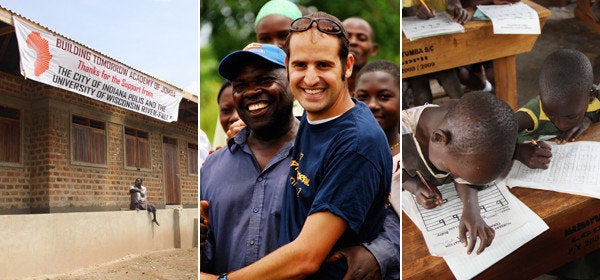 As an intern with the United Nations in the summer of 2004, George Srour was shocked to see primary school children in Uganda eager to learn, but attending classes under trees, or miles away from home.
Back in the U.S., and one fundraising push later, George realized that college students could raise enough money to build an entire school in just six weeks. The idea for "Building Tomorrow" emerged.
To date, Indianapolis, Ind., based nonprofit has constructed seven schools, and five more are in various stages of completion. The schools are built with the help of local communities and the Ministry of Education in the east African country.
At the UN, George was studying a World Food Program initiative that offers students meals and rations in exchange for attending school. "Well, they were called schools, but students were meeting under trees or they were meeting in very substandard places," said George.
He went back to the College of William and Mary, and started a campaign to raise $10,000 between Thanksgiving and Christmas of 2004 to rebuild one of the schools he had encountered. Students at William and Mary ended up raising almost $45,000.
Pondering what to do after college, George decided to replicate the model. Building Tomorrow now works with students at 25 colleges across the country.
College students raise the money, and architecture and engineering students help design the schools. "It teaches that philanthropy is more than just having money, it's being able to apply your talents and skills," George explained.
In Uganda, the Ministry of Education helps identify the areas most in need of a new school and provides teachers. Local residents and future students volunteer a combined 20,000 hours to help construct the building, and community leaders sometimes donate the land.
"These are generally rural, agrarian communities that most of the time, have not seen permanently built school buildings," said George. When there are buildings, they're usually poor structures of mud or adobe that don't survive the rainy season.
It costs Building Tomorrow around $55,000 to build a school for 325 students, complete with classrooms, a library and offices. George said 100 percent of the money raised by college students goes to the construction projects in Uganda. Building Tomorrow raises money for its administration separately.
The school students are as young as six, and as old as 12, although some are older, especially in areas where there was no school to begin with. The students, George said, hold their new school in high regard. He described visiting one of the schools with local representative of the nonprofit, and finding a pile of shoes outside a classroom.
"I asked 'what are all these shoes doing outside of the classroom?' and the country director began laughing and said 'they don't want to get the floors dirty,'" he recounted.
"The thing is, the floors are just concrete. It's not like we have carpet or anything down that they can get dirty. That to me, speaks pretty highly of what it means for these students to be in a classroom."
Some of the students have even planted gardens, growing mangos, tomatoes and eggplant, and producing up to 40 percent of the food they eat for lunch.
George said he was inspired by how driven the Ugandan students are, and the fact that having a school nearby would change their futures dramatically. "Our honorary chairman Archbishop Tutu sums it up very well when he says 'education is the key that will unlock the door to eradicating poverty,'" George said.
"Being in Africa in general right now, it's an exciting time, there's a lot of investment, there's a build up of infrastructure," said George. "But none of that will be worth much if there's not an educated workforce and people don't have the chance to grow intellectually."

Related
Popular in the Community