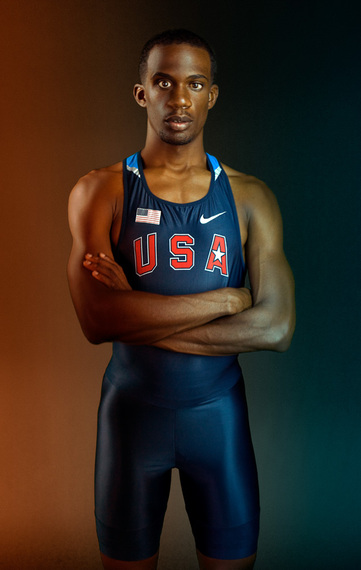 We often use our sense of sight to see our limitations, rarely tapping into the intrinsic vision required to break through to a place where our greatest achievements are met. But, when you live by a faithful vision, and not by sight, the unforeseeable is possible.
Olympian Lex Gillette is an embodiment of this kind of vision. Lex is a reigning track and field world champion and world record holder in the long jump. He has amassed awards and accolades from around the globe. He is also visually impaired. He has no sight.
The essence of what truly makes Lex different from us is the strength of his vision for his life, despite the hurdles. His spirit of relentless faith was cultivated early on in his life, and is rooted in the foundation built inside of his family's home by his mother, Verdina Gillette-Simms.
Before the medals and fame Lex was a normal kid spending hours playing outside with friends and riding his bike in his Raleigh, North Carolina neighborhood. At 8 years old he wrote a lot of stories, had dreams of becoming a lawyer, and never spent much time in athletics. One day while playing outside, Lex's vision began to fade. He went inside his home to his mother and told her he couldn't see. They rushed to the doctor, and he was diagnosed with retinal detachment, and was rushed into an emergency surgery. After his tenth surgery, the family was told that he would lose his sight permanently. Lex took the news of losing his sight like many children would, he thought "am I still going to be able to ride my bike?" His mother Verdina felt the true weight of his diagnosis immediately, "I was emotionally distraught. I did everything I could do to keep my composure around him, but I cried so many nights."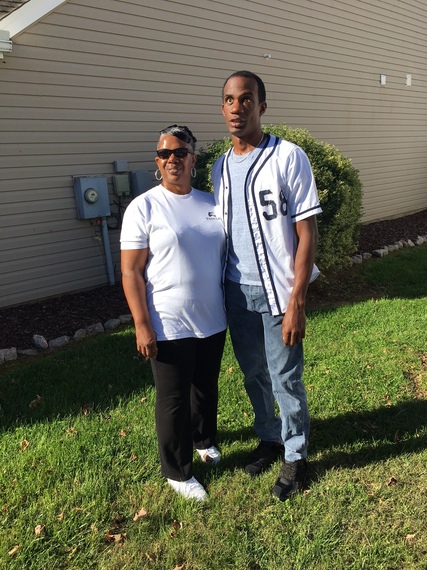 As a woman of strong faith, Verdina prayed, petitioning God for strength to instill the things in Lex that he would need to be self-sufficient throughout his life. Little did she know that her lessons would lay the foundation for Lex to build his life vision, even without sight. "I pushed him, and I told him that the word 'can't' doesn't belong in our house", said Verdina. She taught him that, "it didn't matter how you got there, as long as you got there."
The lifestyle of the Gillette family would change forever, but Lex's mother was determined to make sure that Lex was able to do whatever his peers could do and more. Lex's first lessons in self-reliance would be inside the home. "Mom was ironing clothes one day, I walked in and wanted to try. She showed me how [to iron], then told me I had to do it on my own from now on. I took that mindset into everything I do." By the time he was 13, he was able to do everything around the house from taking out trash to doing laundry, with laundry being one of the more challenging things to learn. "We always used Tide, even when I was very little with her in the laundromat. I remember how she separated the clothes, picked the temperature and poured in the Tide power." Together they eventually created methods of separating his clothes, ensuring the temperature was correct, and now he even uses Tide Pods to make doing laundry easy. "Laundry still isn't on the top of my 'things I love to do' list, but when I'm traveling and have to get it done the Tide Pods makes life easier. My mom always said that even though I couldn't see, my appearance would have an impact in what I do."
Lex gained confidence and self-assurance in those early years working in the home, but those qualities would be propelled into life changing vision once he entered high school. "I was one of five blind kids in [my] school, and after taking a physical education test I turned out to be the best jumper in the school." Lex was approached by his then teacher turned coach, Brian Whitmer, about competing in track and field. "I wasn't enthusiastic. It was scary because I didn't know my surroundings when I was running, but he believed in me and it caused me to believe in myself." Whitmer showed Lex the ropes and figured out how to adjust his training, guiding him by sound. "Before I put my trust in my coach, we were at a standstill. This reinforced the lesson that you can't do it by yourself. I know how to be independent, but some days you need to lean on others."
Through the investment of his family and coach, Lex's tenacity and determination blossomed. The mega-athlete began to envision himself shattering his goals and ultimately started creating those experiences, leading him to become a world class track and field champion.
When asked what lesson he would share from his life experiences Lex said, "There is no need for sight, when you have vision. The vision is the foundation. Set goals, latch on to the vision, and put in the work." His mother, Verdina Gillette-Simms, is thankful she had strength to give her son. "I am in awe. He has truly become an extraordinary young man. I am just proud, and my heart is on overload."
The story of Lex and Verdina teaches us to be models of running toward our vision for ourselves, no matter what challenges we perceive ahead.