NEW YORK― Overpasses and city halls across the country will light the sky pink on Wednesday night as protesters rally against Congress' latest attempt to defund Planned Parenthood.
Supporters of the family planning provider will hold more than 50 "Pink the Night Out" events and rallies in 20 states from coast to coast to speak out against the GOP's American Health Care Act. At least 15 notable public buildings will light up, including New York, Seattle and Portland city halls, as well as overpasses in Buffalo and San Diego.
In Iowa, where President Donald Trump is visiting on Wednesday, constituents will rally outside his event to protest the closure of four clinics after Gov. Terry Branstad (R) signed a bill preventing Medicaid patients from seeking health care at Planned Parenthood.
"We need a massive show of strength to demonstrate just how important Planned Parenthood is to the millions of patients who depend on our health centers for care," Planned Parenthood president Cecile Richards said in an email. "That's why taking action — and participating in our show of force on Pink Out Day today — is so crucial."
"I hope President Trump will be interested in learning about the devastating impact for the nearly 15,000 people who are about to lose their trusted health care provider."
While Senate Republicans have not released the latest version of their health care bill, the version the House passed would block Medicaid patients from visiting Planned Parenthood for affordable contraception, cancer screenings, and well-woman visits. It would also prevent patients from accessing tests and treatment for sexually transmitted diseases. This would strip roughly half a billion dollars in reimbursements from the family planning provider and render it unable to serve more than half of its patients, which would likely force some of its clinics to shut down. In many rural areas, low-income women would then have to travel more than an hour to the nearest family planning provider that can meet their needs.
Politically, the defunding provision is tenuous. A March Quinnipiac poll found that 80 percent of Americans oppose defunding Planned Parenthood when it is explained that the cuts affect non-abortion services. Sens. Lisa Murkowski (R-Ala.) and Susan Collins (R-Maine), both crucial swing votes in the health care debate, support funding the family planning provider, and the GOP needs at least 50 out of its 52 senators to vote for the bill. Murkowski said last week that she is "committed" to protecting the organization in the bill because" it provides greater access for more women, more men and in my state, anything that you do to reduce access is a bad thing."
Conservatives in the Senate are still determined to defund Planned Parenthood now that that the GOP controls both chambers of Congress and the White House. They have been trying to do so for years because some of Planned Parenthood's clinics offer abortions, even though it's already illegal for federal money to pay for abortions.
"We have a strong pro-life majority in the Senate, and so it's going to be in there," Sen. John Cornyn (R-Texas) said.
Trump should take the time while he's in Iowa to examine the impact of four family planning clinics shutting down, Planned Parenthood's president said, warning this is what the rest of the country will look like if he signs a bill that defunds Planned Parenthood.
"I hope President Trump will be interested in learning about the devastating impact for the nearly 15,000 people who are about to lose their trusted health care provider," Richards told reporters on Tuesday. "Their stories are heartbreaking. And it is something that would happen to millions across the country if Trumpcare passes."
Before You Go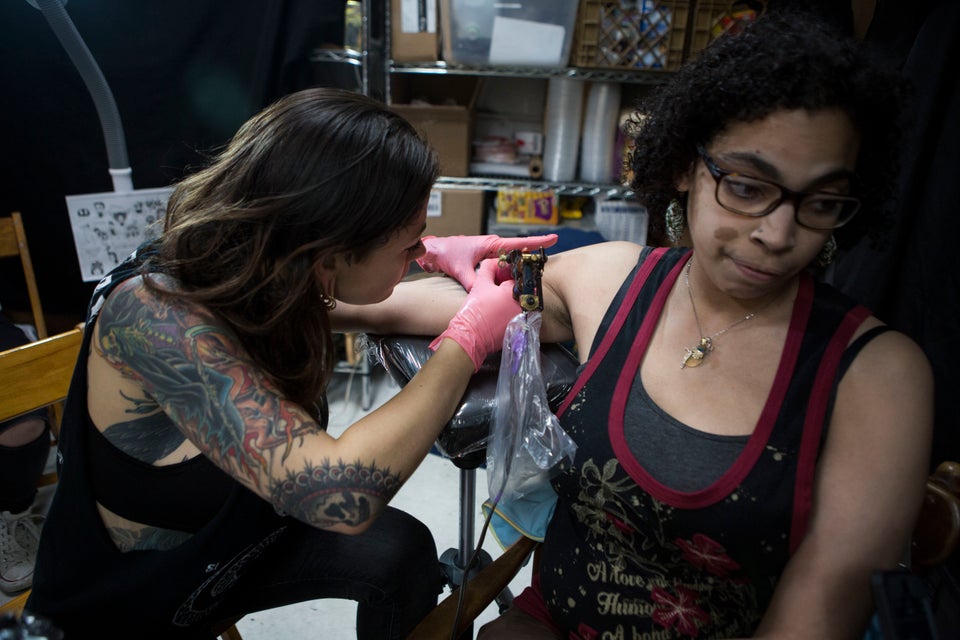 Tattoos for Planned Parenthood
Popular in the Community