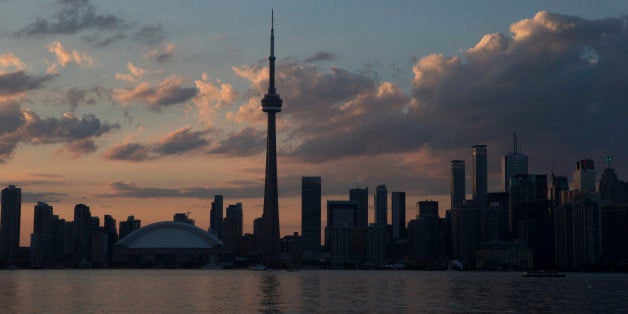 A Proven Set of City Indicators That Can Drive Real Progress Toward SDG 11
Up until now, the very concepts of "inclusivity," "safety," "sustainability" and "resiliency" were defined and measured in countless different ways.
That was until the World Council on City Data began to operationalize ISO 37120 -- the first international standard for sustainable and resilient cities. Most people who know about an ISO standard think of them in the exhilarating context of car parts, elevators, management systems, or manufacturing. Well, ISO 37120 is not your parent's standard.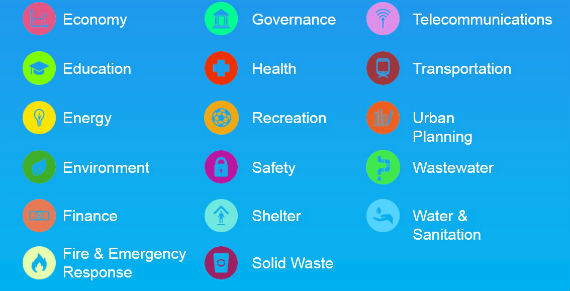 Figure 1
Comprising 100 indicators and 17 themes (Figure 1) this ISO Standard for cities enables city leaders to track and benchmark their progress through a strong and clearly defined set of indicators, with standardized definitions and methodologies, leading to high-quality standardized data. Built -- as the WCCD likes to say -- "by cities, for cities," this group of indicators has been tested (and debated) over eight years by more than 250 cities around the world. To give it its full title -- ISO 37120 Sustainable Development of Communities: Indicators for City Services and Quality of Life -- is exactly the kind of tool that cities around the world can use to measure their progress on SDG Goal 11.
Indicators to measure and track progress on SDG targets need to be universal and applicable across a wide range of national and local contexts. This is where ISO 37120 comes in.
What are cities worldwide already measuring under ISO 37120 that support SDG Goal 11?
Measures for the SDG Goal 11 targets are included in ISO 37120 and cities are already reporting into the WCCD Open City Data Portal on many of these targets following the globally standardized definitions and methodologies approved by ISO. The WCCD Open City Data Portal is an innovative tool for SDG tracking, allowing cities to achieve their goals by sharing and learning from other cities worldwide.
How do people move around my city?
SDG Goal 11.2 states: "By 2030, provide access to safe, affordable, accessible and sustainable transport systems for all ..."
ISO 37120 includes a number of indicators on transit and mobility for cities. For example: ISO 37120 Indicator: "Percentage of commuters using a travel mode other than a personal vehicle" reveals ridership of public transport, which gauges the quality, accessibility, and capacity of the public-transport system.
London is a WCCD Foundation City and is ISO 37120 certified, and using the globally standardized methodologies knows for example that relative to many other cities worldwide, they have a very high rate -- 74 percent -- of commuters using a mode of transportation other than a personal automobile.
SDG Goal 11.6 states: "By 2030, reduce the adverse per capita environmental impacts of cities, including by paying special attention to air quality, municipal and other waste management."
ISO 37120 measures air quality and solid-waste treatment and includes a number of indicators. For example on air quality, ISO 37120 indicator PM2.5 measures particulate matter in a city's air -- Melbourne, for example, has a very low measure of PM 2.5.
Further on air quality, ISO 37120 indicator "Nitrogen Dioxide (NO2) Concentration" citizens of Amman (another WCCD Foundation City ISO 37120 certified this year) can ask: How clean is my air? and know Amman has recorded a relatively low level relative to other global cities. ISO 37120 also includes the core measure of Greenhouse Gas Emissions for cities, the Global Protocol for Community-Scale Greenhouse Gas Emission Inventories (GPC).
ISO 37120 indicator "Percentage of solid waste that is recycled" shows that Toronto recycles 54 percent of its solid waste. With standardized data, cities can see how they are doing relative to their peers on this indicator, helping to set targets and benchmarks. (See Figure 2)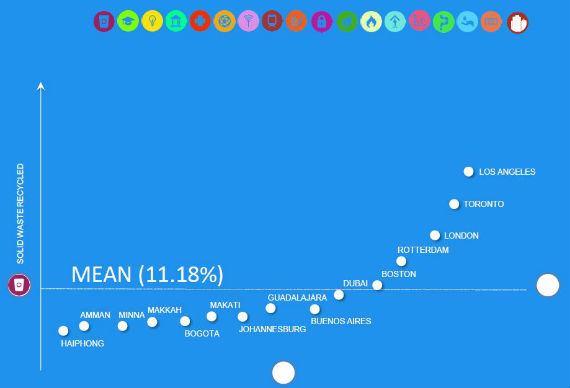 Figure 2
SDG Goal 11.7 states: "By 2030, provide universal access to safe, inclusive and accessible, green and public spaces ..."
ISO 37120 Measures: Green area (hectares) per 100,000 population.
Johannesburg has been ISO 37120 certified and their reported data uncovers a high level of green area throughout the city relative to other cities globally.
ISO 37120 is for Cities, but Also Supports National Governments to Report on SDG 11
Although ISO 37120 is an international standard for cities, it is also important to national governments and countries are now adopting ISO 37120 as a national standard. ISO 37120 allows cities to provide national governments with globally comparative, standardized data across their cities and report on SDG Goal 11 in an informed way.
A Call to Action -- Building a Culture of Data in Cities
SDG Goal 11 is a singular opportunity for cities around the world to take hold of their futures and truly become "inclusive, safe, resilient and sustainable." Globally standardized city data is essential and it will change the way that cities look at their future. To see how -- go to www.dataforcites.org and follow us on twitter @WCCityData.
This post is part of a series produced by The Huffington Post, "What's Working: Sustainable Development Goals," in conjunction with the United Nations' Sustainable Development Goals (SDGs). The proposed set of milestones will be the subject of discussion at the UN General Assembly meeting on Sept. 25-27, 2015 in New York. The goals, which will replace the UN's Millennium Development Goals (2000-2015), cover 17 key areas of development -- including poverty, hunger, health, education, and gender equality, among many others. As part of The Huffington Post's commitment to solutions-oriented journalism, this What's Working SDG blog series will focus on one goal every weekday in September. This post addresses Goal 11.