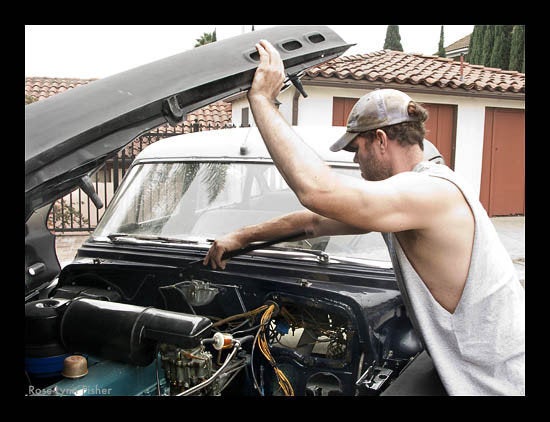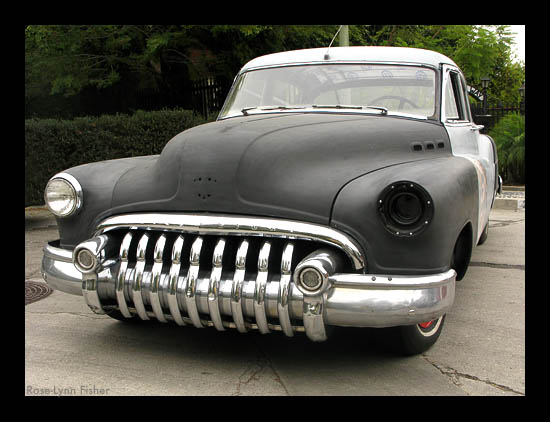 This Buick was born in 1950.
What drew me in were the red rims of promise flanking its gray body. As an old friend used to say, art is where you find it.
The hood was raised and a guy was leaning over the engine -- he was wearing two-tone gray clothes and looked just like his car, like how people match their dogs. As I passed by I remarked "You're perfect together -- all you need are red shoes." So Sean King and I got to talking and he told me about how he found this car in a field in Kansas, all rusted and dented, its future dim till he showed up.
He said the car is a magnet for conversation -- people stop to talk with him all the time, but that most of all he loves talking with older men, especially WWII vets, because of the stories they tell him about their life and in particular their own adventures with this model, back in the day. (He pointed out the extra-wide back seat, provenance of many a boomer.)
A thirty-something himself, Sean remarked, "I love the concept of old and young learning from each other -- but there aren't so many opportunities to have that kind of give and take. When you strip all the stereotypes away there's so much to learn from one another: the older generation was selfless - they worried about each other more than themselves -- the younger generation tells the older what's going on now, what's new, so they can stay up to date."
He fills in the dents with a putty called Bondo, and explains to me how "the dents are still there underneath, like scars, but the Bondo just smoothes out the imperfections."
A soulful guy, leaving the patina as he brings a new chapter to this car's life, restoring it to all it can still be. Even after being junked out there in the field, forsaken to the elements, he said, "It started right up!"
Love is where you find it.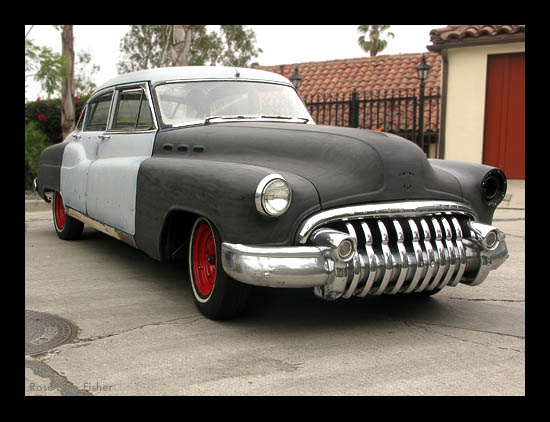 1950 Buick Super Sedan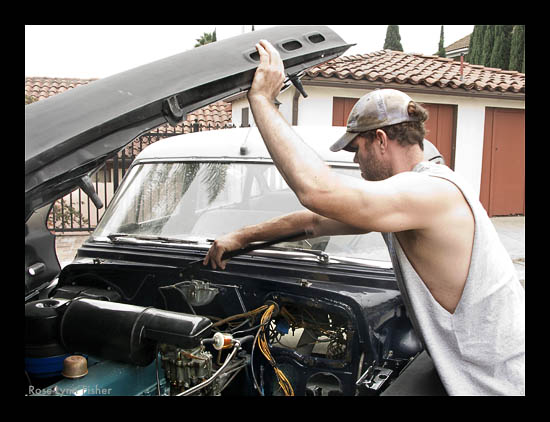 Sean King of the Buick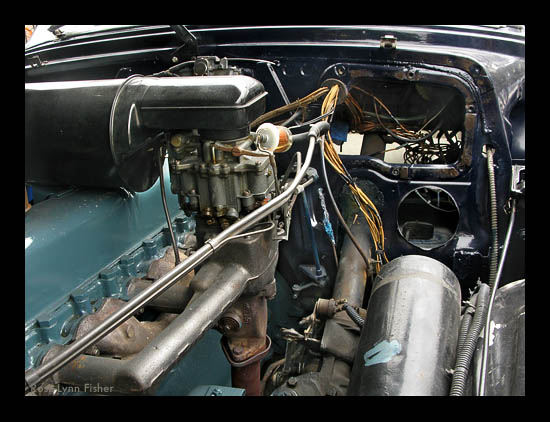 Carburetor sitting on intake manifold. On top of carburetor is the air cleaner. The intake sucks air mixed with gas provided by the carburetor into the combustion chamber to get the car moving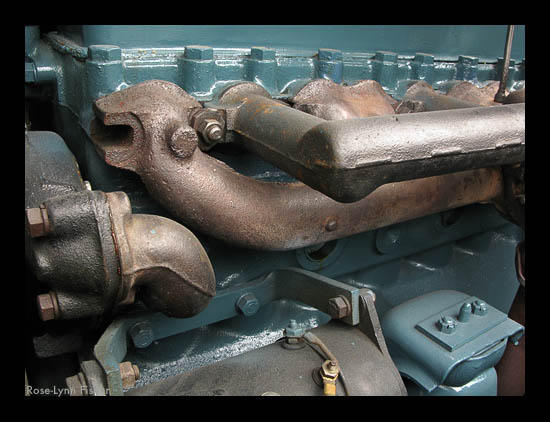 The intake manifold on the inside, and the exhaust manifold on the outside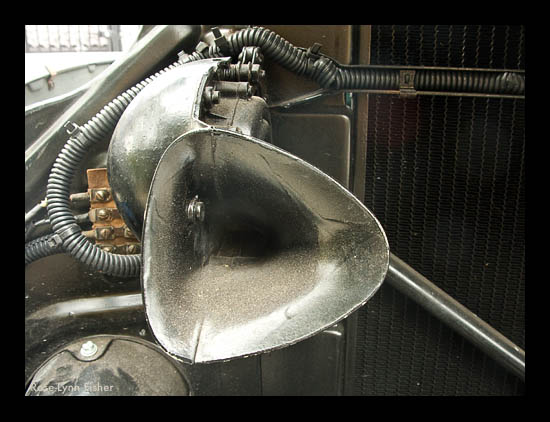 The horn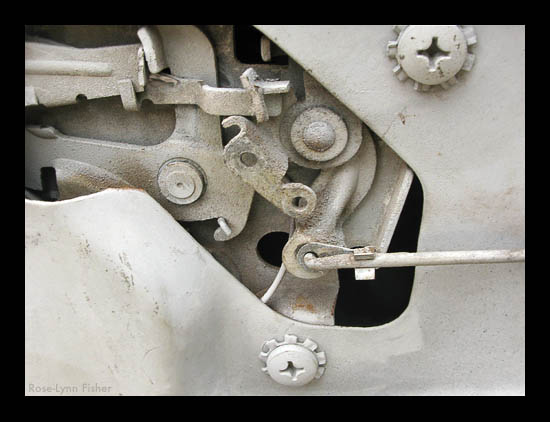 Mechanics of the door handle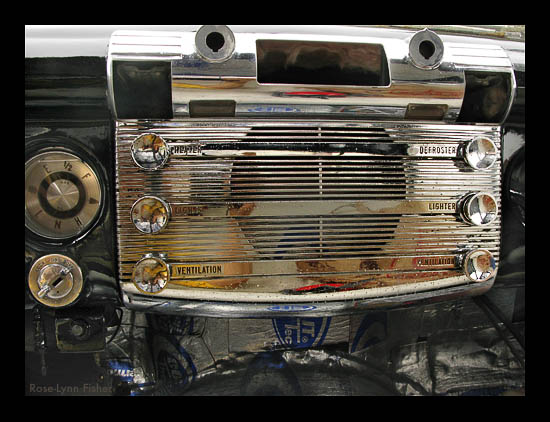 Interior controls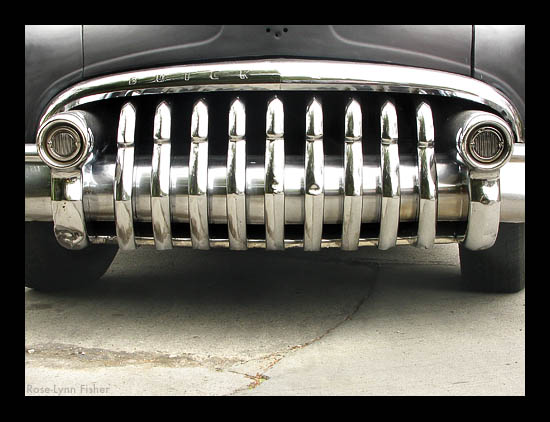 Front end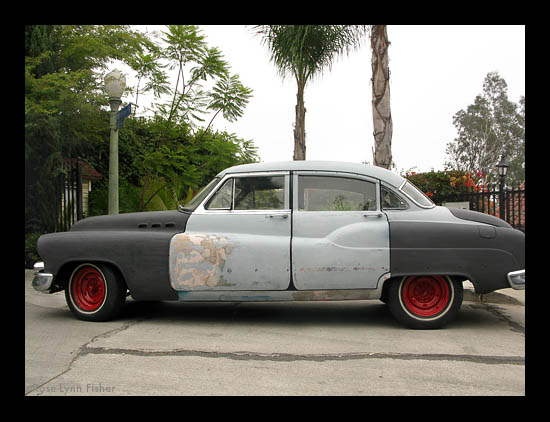 "These cars were made so simple, in that everything about them is mechanical, physical, direct, visible." - SK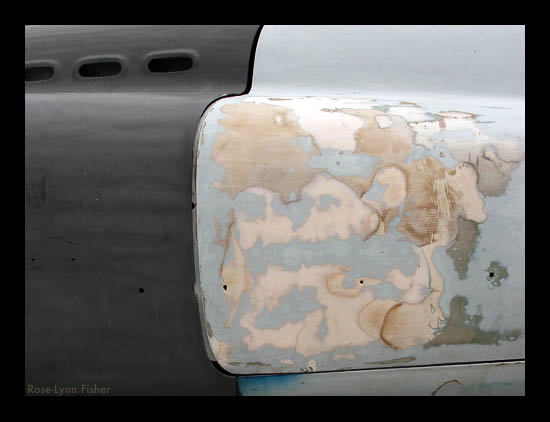 Bondo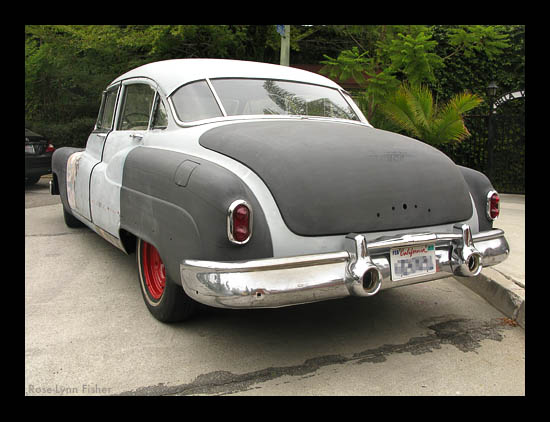 A work in progress..

Related
Popular in the Community