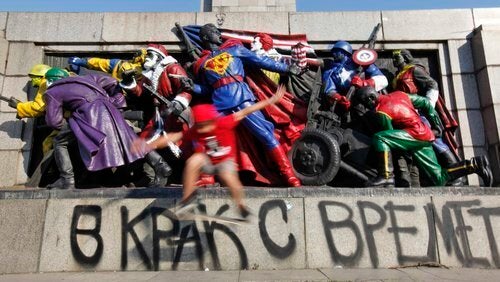 The new "Captain America" movie may still be weeks away from release, but the comic book character has already made his first world appearance as part of a superhero ensemble featured in a pop art facelift of a Soviet army monument in Bulgaria's capital.
As the AFP is reporting, Sofia's massive bronze relief sculpture honoring the Red Army's advance on Nazi-allied Bulgaria during World War II has long been a bone of contention between Russophiles and anti-communists in Bulgaria, who want it demolished. But an anonymous artist gave the piece a tongue-in-cheek paint job that re-imagined the figures of Soviet soldiers as comic book heroes, with the Joker, Wolverine of "X-Men" fame, Superman all standing guard alongside other fantasy figures like Santa Claus and Ronald McDonald, among others. In addition, the flag held by the soldiers has been painted with U.S. stars and stripes.
In addition, a spray-painted inscription was reported by the AFP to read, "Abreast with the times."
Though Bulgarian children and adults alike flocked to snap photos in front of the flamboyantly re-dressed figures, not everyone was happy about the makeover. Bulgarian Minister of Culture Vezhdi Rashidov is said to have slammed the composition as "vandalism," while municipal workers are reportedly due to remove the paint this week.
View photos of the Soviet army monument's superhero makeover here: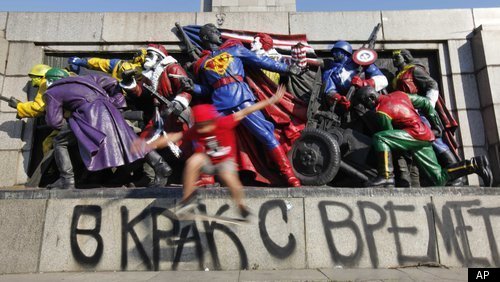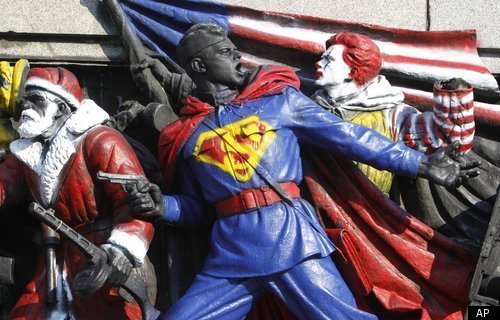 Popular in the Community