(AP) MADRID -- A bull leapt into the packed grandstands of a Spanish bullring and ran amok, charging and trampling spectators and leaving 40 people injured, regional officials said Thursday. (SCROLL DOWN FOR VIDEO AND PHOTOS.)
Video showed the bull jumping several meters (yards) high out of the ring, clearing two barriers before landing in the stands and raising a panic as he lurched through the screaming crowd, charging and tossing everything he could.
The 500-kilogram (1,100-pound) animal was brought under control by experienced bull handlers after several minutes and later killed.
The incident occurred Wednesday at the Tafalla arena in the northern region of Navarra during an event attended by about 3,500 spectators, in which mostly young people try to get a bull to charge at them so they can dodge it. Unlike standard bullfights, the bulls are not killed in these events.
The bull had already attempted to jump into the stands twice. After damaging a horn, he was about to be returned to the corral and replaced with another bull when he tried a third time and succeeded.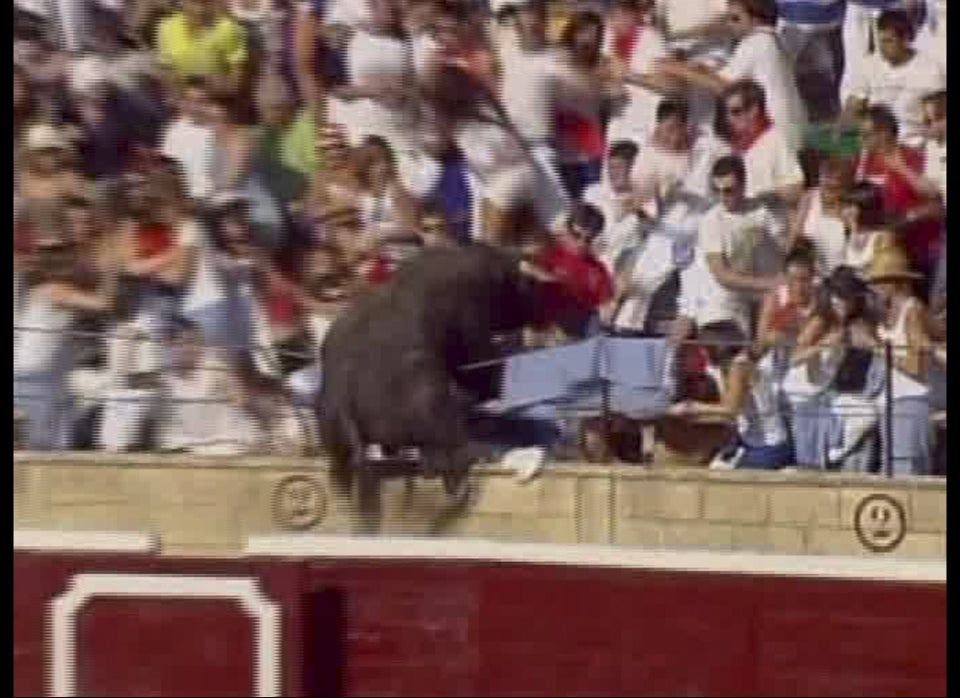 The regional government said in a statement Thursday that three people remained in hospitals in the regional capital of Pamplona, best known for its annual San Fermin running of the bulls festival.
The injured included a 10-year-old boy who was in intensive care after the bull reportedly fell on him. Another man was gored in the back and was said to be in stable condition.
In all, 40 people were treated, primarily for minor injuries.
"What could have been a tragedy ended up as a big fright," Tafalla mayor Cristina Sota was cited as saying in the main regional newspaper, Diario de Navarra.
Inaki Zunzarren, who was treated for bruises, told the paper: "The bull caught me and hurled me against the (concrete) seating. What an experience!"
Also lightly injured was 16-year-old Eneko Goyena Sesma.
"I was with my friends when the bull jumped over and everyone began to run. Somebody must have pushed me and I fell to the ground. I got a pretty big fright," he said.
The regional government said the crowd was made up largely of young people, and most were able to get away from the bull quickly, avoiding a greater number of injuries.
Related
Popular in the Community