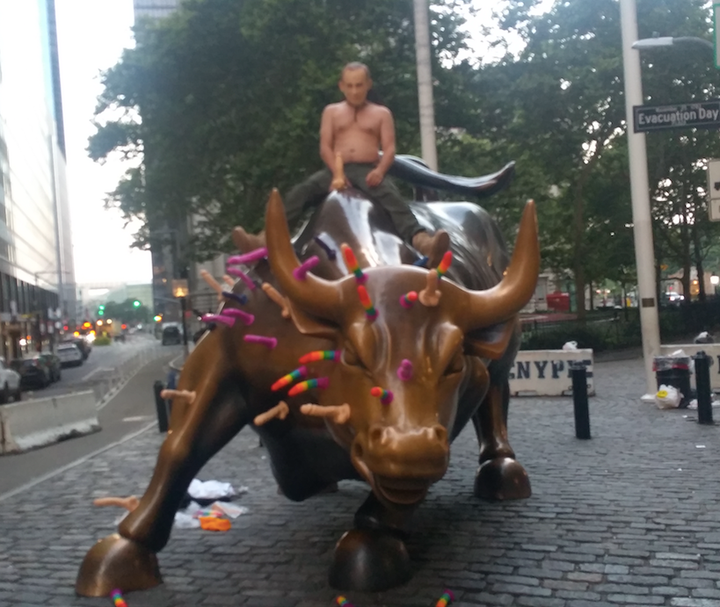 Recent visitors to Wall Street to see the famous Charging Bull sculpture got a little something extra on Monday.
On top of the statue sat a shirtless man wearing a mask of Russian President Vladimir Putin. The rest of the bull was covered with a rainbow-colored assortment of sex toys.
A man named Jeff Jetton is taking credit for the prank, interpreted by some as a commentary on how Putin seems to be controlling the United States.
Jetton told HuffPost he agreed with that statement, but wants to let people construe the prank as they see fit.
He also said he used more 130 dildos to decorate the bull, all of them donated by an adult entertainment company.
"Anybody who tells you sex toys aren't good tools of resistance has never had a bag of dicks and a little bit of ingenuity," he said in a statement to HuffPost.
Apparently, the Putin mask wasn't a good enough disguise. Jetton says he was contacted by the New York City Police Department on Tuesday evening. "I think it's for a non-criminal code violation," Jetton told HuffPost. "The officers were kind of laughing when they cited me."
The Daily Beast reports that Jetton, a ramen shop owner in Washington, D.C., took it upon himself to investigate possible Trump-Russia connections using publicly available information.
People on Reddit had their own theories as to who might have pulled off the prank, especially because the statue is located in an area that is patrolled by police 24 hours a day.
In one bizarre scenario, a Redditor suggested cops were behind the statue's new look, and another person piggybacked on that theory by suggesting that "all of those sex toys they've been confiscating from prostitutes for decades have finally been put to use."
As you might expect, the statue also got tongues wagging on Twitter.
HuffPost reached out to sculptor Arturo Di Modica, the man who created the Charging Bull statue, to get his reaction, but he did not immediately respond.
Before You Go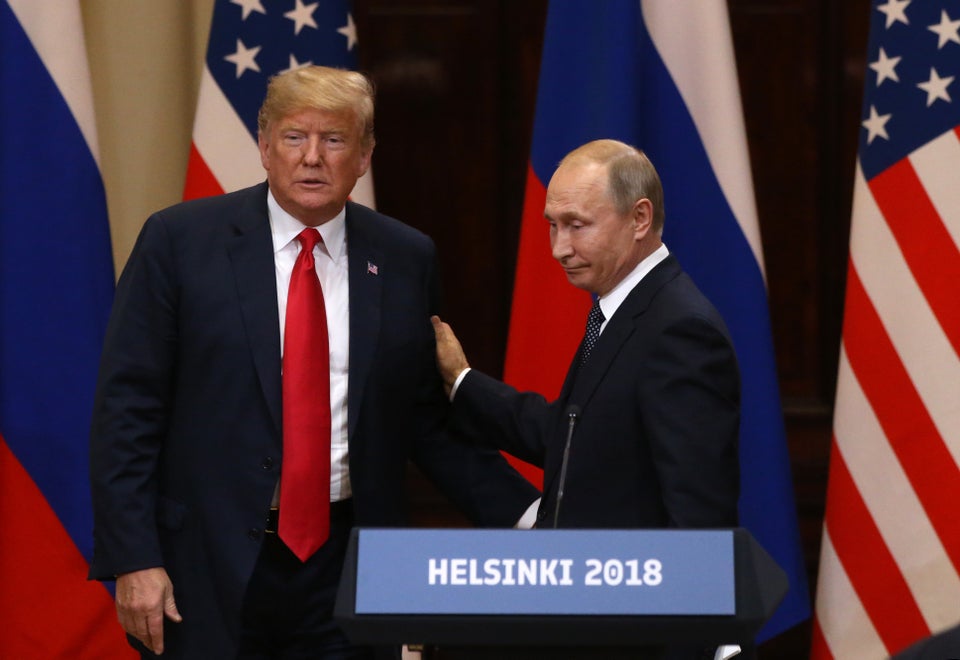 Trump And Putin
Popular in the Community