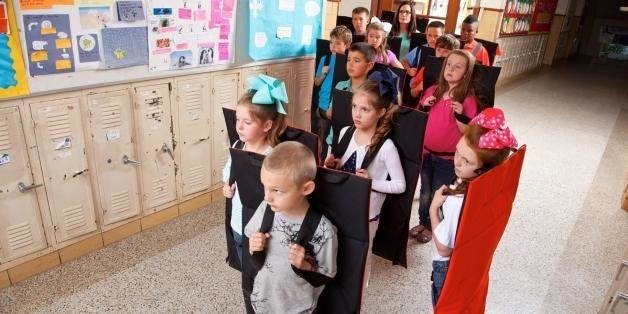 The alarming rate of school shootings across the country appears to have added an unsettling new item to parents' list of "back to school" items: bulletproof armor for their children. Among such items, the Bodyguard Blanket, a portable, bulletproof covering for children, has seen its sales exceed its manufacturer's expectations in less than two weeks on the market.
Stan Schone, managing partner at manufacturer ProTecht, told The Huffington Post that consumer response to the product has "far exceeded our wildest expectations" in the 10 days that the blanket has been available for purchase.
As reported first in the Oklahoman, the blanket was conceived to protect children during natural disasters. The blanket is made "with the same bullet resistant materials that shield our soldiers in battle," according to one advertisement. In the event of a tornado -- or shooting -- children can wrap themselves in the blanket in a duck-and-cover position to shield from bullets, debris or other projectiles.
"We have been contacted by several private and public schools that have shown great interest and by many concerned parents wanting to purchase them as well," Schone wrote in an email to HuffPost. "Private sales have been very spirited and far greater than anticipated." Schone did not respond to follow-up requests for further details.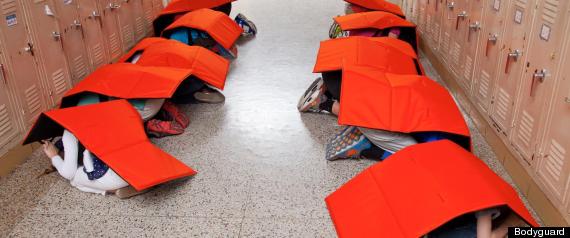 With a hefty price tag of $1,000 each, the Bodyguard Blanket poses a considerable expense for public schools, which spent an average of about $11,000 nationally per student in 2010-11, according to the National Center for Education Statistics. While acknowledging that the blankets represent a "significant investment," Schone argued that it's ultimately more cost effective than building safe rooms or tornado shelters.
Steve Walker, who came up with the idea for the blankets, told the Oklahoman, "By no means would we ever say that this is more protective ... but when you have budget constraints, this might be a viable alternative."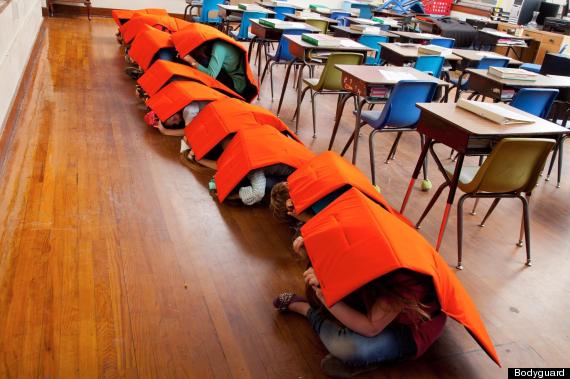 "If mass shootings weren't such an integrated part of our culture, you'd think this was an SNL skit or an Onion article," Caroline Moss of Business Insider wrote of the product.
A melodramatic video for Bodyguard appears to capitalize on the disturbing trend of school shootings, warning viewers that "crazed gunmen have entered our schools prepared to kill our children and teachers."
Schone told the Oklahoman that the blanket passed a National Institute of Justice Class 3A test, which rates police body armor against projectiles, "including 9 mm and .22-caliber bullets."
"We could cut the death rate in half in our schools with things like good student supervision and better drill processes," Michael Dorn, executive director of Safe Havens International, a school safety advisory group, told NBC News.
Related
Popular in the Community