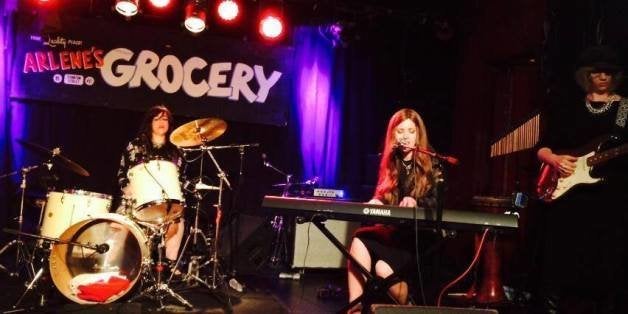 As observant Hasidic Jews, Dalia Shusterman and Perl Wolf never thought they'd be playing alt-rock music to a packed, all-female house at Arlene's Grocery in New York City's Lower East Side.
But on August 7, that's exactly what they did.
The musical duo make up Bulletproof Stockings, a "Chassidic Alt Rock Girl Band" that's named for the tights traditionally worn by observant Hasidic Jewish women. Though they are observant themselves, it's no barrier to their pursuit of music as a career.
Bulletproof Stockings spoke to The Huffington Post about their personal faith journeys, passion for music, and conviction that their performances empower women.
The Huffington Post: What was the musical path that led you to create Bulletproof Stockings?
Perl: I started writing music in early 2011. I had just gotten divorced for the second time and I was going through a bit of a spiritual crisis and trying to figure myself out, and figure out what to do with my life. A channel opened up, and music started flooding in. I've always been a music-lover and concert-goer. I sang in choirs and was classically trained in piano since the age of six. I wrote music, but I had never thought of music as a career. It was very unexpected, but the music was just flowing!
I was also trying to figure out where I stood with my relationship with G-d, and my religion, and I came to the conclusion that I am a Hasid. I knew that the Torah and Hasidic Judaism is my truth, and that music was something I needed to take further.
I decided to look for fellow female musicians and try to get an all-girl band together. I met someone who knew Dalia, and she said, "Do you need a drummer? I know a Hasidic female drummer who used to tour all over the U.S. She's a widow who lives in Crown Heights!" Thank G-d, when I found Dalia, it was an instant connection.
Dalia: I was touring in bands, but then I became very religious and I had to put that whole life on the shelf for a while. And then I found Perl. To find someone in the frum world, especially a woman, who plays music is totally rare. It's definitely a miracle that we found each other. It was a shidduch! A match that was meant to be.
Once we met, I left knowing that this was going to go places. I felt that this wasn't just going to appeal to the ladies in our community, but it could be a more worldly thing.
The Huffington Post: What are some of your biggest musical influences?
Dalia: I played in New Orleans, so I was into a lot of jazzy stuff, and syncopated Afro-rhythms. I was playing in rock bands so that was a huge influence. I loved bands like Jane's Addiction, PJ Harvey, Pixies... all that was mine. I also grew up listening to classical music. That's what my father would put on the radio! Musically, I had a lot in common with Perl.
Perl: I grew up listening to a lot of classical music too. I grew up as a Hasid, and the Hasidic melodies are actually a huge influence. I was also into Jimi Hendrix, Led Zeppelin, the Doors, the Beatles. In high school, I got more into punk, even pop-punk, like Green Day and Blink-182. I liked No Doubt, White Stripes, Radiohead -- all sorts of stuff. My father played a lot of jazz, and ragtime, and blues for us.
Growing up in a Hasidic home, there's no law that says you can't listen to secular music. It's more of a fence -- a fence created around the law. Not watching television and not listening to secular music are things that most Orthodox and Hasidic Jews do in order to protect their kids from a lot of the garbage that's out there. However, my home was a little more lenient. We listened to classical music and oldies, and once I got a little older I started listening to more current music. My parents never made an issue about it.
Bulletproof Stockings perform at Arlene's Grocery in New York City's East Village on August 7, 2014
The Huffington Post: How did your relationship with your faith change and grow throughout different stages of your lives?
Dalia: As a teenager, I was losing interest. I was brought up Modern Orthodox which to me, felt like a very dry spiritual path. I wasn't really jiving with it, and it got lost on me. I left home when I was sixteen. As soon as I figured out that I was a drummer, from there I just started traveling and playing music wherever I was going, and people would ask me to join their bands. I ended up in New Orleans, playing everything -- Brazilian, old jazz, new jazz, Afro-Cuban, circus music! I was just doing music, and everywhere that I went I ended up onstage. From there it kept growing, and eventually I was touring.
I was out of the spiritual path, but at the same time, it was part of me. It was a real disconnect. I didn't know how to live out both at the time. After touring for a few years with Hopewell -- as much as being on stage was a totally fulfilling and even spiritual experience for me -- I knew that it was definitely not the world I wanted to live out my life in.
I always thought that I'd either stay away from Judaism or go all the way, a long dive. Eventually I got invited to Crown Heights for Sukkot in the fall. This kid came up to me in the Lower East Side with a flyer for a party. His name was Mordechai, and I hadn't heard a Jewish name in a long time. He invited me to Brooklyn, and it wasn't until I got off the train that I realized that it was Crown Heights. I was totally enamored with the way that people were speaking with each other. Everything was so meaningful, so I really dove into it. It happened to be that first night in Crown Heights that I met the man who was going to be my husband. He was going to be a rabbi, and I had just stepped off the tourist bus.
My husband was very patient and understanding. He was also the one who bought me the drum set that I play on now. That was my way back into the past. When I first got married, I stopped listening to music for about five years because it reminded me of a world that I had left behind. I moved to Crown Heights right after my husband passed away. It was the fruition of two paths coming together.
Perl: I grew up in a Chabad home in Chicago, but neither of my parents grew up religious. I had a bit more secular influence as my whole extended family is not religious, and I had a lot of exposure to the outside world. Still, I wore long sleeves and tights my whole life, kept kosher, and went to Hasidic schools.
I was questioning a lot of things when I was a teenager. I'm an analytical person, and to accept an absolute truth for my life I needed to take it apart, put it back together, and make sure that it's for me. However, the teachers at my high school didn't like the fact that I had so many questions, and it was very frustrating for me. I stopped keeping Shabbos and kosher in high school. Things that made sense to me I kept, and things that didn't make sense I left. I was considered the most rebellious girl in my high school.
After high school, I went to seminary in Israel for a year, which is very common in the Orthodox community. It was a great experience for me in a lot of ways. I still wasn't religious for most of the year, but the last week I was there, things started to unravel and open up for me. The teachers weren't pushy or judgmental, and I could ask the questions that I needed to ask. I was able to really learn from myself rather than just doing something because someone told me to. That opened up a new channel for me, and I became religious again -- on fire and very excited about Judaism and spirituality. I got married to someone that I had dated for a while, but we divorced after five months.
I moved to New York City after that to take a breather. I worked for a few years, got married again, and got divorced again, which sent me into a state of confusion for almost a year. Was I a fool for being religious? I was questioning myself and my faith a lot, and at that same time the music was coming in. The music made me realize how strong my faith was. I would just sit down, and everything would flow out, and looking at my lyrics I was like, "Wow! I am a Hasid! I am frustrated and confused but this is definitely me."
Then I moved to Crown Heights, and I remember standing in my room and thinking to G-d, "You better find me an amazing female drummer."
Baruch Hashem. Thank G-d.
The Huffington Post: What has the reaction to your band and your performances been like, in your Jewish community and from outsiders?
Dalia: Mostly we've gotten that it was a transformative experience. People felt really inspired. Many generations of women are coming to our shows --- Janis Joplin fans, young women who miss going to rock concerts, and girls who have never been to a show at all. The feedback is really mostly positive.
Most of the negative feedback we've received has come from males. It's interesting that we don't get much negative feedback from the men in our community, but we do get it from men in the more secular community.
Perl: There are women in our community who didn't grow up religious, so for them, we're a breath of fresh air. Contemporary Jewish pop music doesn't have as much edge to it, it's more cliché. For those women, they're like, "A concert I can go to that's kosher and genuinely has a rock vibe! I don't have to be insecure about men being there, and I can still rock out." There are also girls in high school who are looking for other options. Some came up to us lately and said that they were expecting it to be lame, but they actually had a great time!
After our show at Arlene's we got negative comments online from men that said that it's misogynistic, and sexist, and oppressive, and discriminatory, and that it should be illegal, and that we should be ashamed of ourselves and were terrible people.
First of all, they're reacting to us not playing for men. There is no law that says that women can't sing. The law is that men should not listen to women singing who are not family members. I asked a rabbi about it. There's this misconception that men are keeping us down, that our "oppressive" community is ruling us. In that sense, it's interesting that they are oppressing us, saying, "How dare you have your own party!"
Shouldn't a woman get to choose when she wants to hang out with men and when she doesn't? Some people feel threatened by that, but shouldn't women be able to decide what makes them liberated? Am I liberated or oppressed? I think that's up to me.
This is not anti-men, it's pro-women in the biggest way possible. It's a party for women to rock out. Men are not the focus.
Dalia: The experience last night was not about limitations. It was about breaking the shackles of social pressures and expectations and being able to just be. It was pure joy and delight happening in that room. It was liberating.
Perl: The women made the show at Arlene's happen. They made it happen. G-d made it happen. The women's support shows us that this is something that's empowering, and they inspire us.
Enjoy reading this article? Read more selections from the best of HuffPost in Huffington Magazine.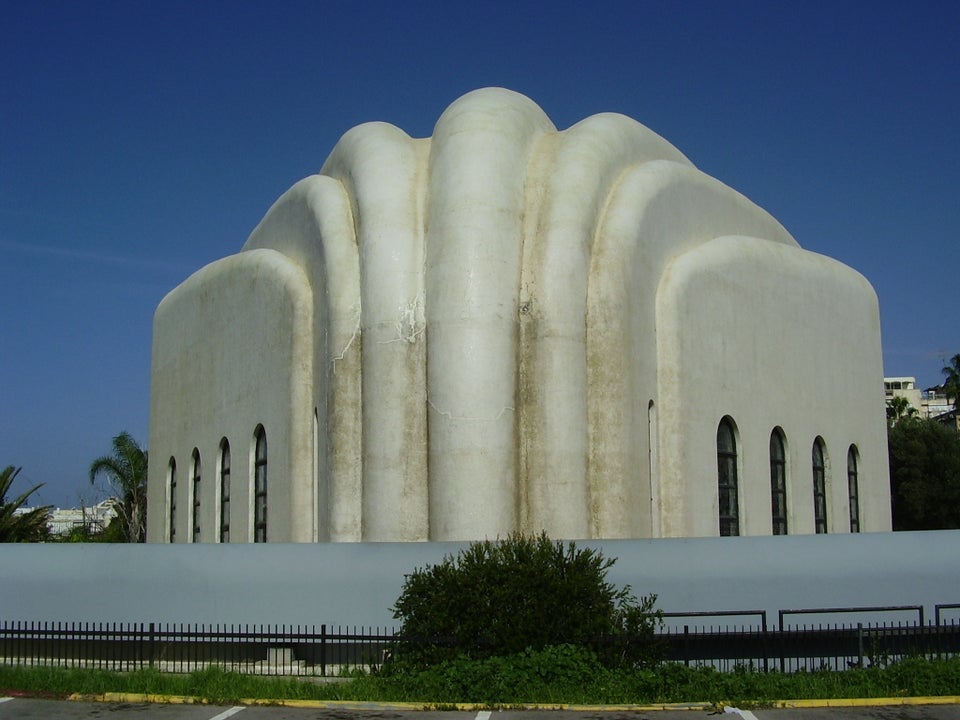 50 Stunning Synagogues
Popular in the Community