The counterfeiting of goods is more problematic than what most people imagine when they think of knock-off products such as a designer handbag or designer shoes. Counterfeiting proliferates almost every industry including makeup, perfumes, pharmaceutical products, books and much more. If you're a small business and you find yourself with an easy to replicate successful invention or product, it's only a short matter of time before it will likely be copied and sold right from under you.
How Bad Is It?
The total value of intellectual property rights infringing goods seized in 2014 originating from China, including Hong Kong was $1.22 billion. If you are a small to medium-sized company, this loss can easily put you out of business and ruin your dreams of making it big. In addition, some of these products contain ingredients such as cyanide and lead that are hazardous to your health.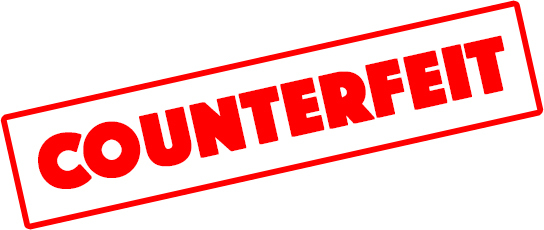 What's that you say? They should patent their invention and protect themselves along with their intellectual property? It turns out that filing for a patent in the United States doesn't protect proprietors in all parts of the world.
What To Do About It?
I interviewed Teena Handline, an intellectual property law, trademark and copyright attorney in Pennsylvania about bulletproofing your small business against counterfeiters. She gave the following advice for business owners to proactively protect themselves.
Register your intellectual property internationally, especially in China and in countries where you sell your product.
Be regularly proactive patrolling big online retail sites and request them to immediately remove the unauthorized goods from their sites.
Educate your consumers on how to identify counterfeit products that look like yours and who your authorized resellers are.
You can write your own cease and desist letter but Handline suggests adding in a deadline for the counterfeiter to remove the product from their site. She also suggests obtaining a confirmation delivery of the letter or a "Read Email" notification if sent electronically. You can find cease and desist letter templates by doing a Google search.
Register your product with the customs department of the country with the biggest offenders.
Legal Assistance: Legal representation can quickly add up for small business owners stuck fighting a relentless battle against counterfeiters. Handline offers this advice:
Traditional Route - Try using a small firm whose prices are more affordable than the much larger firms.
Non-Traditional Route - If you are comfortable working with an attorney via Skype or FaceTime, try utilizing a freelancer site such as Elance.com. You post your proposal and budget on Elance and attorneys will bid on your offer.
What Can Consumers Do?
Consumers, whether business-to-business or business-to-consumer can assist in the fight against counterfeit products.
When shopping online, check the item's photo to see if it's a stock photo or the actual product. Often photos are stolen from the original company's website.
Be weary of too good to be true deals.
Alert the intellectual property owner of the offending site.
Contact the online site that is hosting the fake goods and say something. Most sites have a policy against counterfeiting.
Janice Celeste is the founder of the Encore Entrepreneur Institute, an advocacy organization for entrepreneurs ages 50+. You can follow her on Twitter and on her Blab live stream show, ENCORE @EncoreInstitute.


Calling all HuffPost superfans!
Sign up for membership to become a founding member and help shape HuffPost's next chapter