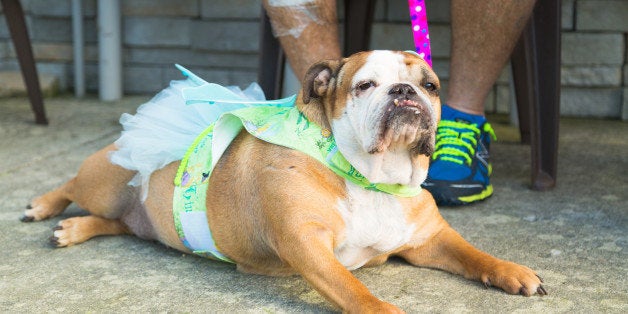 At this party, the dogs eat first.
On April 11, at the 4th annual Bullie Que festival, sweet spoiled dogs got even more special treatment than usual. Nearly 300 people and about 200 dogs -- mostly bulldogs, but a few Frenchies and pugs sneaked in, too -- gathered in North Carolina for a bulldog superhero-themed costume contest, a silent auction to benefit bulldog rescue group Bullies 2 the Rescue and a dog-friendly spread.
"Brisket, no seasoning," says Courtney Vaux, organizer of Bullie Que, the yearly gathering of bulldogs and their passionate fans. "Pineapple and green beans. It's hysterical."
"They come from all walks of life and they are so happy to hang out with their humans and other friends," he says. "There are so many dogs."
"They love food, they love watching TV or wrestling in the floor, but mostly they love just being with their family. Oh and gas, you gotta love a dog who will fart on you and then move away like you did it," observes Batista, who is quick to add that "I love short-faced breeds. Not taking anything away from other breeds, but there is just something charming about them."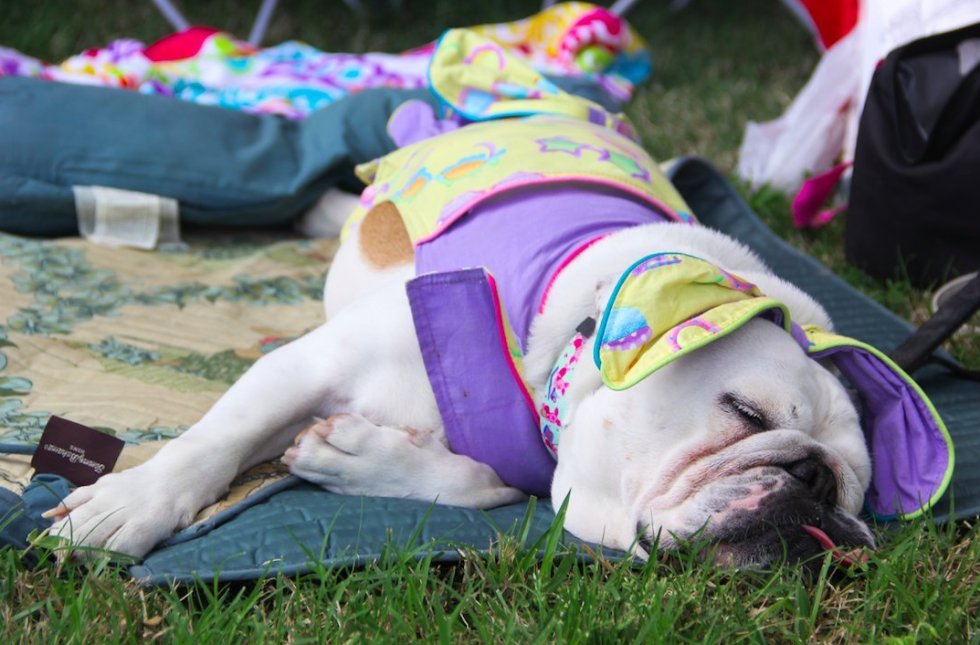 Photo by Neely Waring
Their owners are pretty terrific, too.
Vaux told The Huffington Post that the first Bullie Que, in 2012, came about as an adoption event for nine bulldog puppies born to a mom who'd been rescued out of a dumpster while very pregnant.
Two hundred people signed up to attend, that year, and brought 150 bulldogs along with them.
All nine puppies found homes -- after being fussed over at a pre-adoption party.
"Cake, presents, just like a baby shower but baby bulldogs," said Vaux.
Since then, the yearly festivities have grown, pulling in folks and dogs from all over the country -- two of the puppies from that first Bullie Que, were even there, meeting for the first time again since.
"It's like a family reunion, is the best way I can put it," says Vaux. "It's awesome."
Vaux tells us next year's Bullie Que theme will be "Bullie Stock," like Woodstock -- for bulldogs. Yeah, we really want to be there, too.
And see more photos from Bullie Que below.
PHOTO GALLERY
BullieQue 2015!
Get in touch at arin.greenwood@huffingtonpost.com if you have an animal story to share!
Calling all HuffPost superfans!
Sign up for membership to become a founding member and help shape HuffPost's next chapter
BEFORE YOU GO
PHOTO GALLERY
Baby And French Bulldogs