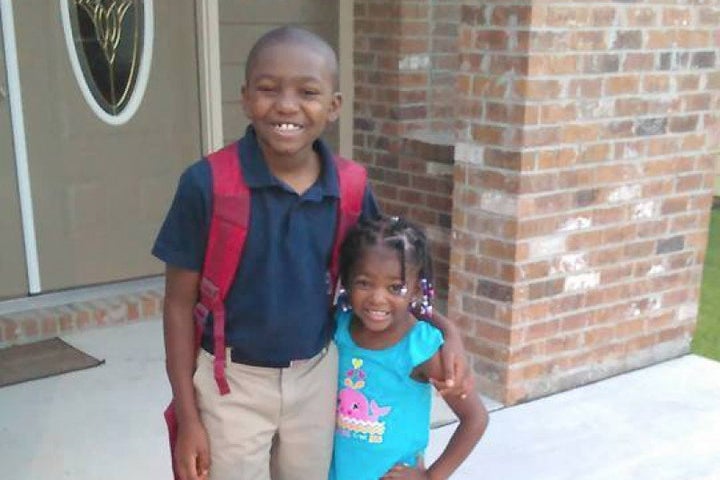 When an 8-year-old boy from Louisiana attempted to defend himself and younger sister from a group of white bullies, they told him "You need to go back to the cotton farm."
Jordan Jackson and his 4-year-old sister, J'Niaha, were waiting for their parents to pick them up after school from Spanish Lake Primary School in Geismar, Louisiana on November 14. Jordan, who is black, told his parents that he got into an altercation with three white children, who he said threw mulch at him and his sister, according to Atlanta Black Star.
When he asked one of the kids to stop, 8-year-old Jordan was pushed to the ground by a 13-year-old, his uncle Cris Colbert wrote on a GoFundMe page. After Jordan tried to defend his sister, who was still being taunted after Jordan tried to walk away, according to his uncle's account, a previously uninvolved student told him to "go back to the cotton farm."
Colbert wrote that Jordan was "pushed down numerous times and body-slammed at least twice," which resulted in a broken arm and post-concussion syndrome, which causes headaches and dizziness weeks and sometimes months after an injury that caused a concussion.
Colbert made the GoFundMe page to cover the medical expenses related to the incident on behalf of Jordan's mom, Alana Jackson. The family has surpassed its initial goal of $5,000 and raised more than $24,000 in just four days.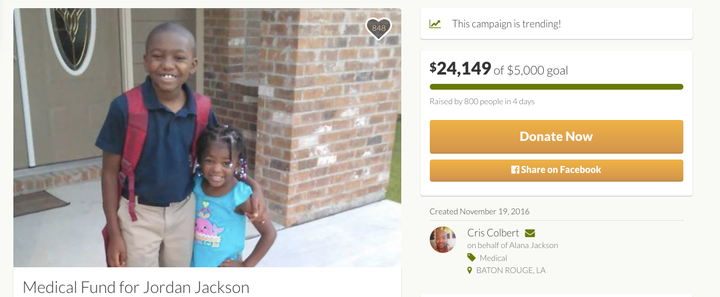 Jackson, who told the Weekly Citizen that this was the third incident her son has been involved in within year, wrote on her Facebook that she was hurt and offended by the incident.
"I am disappointed that our culture has exhibited the behavior that makes our children believe that this type of behavior is acceptable. I am saddened that we have come so far yet are still so far away. I am discouraged that many have given up even though we are so far from finished. Yet I am hopeful that God is still in control," Jackson posted.
According to the local newspaper, the principal apologized to Jackson, who also works in the parish, but told her the school is not liable for his medical bills.
The Ascension Parish School Board responded to the incident on its Facebook, stating that "we take very seriously our responsibility to gather all factual information before determining our response. We are working with the Ascension Parish Sheriff's Office to fully investigate this matter and anticipate a resolution for all parties involved."
The Huffington Post reached out to Spanish Lake Primary School but did not immediately receive a response.
On Wednesday Colbert shared on Facebook that Jordan's double vision has subsided and he's gone his first 24 hours without a headache since the attack nine days ago After realizing the severity of the trauma Jordan faced ― compounded by "personal attacks" she says she's since received
Jackson has a masters degree in education leadership and works in the school district. Given the severity of the trauma Jordan faced ― compounded by "personal attacks" she says she's since received from colleagues ― she has decided to leave her own post and homeschool her children.
Her brother updated supporters on Wednesday: "Amid this backlash, it's just not a safe or healthy learning or teaching environment anymore for them. So Alana has decided not return to the district and for the foreseeable future home school both Jordan and J'Niaha," he wrote on the GoFundMe site, noting safety is the family's primary concern.
"With everything going on she doesn't want to derail their education any further by throwing them into a neighboring district so abruptly," he said. "Even though this upends life for them all, we've convinced this is the safest route forward."
Supervisor for the sheriff's office of public information Allison B. Hudson told HuffPost that they are looking into the incident. She confirmed that the surveillance footage that captured the incident will be used in the investigation.
Have you been a victim of an act of harassment or discrimination? If so, we encourage you to report the incident to local authorities, and to send us an email about it at: trackinghate@huffingtonpost.com.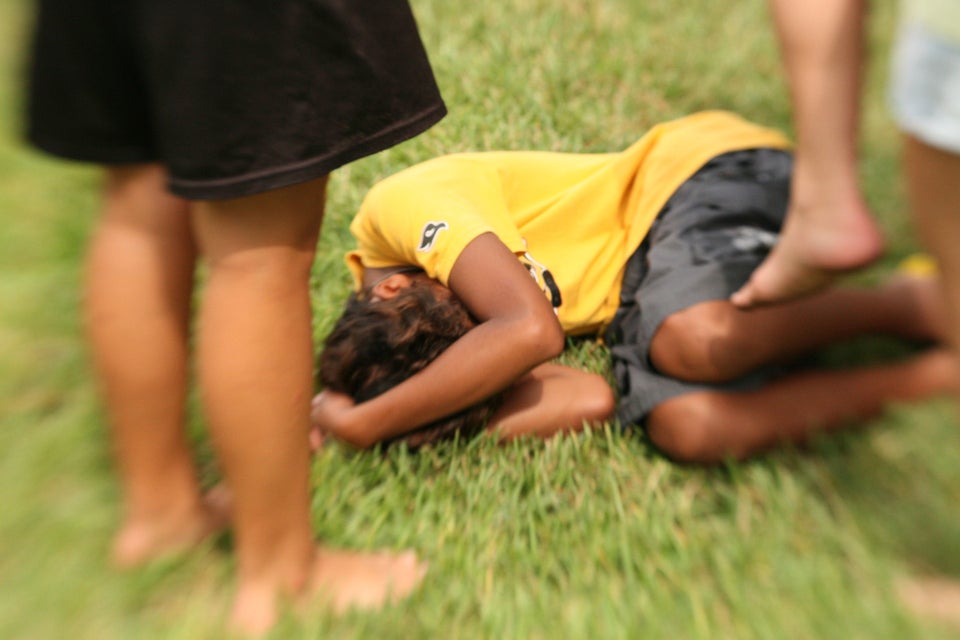 Fighting Racism And Discrimination Everyday