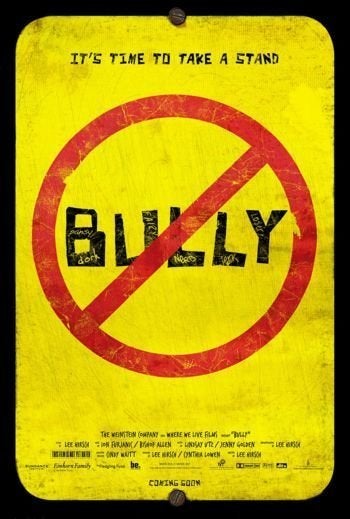 The documentary, which highlights the effects of school bullying, received the rating because of strong language. Now, the film's supporters are upset that a film intended to educate audiences about an important issue will be barred from schools and won't be accessible to those who are most affected by it -- children under 17.
SCROLL FOR FILM'S TRAILER
We have a responsibility to the more than 13 million youth who are bullied every year in the US to make available this transformative, relevant piece of work.
The link was posted on "Bully's" Facebook page, and has been flying around the web in online comments and on local listservs for parents. As of Feb. 26, the petition had more than 2,400 signatures as well as comments like Allison Nasson's:
This movie needs to be seen by everyone. It is crucial for parents to see it so that they can understand the true manifestation of bullying in schools today, but kids are the ones bullying and the ones being bullied. This can do great things; it can provide hope to the victims, and create empathy in the perpetrators. But this will not happen if kids can't even get into the theaters.
The MPAA agrees with the Weinstein Company that 'Bully' can serve as a vehicle for...important discussions...The MPAA also has the responsibility, however, to acknowledge and represent the strong feedback from parents throughout the country who want to be informed about content in movies, including language.
There's a grotesque irony in declaring that what is portrayed in Bully should be softened, or bleeped -- should be hidden, really, because it's too much for kids to see. Of course it's too much for kids to see. It's also too much for kids to live through, walk through, ride the bus with, and go to school with. That's why they made the movie. The entire point of this film is that kids do not live with the protection we often believe they do -- many of them live in a terrifying, isolating war zone, and if you hide what it's like, if you lie about what they're experiencing, you destroy what is there to be learned.
"If they really want to protect children, they would protect them from what is now the danger of going to school, not some swear words they hear every day," Jacki Libby told the Sioux City Journal.
The system is voluntary, but as Good explains, "filmmakers fear that releasing an unrated film spells box office failure, as many movie theaters won't show films that don't undergo the regulatory process."
In a statement, The Weinstein Company cites that it "respect[s] the MPAA and their process but feel this time it has just been a bridge too far."
The Cincinnati school district signed on to bus 40,000 of their students to the movie -- but because the appeals board retained the R rating, the school district will have to cancel those plans.
"Bully" is scheduled to open in select cities on March 30.
Popular in the Community