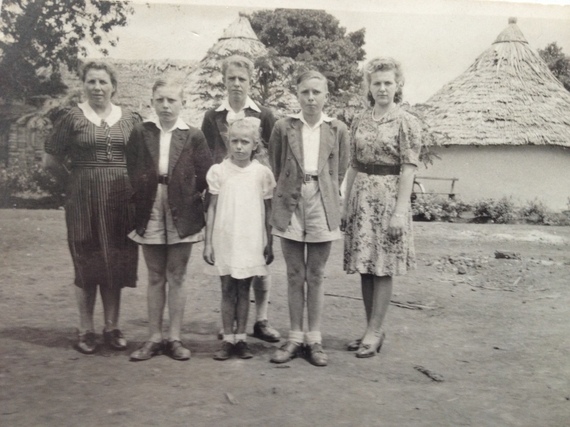 The Migut Family in Tanzania, Africa, circa 1943
Who are we-really? Where do we come from? What happened before us?
These may be heady questions, but now that we're 15 years into the 21st Century--yes, that's a jawdropper when you think about it--and the future has, basically, arrived, ironically, we find ourselves in the midst of another phenomena: Looking back into the past.
Ancestry. Genealogy. It's all the buzz.
We may live in a social media-frenzied world, where millions of souls want to know about what's happening--now, now, NOW. But by the looks of it, beneath the surface, we enterprising über modern human beings seem to boast a truly old-fashioned, home-grown gene--we still care deeply about our origins.
A quick look at what's happening online and you can clearly see how powerful this movement is playing out. In one corner: ancestry.com and myheritage.com. In another: rootsweb (also from ancestry.com) and FamilyTreeNow. And on television, large audiences have set the remote down for shows like PBS's Finding Your Roots (from Harvard scholar Henry Louis Gates Jr.) and TLC's insanely popular Who Do You Think You Are? We can thank Lisa Kudrow for the latter. As executive producer, she caught a glimpse of a U.K.-based show years ago, and quickly opted to bring it to the America. It doesn't hurt that a posse of celebrities came on board--Anderson Cooper, Sally Fields and a bastion of other notables--to uncover their past through a titillating combo of lush historical analysis and some deeper probings.
The latest research and surveys on the subject are sobering, too: Approximately 73 percent of Americans report having a strong interest in learning more about, and understanding their family history. Some people simply want to locate living relatives. Others are going all out--creating elaborate and often very visual presentations for family reunions and the like. Meanwhile, a vast amount of others want to publish a family history to simply pass it along to the next generation.
I could have easily fallen into that last category, but my own experience in this kind of endeavor seemed to haunt me for decades.
At first glance, it felt as if my ancestry marathon began about 11 years ago. (In truth, it had begun much earlier than that.) I had nonchalantly asked my Polish uncle, John Migut, to write down some of the family history he and other Polish family members had repeatedly brought up during my youth--family survival stories. Oh, such mysterious, fascinating tales they were. One day, my uncle surprised me--he actually documented some things. I was standing in the main post office in Santa Cruz, California, in 2002, when I received a floppy disk--remember those?. There was a yellow Post-It Note attached to it: "Here it is, Greg. Some things that happened ..."
I stared at that disk. My chest tightened. My throat began to close. Why was I so frightened?
Growing up on the Westside of Chicago in the late 1960s, I often stuffed into my mouth dozens of Polish kiełbasa and potato pierogi doused with melted butter. (So much melted butter.) Well, clearly this option only helped expand my already expanding waistline. I morphed into the polite but klutzy, chubby Polish kid I was destined to become.
Food was not my only vice. I also wandered into the fantastic alternate reality of sixties television. Here Come The Brides, I Dream of Jeannie, Bewitched, Laugh-in, The Brady Bunch--these were a few of the television shows I watched religiously, pining to live in their dreamy, magical worlds. I never wanted to attend kindergarten or Sunday mass. I wanted to play with Greg, Marcia, Peter, Jan, Bobby and Cindy Brady--and then fall asleep inside Jeannie's super groovy, magic bottle.
There were just four of us--my father, my mother, my older brother, Rich, and I. We lived in a modest two-bedroom home on Altgeld Street, near the thoroughfares of Fullerton and Laramie, in a neighborhood filled with a diverse mix of ethnic families, parks in which to frolic and friendly neighbors to appreciate. My father was a Polish immigrant who worked as an engineer for General Telephone & Electronics. My mother, also a Polish immigrant, took a part-time job at a nearby bakery and, eventually, the popular corner dime store known as Louie's 5 & 10.
Summers were filled with playful neighborhood parties and chasing fireflies with other kids or my many Polish cousins. Winters afforded us the opportunity to build substantial snowmen and lose ourselves in monstrous snowdrifts brought on by the occasional blizzard.
Once a month, on Saturday nights, my parents arranged a jolly get-together for their Polish friends and my mother's siblings. En masse they arrived at our house--stylishly dressed, impeccably proud. They sat on the edges of our foam- cushioned sofas and chairs. Lit cigarettes made repeated trips to and from their lips. Full ashtrays collected around the house. Empty highball glasses begged to be refilled. And attention almost always fell upon my spirited Aunt Janina--a spirited Zsa Zsa Gabor clone--or my gregarious father, Bill, who, after just one Scotch and soda, could recite a rhyming Polish joke and have the guests howling with laughter.
These Poles were loud. They were expressive.They were joyous--on the outside. But beneath the surface lurked tales--both dark and menacing--I was too young to fully grasp.
However, one of those tales surfaced during Christmas of 1969. I was five when I first heard about "the family story"--how my mother, three of her brothers, her two sisters, and their parents, endured some kind of "adventure" when they were children. My interest piqued upon hearing a bevy words one after another--"Poland, Siberia, Uzbekistan, Tanganyika."
I was curious--but positively clueless--about what really happened to my family.
"We were taken to Siberia in a crowded boxcar," somebody mused.
"We lived in a labor camp," another relative added.
"We escaped to the Middle East."
When I was in high school, those phrases, still embedded in my mind, sprang forth like a flurry of raging hormones.
"We were taken to Siberia in a crowded boxcar."
"We lived in a labor camp."
"We escaped to the Middle East."
How? Why? This I wanted to know.
Eventually, my probings led me to create a loose outline of what had unfolded.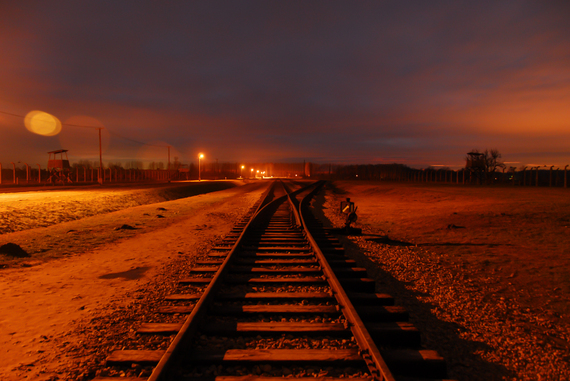 In early 1940, under Joseph Stalin's orders, my family was taken by force from their farm in eastern Poland by Russian soldiers. They were treated like criminals, locked in one of hundreds of boxcars crowded with other Polish citizens, and carted off to a Siberian labor camp thousands of kilometers away. Nearly 1 million Poles suffered through these mass deportations. For 18 long, dismal months, the family endured brutal conditions in the labor camp, conditions so harsh that, eventually, it robbed them of their health and vitality--and for some, their lives.
In the summer of 1941, a surprising turn of events found these imprisoned Poles--those who survived their confinement-- released from the camps. They were left to wander southern Russia in search of aid. Some of them found it in Uzbekistan. A vast number of them perished. Those who, either by twists of fate or unshakeable faith, managed to escape Russia, found refuge in the Middle East, India and, later, the eastern stretches of Africa or in more distant locales such as Mexico or New Zealand.
The mass deportations of the Poles during the 1940s was, and to some extent still is--surprisingly--one of the most under-reported stories of Stalin's wrath.
"Most of the world knows what Hitler did to the Jewish people," my uncle often told me. "But hardly anybody knows what Stalin did to our people."
There was something portentous in that statement. I must have paid attention to it the first time I heard it back in high school. Perhaps this knowledge embedded itself so uniquely within my psyche and lie dormant there until an ideal moment in time presented itself. Sparked either by naiveté or divine guidance, that inner knowledge must have nudged me to ask my uncle to document his memories.
Back then, I had thought that receiving the information would be end of the journey. But upon opening his disk on my computer so many years ago, and truly exploring every single layer of my Polish family's ordeal, it felt as if their story--and my ancestors for that matter--were suddenly hunting me; haunting me. I soon embarked upon an unforgettable misadventure in a kind of Advanced Ancestry 1111, pulled, like a thick thread through the eye of a very small cosmic needle.
I simply had to chronicle my family's particularly unique survival story--as well as reserach the plight and fate of those millions of deported Poles who could have gone nearly forgotten. What history nearly swept under the rug when it comes to Stalin is mindbending. After many years, I gave birth to a remarkable part of the tale in my book "Grace Revealed: A Memoir," which is out this month. It goes into much more vivid detail into the family's endeavors.
Still, I realize that in 2015, a year which marks the 75th anniversary of Stalin's mass deportations, that my particular journey is, really, just beginning. Ancestry.com and the like may be a kind of first stop in uncovering an unknown lineage, but as I continue to write about this topic this year, something still haunts me: Can any of us really move forward without truly understanding and integrating the past--our family's; our own?
Keep up with the resilient Poles and their history here.
Calling all HuffPost superfans!
Sign up for membership to become a founding member and help shape HuffPost's next chapter