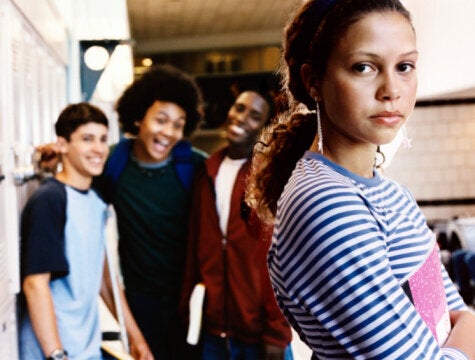 When I did the original research for Odd Girl Out, I asked every bullied girl I interviewed to tell me what she needed most from her family. The answer truly surprised me. It wasn't having the best solutions, calling the school or trying to act like everything was okay.
Before you say, yeah, yeah, I figured that, hear me out. Now that I've been working with parents for a decade, I have seen up close how easy it is for empathy to go out the window. There are two reasons why parents struggle: First, when the alarm bells go off, we want to put out the fire. We assume -- understandably -- that we can make a child feel better by making her problem go away. Parents are habituated to this from the moment of a child's birth: feed when they're hungry, sleep when they're tired, hold when they cry. We bypass empathy and go straight to the problem solving.
But as your daughter grows more independent, and her peer culture becomes more influential, it becomes almost impossible for you to make her problems "go away" (in my experience, most girls come to accept that long before their parents do). In fact, peer aggression is one of the first moments many parents come to that painful realization: I'm not going to be able to control her world. I can't fix it.
Second, empathy is painful. It involves slowing down to acknowledge and think about your daughter's feelings of hurt, rejection or sadness. This can be an anguishing experience for parents. Connecting with these emotions can make you feel powerless and overwhelmed, so it's understandable why many parents would prefer to spring into action.
Your daughter is hungry for empathy when she is struggling socially. Remember that girls live in a peer culture that often denies or invalidates feelings: you're being too sensitive, I didn't do that, you took it the wrong way, I was just kidding. Still other girls are hurt by peers who deny what they've done in the first place. Your empathy tells your daughter, I know this happened. I know it hurt. I see you, I love you and I'm here.
An empathic response to a bullied or targeted girl might sound like this:
"I'm so sorry this happened." "That sounds awful." "If I were you, I would also feel really ______." "It sounds like you're feeling pretty _______." That makes a lot of sense.
Empathy isn't the same thing as expressing emotions. It's not about sharing your feelings -- it can be really uncomfortable if a parent cries or loses strength at the moment her daughter needs it most. The message sent is that you need to be taken care of, not the other way around.
To help you achieve the right balance in how you respond to your daughter, think back to when she was learning to walk. If you showed fear and panic when she slipped and fell, she'd usually sense it and wail. If you chortled, "Oops! You're okay! Up you go!" and plucked her up calmly, she probably kept on trucking. Your concern and reassurance motivated her to continue. That's what she needs from you now. Your courage will help sustain her when she can't access any on her own.
Empathy isn't the only tool at your disposal, and it's hardly the only thing you'll do when she's hurting. But it's the first step, and one not to be missed.