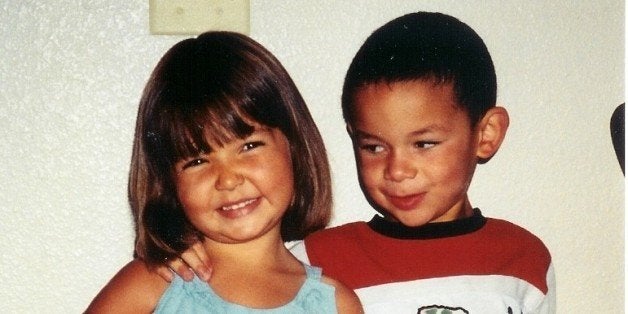 I am a loving parent of two children -- Ben and Sarah.
My son, Ben is only seven months older than my daughter Sarah and will easily tell you he is adopted. By 18 months, it was clear that he was not like other kids and by the time he started Kindergarten, we were well aware of his intellectual disability, coupled with mental illness.
Ben was different and everyone seemed to know it. Isolation and difficult struggles enveloped our family; I felt like we were crumbling and that there were no options.
As children, Ben and Sarah tried to find a home in our community. Ben joined the neighborhood soccer team, but he was bullied by his teammates. A dog running through the park would easily distract him and he didn't process the game fast enough so he would often miss the opportunity to kick the ball or make a pass. The teasing from his teammates started slowly, but then one day some boys on his team pants'd him by pulling down Ben's pants on the playing field, in front of the whole team. All the while the team's coach stood by and chuckled. As a parent, it was my last straw. I pulled him off the team and filed a complaint with the league. While the complaint seemed to fall on deaf ears, it was Ben who suffered -- no longer on the team with the other boys in the neighborhood.
For Sarah, the struggles were not as overt. She might be invited somewhere if Ben was not around, but nobody came to our home. I wanted to say to other moms, "Do you think I'd let your child be hurt by my son?" However, I knew that would only make it harder for Sarah. Instead, as a family, we endured.
That is until Ben and Sarah found their home -- a place that accepted them for their strengths, their weaknesses, their talents and their gifts and allowed them to work together to find their own voices.
They found their home in Special Olympics.
As a family, we were hooked within weeks and could be found at all the practices and games. We made lifelong friends and found something that fit our needs perfectly.
As Ben progressed through the years, so did Sarah. They each grew in confidence and strength, increasing their passion and leadership abilities with every opportunity. Special Olympics offered much more than just sports. Ben and Sarah empowered their peers in school and in the community and they were eager to demonstrate how acceptance, inclusion, and friendship are not only the right things to do, but that people can have fun with it, too.
But more importantly to me, this new home solidified their relationship as siblings and as friends. They learned that every obstacle could be overcome because they had each other and, together, they could accomplish great things.
Both of my kids grew in their ability to speak in public. Ben learned to love speaking into a microphone and he became confident that he could spread his message. He told how, after having Special Olympics in his school that the bullying stopped and his peers often invited him to lunch. It was and is a powerful connection.
Sarah also flourished with the responsibility to organize both people and events. She brought together students with and without intellectual disabilities from the school and local community to play Unified Sports together. It was an amazing experience for all, but the best part was that it was just a group of students having fun and making friends through sport. Sometimes it was difficult to tell the students from the athletes, and, in the end, that is what it's all about -- true acceptance and friendship.
As a mom, I am in awe of the transformation in my kids through their participation in sports and programs to help break down the barriers that exist for people with intellectual disabilities. So, whether you are a person with intellectual disabilities, a family member, a friend, or just someone who likes to have a lot of fun, Special Olympics can enrich your life, too. All you need to do is become involved, just one time, and you will be hooked. It happened to our family and changed our lives forever. Get out there and #PlayUnified!
This post is part of a series produced by The Huffington Post and Special Olympics in conjunction with National Bullying Prevention Month this October. To find out more about how Special Olympics is urging the world to #PlayUnified to stop bullying and support inclusion for all, please visit here. Read all posts in the series here.
REAL LIFE. REAL NEWS. REAL VOICES.
Help us tell more of the stories that matter from voices that too often remain unheard.