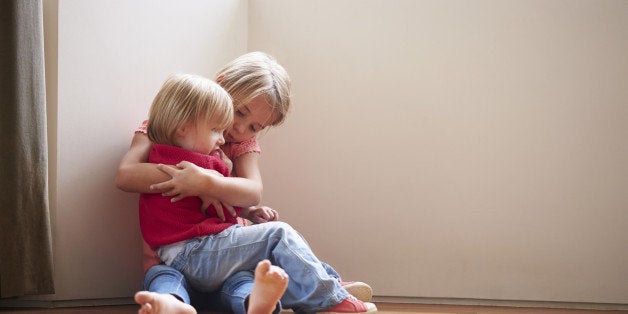 Coauthored by Jennifer Kahn and Richard Weissbourd

October was National Bullying Prevention Month. For many schools and programs, this signifies a time to amp up anti-bullying messages, hashtags, rallies, posters and t-shirts. It's time for workshops ranging from how to be an upstander to how to reduce cyberbullying. For many parents, it's a time to remind children that bullying is not OK and to ask them how they might react if they witness bullying in their schools.
In one way or another, these anti-bullying efforts and home conversations tend to encourage children to stand up to bullies. And if children are also given thoughtful guidance on different strategies for preventing and stopping bullies, that focus is certainly positive.
But we seem to be missing something here. With all of the focus on how individuals can combat bullying, we have forgotten the power of context and the social norms that set the precedence for bullying behaviors to emerge in the first place. We can't just focus on turning kids from bystanders to "upstanders" whenever bullying occurs: We also need to focus on changing social norms and school climate so that bullying doesn't occur. Rather than simply asking children to go against the tide, we need to change the tide itself.
One of the best places to start is in schools. The critical role of school climate in reducing bullying has been well supported, but recent findings pinpoint specific dimensions that may have the most impact on student interactions and experiences in school. One powerful way of changing social norms is by building empathy -- at home and in school.
In our recent survey of over 10,000 students in 35 middle and high schools across the country, we found that in schools where students reported having more empathy, students also reported fewer experiences of bullying and were more likely to try to stop bullying. Students who reported more empathy also reported fewer experiences of discrimination, threats to physical safety, teasing, and bullying at school. Higher reports of empathy were also associated with student reports of feeling more connected to their school and being more influenced by school values.
These findings highlight what we and other organizations such as SPARK Kindness already know -- that by building caring and inclusive school environments, we are likely to see a decrease in bullying and an increase in a variety of positive social, emotional, and academic outcomes.
There are many ways we can work to promote empathy, ranging from our everyday interactions with children to more in-depth activities. We can talk about empathy and kindness, or other important values, discuss what these values mean, and set clear expectations -- requiring children, for example, to help out kids on the playground who are isolated. But we should remember that what we say means very little if we don't practice what we preach. Children are taking note of our behaviors -- the way we talk to others and the subtle messages we send. Be sure to model kindness and respect in your own interactions and your children will be much more likely to follow suit. We can also give children opportunities to practice empathy and engage in the habit of caring for others. Whether at home or in the classroom, involve children in making plans or solving conflicts -- encourage them to reflect on the perspectives of others.
Other activities and strategies are designed to build empathy and inclusion over time. For example, a Circle of Concern exercise, in which students reflect on who they have empathy for and who they may not be aware of on a day-to-day basis, can be a great way to encourage students to think about others, especially those who are different from themselves or who may not be on their radar. This activity can be used at home, in school, or with an after school group. For more ideas on how to develop empathy in children, check out Jessica Lahey's recent New York Times piece "Teaching Children Empathy" that draws on our work.
Another great way to start thinking about how you can make a school a more inclusive and caring environment is to use a school survey to gather information about how students perceive the school. Collecting this information provides an opportunity to understand student perspectives and identify challenges. It also gives the school a point of reference with which to measure change. If you're a parent, find out if your child's school uses a school climate survey and what the results showed. Stay informed about how the school is responding to challenge areas. If they don't use a school climate survey, discuss the possibility of trying one or consider talking with other parents to work with school leaders to form a school climate task force. For information on surveys, see our website.
So while it's good to focus once a year on how to respond to bullying, the time has come to work year-round to change our norms. Continue to talk to your children, set high ethical expectations for your children, and model those behaviors yourself. Find out what your child's school is doing to improve social norms. Ask questions, get involved. And even though it's November, keep the momentum going.
Jennifer Kahn is the Project Coordinator for Making Caring Common, a project of the Harvard Graduate School of Education. Her work has focused on bringing together education and psychology, with a focus on the translation from research to practice. As a Research Assistant for the Shervert H. Frazier Research Institute at McLean Hospital, she worked on several clinical trials pursuing new directions for therapeutic treatments of bipolar and unipolar depression, conducted neuropsychological assessments, and weekly patient evaluations. As a Job Counselor at the Learning Prep School, she led daily vocational and skills groups focused on interpersonal effectiveness and social skills for high school students with autism and provided students with support in securing and maintaining internship or volunteer positions. She is interested in the development of effective research-based school interventions that support social and emotional learning. She has an Ed.M. from Harvard and a B.A. in biology from Johns Hopkins University.

Related