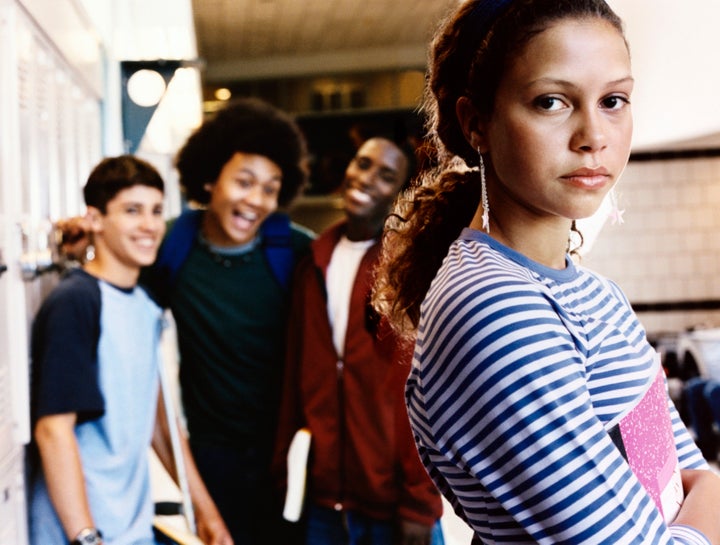 Bullying victims often cite lasting psychological damage as a consequence, but a new study shows that those who are bullied also suffer academically, especially high-achieving black and Latino students.
The study shows that students who reported being bullied in the 10th grade saw a slight decrease in GPA by 12th grade -- but the change is sharper for black and Latino students who tend to earn high grades.
While the overall decrease in GPA for bullied students over the studied period was 0.049 points (on a GPA scale with 0 being the lowest and 4 being the highest), black students saw a 0.3-point decrease in 12th grade GPA from a 3.5 GPA in 9th grade -- before they were bullied. Worse, high achieving Latinos who were bullied experienced a 0.5-point drop in GPA from a 3.5 their freshman year. Carrying the same control variables, bullied white students only saw a 0.03-point drop in GPA.
Low-achieving black and Latino students proved to respond less academically to bullying, yielding under 0.1-point decrease in GPA over the period, whereas low-achieving white students responded more with over a 0.1-point drop.
All Asian students, whether high- or low-achieving, experienced a 0.3-point decrease in GPA after being bullied in 10th grade.
Led Williams, a doctoral student in sociology at Ohio State University, and Anthony A Peguero, a sociology professor at Virginia Tech, the study worked off of previous national bullying data and surveyed 9,590 students across 580 schools. The results are presented today at the American Sociological Association's annual meeting in Las Vegas.
Williams and Peguero found that 40 percent of those studied reported experiencing instances of bullying. The researchers analyzed the causal effects of bullying on academic performance by removing variables of a student's former grades and family background.
Related
Popular in the Community