Sun care company Sun Bum hosts a unique surf contest around the world. Calling it the Bum Rush Tour, the contest is held without any advanced warning as judges show up to an undisclosed location unannounced, blow a horn, and 20 minutes later the judges will name a winning surfer from those who were already in the water surfing. The contest doesn't have any qualifiers, entry fees, or applications. The winning surfer, who is almost always caught off guard and very surprised by the champagne shower and ceremony they receive upon coming to shore, is given a winning prize of a large $1,000 check. Recently, the Bum Rush Tour made a visit to Northern California, where they awarded local surfer Ragnar Johnson a check for $1,000 for winning the Bum Rush Tour contest at Fort Point in San Francisco.
"It was a close race between Ragnar, Bryan Dickerson, and few others," said Kevin Campion, who is one of the three judges who decided the contest. "But the wave that really sealed the deal was when Ragnar took off on a swing wide set that started with a few solid turns and ended with a legitimate tube section."
Conditions last week at Fort Point were sunny with solid overhead waves. When the judges were set for the contest, a crowded lineup wasn't aware that they were suddenly competing for a $1,000 prize. "I wasn't sure what the deal was, but I decided to just surf it like I would, and maybe get a lucky wave like I did!" said Ragnar, shortly after being awarded the winner's check. "I'll probably use the money to take my wife and 8-year-old son surfing in Central America."
When organizers of the Rip Curl Pro Search San Francisco were making their initial assessments and organizational decisions last year, Fort Point was a brief consideration. The iconic left hand point break under the Golden Gate Bridge is one of the rare point breaks located on the West Coast north of Santa Cruz, and while currents and rocks can be imposing and challenging, for a pro surfer it has the potential of being an amazing wave. Logistical concerns mainly with parking and traffic at Fort Point ended further discussion of holding any portion of the contest there and the Rip Curl Pro Search San Francisco was held at Ocean Beach. It is believed that Fort Point has never held a contest prior to the Bum Rush Tour holding their impromptu event.
The organizers of the Bum Rush Tour weren't finished with Northern California after the completion of the Fort Point event. A similar contest was held days later at Steamer's Lane in Santa Cruz, with 14-year-old Ben Coffey winning the $1,000 check and receiving lavish praise and attention after coming to shore.
"The surf was in the waist high range with a few bigger inconsistent sets rolling through," said Event Director Dustin Smith. "It was a close race between Ben and another longboarder. However, Ben prevailed by connecting several long rides with numerous stylish carves all the way to the cliff. In fact, some rides were so long he would hop out of the water, run past the judges and back to the top of the point for another."
Congratulations again to Ragnar Johnson and Ben Coffey, both winners of the Bum Rush Tour in Northern California.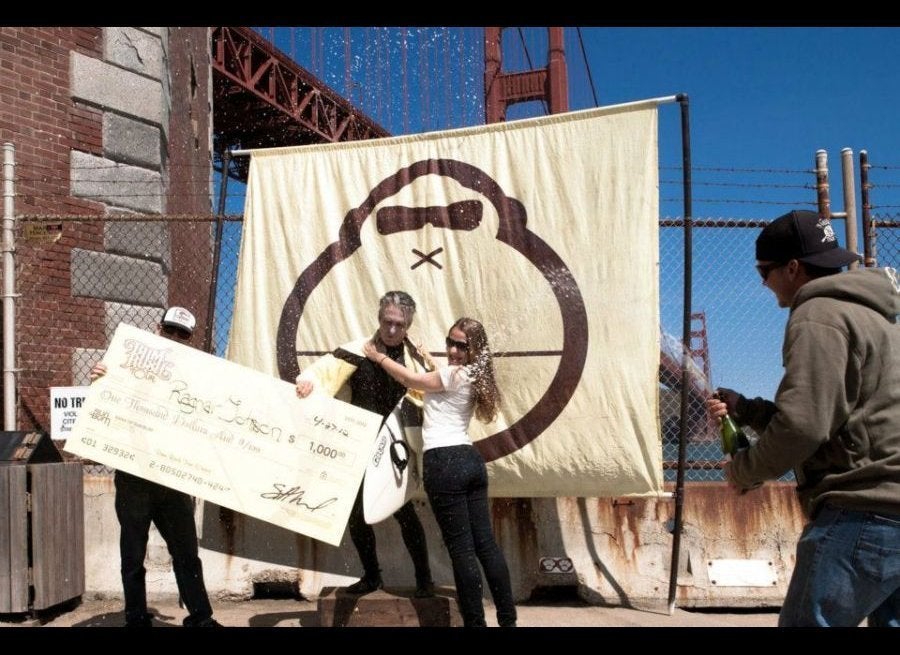 Bum Rush Tour Fort Point
Related
Popular in the Community