In a press release, the company said the feature was designed to help users showcase their personalities and create connections. (We can't help but think it will make it more difficult to catfish people as well.)
Here's how it works: Users record their live videos directly to Bumble ― or conversely, upload pre-recorded videos (as long as they were taken in the last 24 hours) ― for others to see. Just like Instagram stories or Snapchat, you'll be able to see who watched.
BumbleVID will be available for everyone who is photo verified on the platform.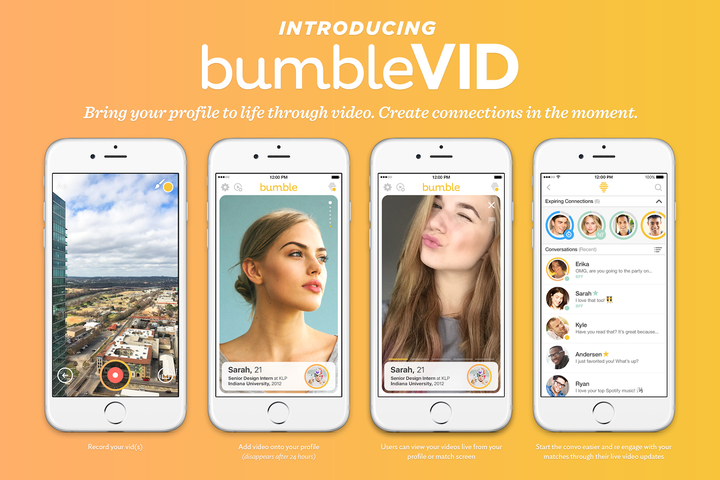 At some point, Bumble says it will add other features to the video service, including geotagging, stickers and filters. (Because you don't really know what a person is like until you've seen them rainbow vomit.)
Obviously, posting live videos with geotagged location could make users vulnerable, but Bumble said it's focused on safety. The company told Mashabe users will have the option to post videos publicly or only show them to their pre-approved matches, and that they can always report and block users.
As TechCrunch points out, the video feature should lead to more time spent on the platform and a stronger incentive for users to create content: Sure, you could post your Friday night recap videos on Snapchat but why not post it on Bumble, too?
The dating app, which only allows women to send the first message, has been hailed as a "feminist Tinder." Bumble last made headlines in October, when they posted a picture to Instagram that said "for every like this post gets, Bumble will donate a dollar to Planned Parenthood." The post received 28,747 likes by the time the campaign ended.