I guess you could say I've been around a bump or two in the 30 years since I wrote the first edition of What to Expect When You're Expecting. Big bumps, little bumps, high bumps, low bumps, pierced bumps, tattooed bumps, covered bumps, bare bumps. Bumps of every shape, size, and color -- each, like the baby inside, one of a kind. And each the symbol of a beautiful new beginning -- a baby in the making, a future in the making. Really, our future in the making.
I've lovingly rubbed a lot of bumps in my time (I'd like to say I always ask permission first, but sometimes my hands have a mind of their own). I've hugged a lot of moms, too, sometimes hundreds in a day -- from Detroit to Dhaka, Los Angeles to London, Kansas to Cairo, San Diego to South Sudan, Ft. Hood to Rikers Island Prison. And this I know: As unique as every mom experience is, as different as we ultimately are, no matter what our cultural, religious, racial, political, socio-economic profile, motherhood is a sisterhood tied together by a single bond. We all want what's best for our babies. We all want the same bright beginning for them. We all want that healthy, happy future for them. And truly, we'd do anything in our massive reserves of mom power to make that happen.
Pregnancy and childbirth are never easy, let's face it, even with all the cards stacked in our favor -- with all the resources at our fingertips, with caring partners and skilled practitioners, with good reproductive health care and financial stability, with access to the nutritious food expectant moms need to nurture the life growing within those beautiful baby bumps -- being a mom is still hard. Take those things away, and the challenges grow exponentially. And the chances that a baby will have the best start in life and the best shot at a healthy, happy, productive future -- every mom's dream for her little one -- diminish. As I saw firsthand during my recent trip to South Sudan.
Each day around the world, about 800 women -- our sisters in motherhood -- die from preventable causes related to pregnancy and childbirth, and each year 1 million babies die within the first day of their life, ending the promise of that bright future before it begins. And the challenges moms face aren't limited to developing countries. In the U.S., the wealthiest nation on the planet, both maternal and infant mortality are astonishingly high, especially in states such as Mississippi and Alabama where access to prenatal care, proper nutrition, and family planning remain astonishingly low.
But, we can change that -- really, we can. Healthy futures start with healthy beginnings, and the health of the world's mamas-to-be is linked inextricably to the health of our world. We can shape that future, one mom, one bump, one baby at a time.
There are low-cost, high-impact solutions to end preventable maternal and infant deaths and support healthy moms and babies around the world, steps we can and should be taking to protect their future and our own:
Care for our future. Provide prenatal care throughout pregnancy, preferably starting before it begins, to every mom -- not just those who can afford or access it. Train more midwives and set up clinics and mobile clinics to provide that care in remote areas (not only in Africa, but in Appalachia).
Feed our future. A baby's future health is, in so many ways, formed before birth. Access to nutrition is crucial to a mom's health during pregnancy and to her baby's development in utero -- yet too many moms can't afford to feed themselves and their babies well, leading to a variety of preventable pregnancy complications, from gestational diabetes and hypertension to restricted growth and preterm labor, as well as stunted growth and cognitive development. Let's nourish the nurturers by making healthy food available and affordable to every mom.
Plan for our future. Help moms plan for a healthy pregnancy. When a woman has access to voluntary family planning, she can become a mom at the time in her life that's right -- and healthiest -- for her and for her future babies. This simple, cost-effective, common sense step lowers maternal and infant mortality.
Clearly, there is no more pressing global issue affecting our entire future than the health of pregnant women around the world. Yet, unbelievably, there is no single day devoted to it.
On Wednesday, July 22, I'm teaming up with WhatToExpect.com, International Medical Corps, 1,000 Days, and the United Nations Foundation to bring bumps to the forefront -- where they belong. And I'm hoping each and every one of you will join us.
It's called #BumpDay -- and it's a day to celebrate that sisterhood of motherhood, those beautiful bumps, those beautiful babies, that beautiful promise of a beautiful beginning. It's also a day to generate awareness about the challenges moms face trying to give their babies the best start -- and the simple solutions that can help them overcome those challenges.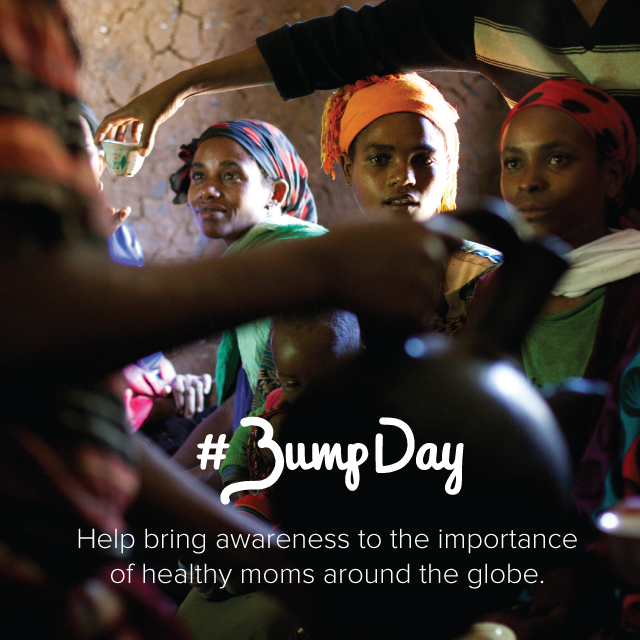 And it's easy. Just post a picture of your bump or a bump you love on Instagram, Facebook or Twitter using #BumpDay. Every bump is welcome. Post your current bump, a bump blast from the past, a bump for each of the babies you've had, your mom's bump when she was expecting you. Dads, share your partner's bump -- and show your bump love with your arms wrapped around it. Siblings and other loved ones are invited, too.
Because there's nothing more beautiful than a baby bump -- except for a baby bump
filled with a healthy baby.