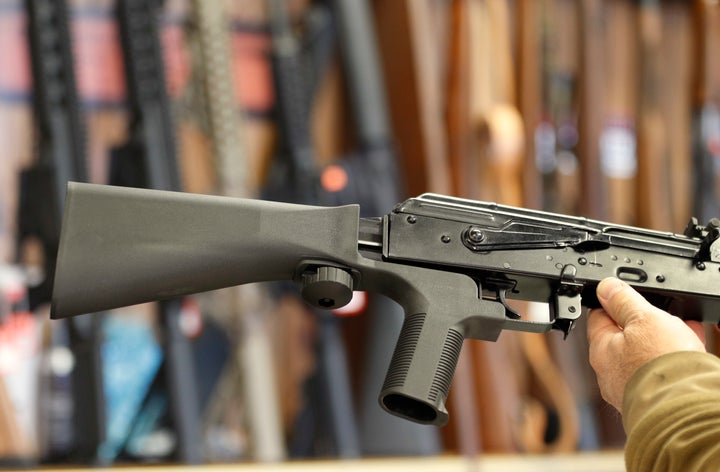 WASHINGTON ― It's been one month since the deadliest mass shooting in modern U.S. history and momentum for a ban on bump stocks, the devices used by the Las Vegas shooter to kill 58 people and injure over 500 others, appears to have stalled.
With congressional Republicans focused on tax reform for the foreseeable future, and given their inability to offer little more than "thoughts and prayers" in the wake of a mass shooting, the push for a legislative ban on bump stocks is likely dead entirely.
"I've been through this so many times," a crestfallen Sen. Dick Durbin (D-Ill.) told HuffPost this week. "At first there's just grief, commiseration, outrage ― and then silence. We can't bring measures to the floor as we want. It depends on the leadership in Congress, and currently, they don't want these issues to be brought up."
In the days following the Oct. 1 attack, hope rose among gun control advocates that Congress would finally act to pass a commonsense law banning the firearm modifications, which make semi-automatic weapons function like machine guns. Spurred by receptive comments from GOP lawmakers, many of whom had never heard of bump stocks, several bills were introduced aiming to outlaw them.
But momentum for a legislative fix was soon ― and some gun control advocates argue deliberately ― kneecapped when the National Rifle Association, the powerful gun lobby, issued a statement urging the administration to address the matter via existing regulations and not law. Under such a scenario, the Bureau of Alcohol, Tobacco, Firearms and Explosives, or the ATF, would close the loophole via a regulatory change.
"We think the regulatory fix is the smartest, quickest fix," House Speaker Paul Ryan (R-Wis.) said a few days later, pouring further cold water over the prospect of a legislative fix.
Democrats, however, argue that congressional action is needed to codify a ban on bump stocks because a regulation can easily be overturned by a different administration. They also note the ATF previously issued memos in 2011 and 2013 which said that existing gun laws do not provide sufficient authority to deem bump stocks illegal.
"The ATF does NOT have the authority to address bump-fire stocks — and has made this point clear to Congress MULTIPLE times," Sen. Dianne Feinstein (D-Calif.), who has authored a bill in the Senate banning bump stocks, tweeted earlier this month.
Feinstein proposed a similar ban in 2013 that would have outlawed detachable stocks on semi-automatic weapons, but the measure never received a vote due to bipartisan opposition.
Rep. Carlos Curbelo (R-Fla.) said earlier week that his bill banning bump stocks, which he introduced alongside Rep. Seth Moulton (D-Mass.), would receive a second look because he "highly" doubts the ATF will be able to "change their regulations in a credible way."
Asked whether the agency had the authority to regulate bump stocks, ATF spokeswoman Amanda Hils told HuffPost that the matter was currently under review by the Justice Department.
"Whether a part or accessory is, in fact, a machinegun requires an application of statutory terms – the law – to the technical and functional characteristics of the device. This analysis requires both technical and legal expertise," Hils said.
If the ATF finds that it does not have the authority to regulate bump stocks, the onus will be on Congress to act. Any attempt at gun legislation, however, faces tough odds in a Republican-controlled Congress. Second Amendment advocates oppose any attempts at gun control, with some even going so far as to call mass shootings the "price of freedom."
Still, some GOP senators say they'd consider legislation if the ATF can't act unilaterally.
"If they really do believe that the rules can't be amended without statutory changes, then I'm open to that discussion," Sen. Mike Rounds (R-S.D.) told HuffPost this week.
It's unclear whether the issue of bump stocks ― which many lawmakers said they were unfamiliar with and needed time to study in the wake of the Las Vegas shooting ― even will receive a congressional hearing.
A Senate Judiciary Committee spokesman for Chairman Chuck Grassley (R-Iowa) said the committee was recently briefed on "various regulatory and technical issues involving bump stocks and is evaluating potential regulatory and legislative proposals to restrict" them.
"The Judiciary committee is also considering a hearing on bump stocks and the Las Vegas shooting when more complete facts are available from the investigation," the spokesman, Taylor Foy, added in a statement.
Democrats are pressing ahead with broader gun control measures despite the lack of action on bump stocks, arguing it is important for advocates to have something to rally around ahead of the 2018 midterm elections.
Sen. Chris Murphy (D-Conn.), a top gun control advocate, introduced legislation this week strengthening background checks on gun purchases, a measure that is widely popular with gun owners and the general public. It's the third such attempt to do so since the 2012 mass shooting at Sandy Hook Elementary School in his home state.
While such a law would not have stopped the Las Vegas shooter from obtaining a weapon, Murphy argues it is needed to stem the tide of gun violence. Since the Las Vegas shooting, for example, more than 2,738 people have been shot in the U.S., according to data collected by the Gun Violence Archive. A reported 840 of them died.
Murphy said he wants to rekindle the conversation around gun control because the NRA was using the bump stock issue evade the issue of background checks.
"The gun lobby wants you to only be able to talk about gun laws that would have addressed the last high-profile shooting," he told HuffPost this week. "They do that because they want us to take the eye off the ball of background checks. They know this would be the most meaningful change, and they don't want us to talk about this because they know that ultimately this will make the biggest difference."
Popular in the Community