A leading manufacturer of bump stocks, devices that make semi-automatic weapons function like machine guns, told customers on Tuesday it is resuming sales of them in limited quantities.
"We would like to take the time to thank all of our customers for their patience and support throughout this past month!" Slide Fire, the company that produces the devices, said in an email, according to The Trace.
The announcement comes just one month after the mass shooting in Las Vegas ― the deadliest such shooting in modern U.S. history. Law enforcement officials said the gunman, Stephen Paddock, used weapons modified with bump stocks to kill 58 people and injure over 500 others at a country music concert outside the Mandalay Bay Resort and Casino.
Texas-based Slide Fire temporarily suspended sales of bump stocks in the wake of the Oct. 1 attack, and demand quickly spiked for the devices across the country amid fears they would soon be outlawed.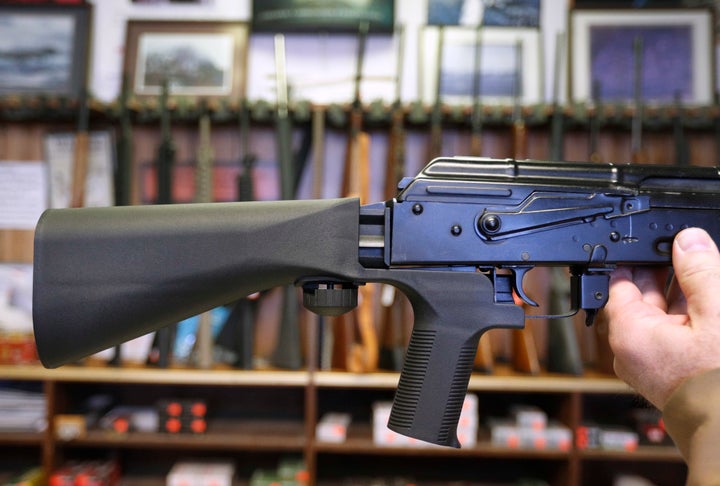 The push in Congress for a legislative ban on bump stocks, however, has stalled. Lawmakers have introduced several bills that would do so, but the effort was kneecapped after the National Rifle Association, the powerful gun lobby, said the matter ought to be handled via existing regulations rather than new laws.
Under such a scenario, the Trump administration would direct the Bureau of Alcohol, Tobacco, Firearms and Explosives (ATF) to outlaw bump stocks and similar devices. The ATF is reviewing whether it has the authority to do so. Democrats, however, note the agency has previously said it cannot regulate bump stocks under existing laws.
Earlier this week, a bipartisan group of lawmakers introduced legislation that would regulate the purchases of bump stocks ― but not ban them outright. The bill, authored by Reps. Brian Fitzpatrick (R-Pa.) and Dina Titus (D-Nev.), would require people who wish to purchase a bump stock to register with ATF, pass a background check, and pay a $200 tax.
"Anyone who wants a device that modifies a firearm to shoot hundreds of rounds per minute should undergo thorough background checks and oversight," Titus, who represents the city of Las Vegas, said in a statement.
Clarification: A previous version of this story called the $200 payment made in order to purchase a bump stock a fee.
Popular in the Community