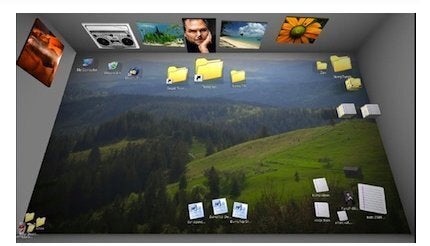 BumpTop, a startup that makes computer desktops appear 3D, announced via the company blog that it has been acquired by Google.
The acquisition suggests exciting possibilities for the future of Google's Android operating system, and, as Google has a tablet PC in development, hints that future tablets could feature a 3D desktop.
At a 2007 TED Conference, BumpTop founder Anand Agarawala said that his company's novel interface, which re-formats a computer desktop to resemble a three-dimensional, desk-like space filled with "piles" of icons and images "pinned up" on the "walls," aimed to move away from the "same old crap."
BumpTop's blog announcement noted that the company would suspend sales:
Today, we have a big announcement to make: we're excited to announce that we've been acquired by Google! This means that BumpTop (for both Windows and Mac) will no longer be available for sale. Additionally, no updates to the products are planned.
So what will Google do with BumpTop?
There has been speculation that the startup's interface will be used by Google to improve its interfaces, from Chrome to Android.
The most likely area seems to be its Android operating system for smartphones and (eventually) other devices, such as tablet computers. Some of these ideas and technologies might give the Android interface a leg up over Apple's iPad and iPhone. Google is also developing the Chrome operating system for netbooks, but BumpTop seems less relevant there, since the Chrome OS is all about the web browser.
The videos below--a demo of BumpTop and Agarawala's 2007 TED presentation--offer a glimpse at what the future of tablets, and computing, could look like if Google applies the BumpTop technology to its rumored tablet PC.
WATCH:
Related
Popular in the Community