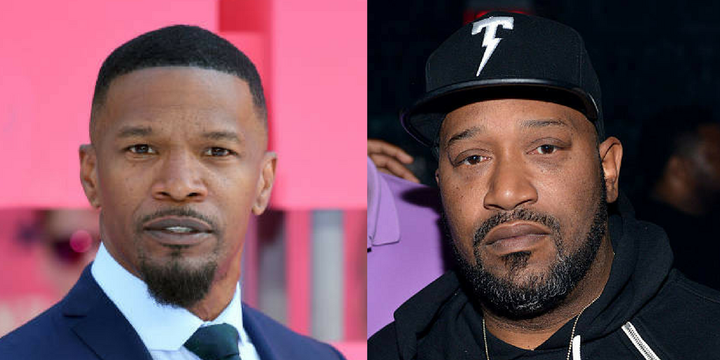 Houston artist Bun B, one-half of rap duo UGK, is teaming up with Jamie Foxx and other celebrities to host a live telethon to raise money for the survivors of Hurricane Harvey.
The hip-hop legend, who's also a professor at Rice University, announced on Wednesday that he ― along with music manager Scooter Braun, who produced Ariana Grande's "One Love Manchester" benefit concert ― would be hosting the event to help those who've been affected by the catastrophic flooding and winds. The telethon is scheduled for Sept. 12.
Bun B, who has consistently given back to the community in Houston, told TMZ that he came up with the idea after talking to several people about how he could make a large-scale impact. 
"I reached out [to Braun], he was immediately receptive," he said in a video interview. "We reached out to literally every major television network. Everyone was like yeah, let's do it, so literally within maybe, I would say 72 hours we put together a nationally televised telethon." 
Foxx, who's from Terrell, Texas, announced that he would be one of the telethon's celebrity hosts in an Instagram video Wednesday.
"Just wanted to let everyone in Texas know, we got you. From a fellow Texan, my heart goes out, my prayers go out," Foxx said, adding that he has already donated $25,000 to GlobalGiving to help victims. "Houston, Beaumont and all of those different places, we're here for you. God bless."
The one-hour telethon will be hosted simultaneously in Los Angeles by Foxx and (tentatively) Hilary Duff, in New York by Michael Strahan and in Nashville by Reese Witherspoon and Blake Shelton, TMZ reported. Bun B and Braun are expecting more celebrity participation to come, hoping that Beyoncé and Jim Parsons will be on that list. The major networks will air the telethon, according to TMZ.
Bun B also told the outlet that he'd only invite the president if he's there with former presidents as a sign of unity. 
"Putting Trump on by himself would send the wrong message and people wouldn't buy the sincerity of it," he said. "After what he did in Charlottesville, he's not a symbol of unity and it would rub people the wrong way."
The "Get Throwed" rapper said that it's important to unite as a country now, especially given the divisive events that occurred before the storm. 
"Houston is an example ... of what Americans will do. We will stand together, we will help each other in spite of the rhetoric that comes from the loudest mouths in the room, when it comes down to it, humans help humans, Houstonians help Houstonians," he said "And that's what this telethon is all about. We're reaching out to the compassion and the concern and the humanity of people worldwide."
Other Houston artists are also pitching in to help those affected in their hometown. Beyoncé announced that she would be working with her nonprofit and local church to "help as many as [they] can" and Solange announced on Wednesday that she's donating proceeds from two of her concerts to Harvey victims. Rapper Trae tha Truth launched a Harvey relief fund after helping the fire department rescue people who needed help.
Harvey hit Texas last week as a Category 4 hurricane. Officials have reported at least 35 fatalities due to the flooding and winds. Though the rain has stopped, more than 200,000 residents remain without power.
REAL LIFE. REAL NEWS. REAL VOICES.
Help us tell more of the stories that matter from voices that too often remain unheard.
BEFORE YOU GO
PHOTO GALLERY
Hurricane Harvey Aerial Images