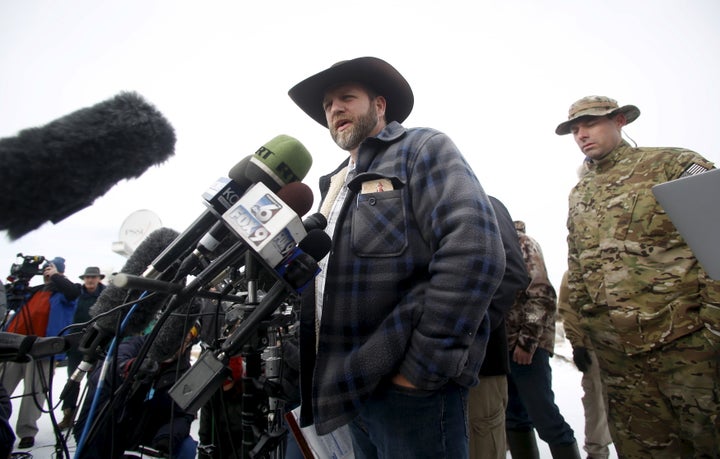 In a letter to department employees on Friday, Interior Secretary Sally Jewell said she is concerned about the implications of a jury's decision to acquit seven people for the armed occupation of an Oregon wildlife refuge earlier this year.
And in a similar memo obtained by The Oregonian/Oregon Live, U.S. Fish and Wildlife Service Director Dan Ashe suggested that the verdict could encourage others to replicate the occupation without fear of legal reproach.
The jury's decision to acquit brothers Ammon and Ryan Bundy and five of their accomplices for their six-week standoff with law enforcement at the Malheur National Wildlife Refuge has left top federal land officials on edge, as they try to determine what the verdict could mean for their employees and the future of federal land management.
"I am profoundly disappointed in this outcome and am concerned about its potential implications for our employees and for the effective management of public lands," Jewell said in her internal memo.
She also recounted a trip she took to the refuge earlier this year, after the occupation had ended. "It was painful to hear from employees who had devoted their entire careers to public service and worried about their safety," she said.
Jewell expressed concern that the not-guilty verdict could endanger federal employees, and urged staff members to "remain vigilant and report any suspicious activity to your supervisor and, where appropriate, law enforcement officials."
In his internal email to agency staff, Ashe lamented how the occupation had delivered a blow to morale at the refuge, and said that some of the refuge's 16 employees hadn't yet returned to work, or have decided to leave the agency.
"Their refuge work went undone ― reversing or impeding years of dedicated effort," Ashe wrote. "Many of their friendships, and their sense of belonging in the community, have been damaged or destroyed."
The group was also protesting federal control of land, particularly in the Western U.S., where 47 percent of all land is owned by the federal government. Bundy, along with his brother Ryan and his father Cliven, is among the most vocal critics of federal land ownership. In 2014, the trio participated in an armed standoff with law enforcement at Cliven Bundy's Nevada ranch, after federal officials tried to push Bundy's cattle off of federal land. Ammon and Ryan Bundy are still facing charges related to that case, and will remain in custody.
In Oregon, they sustained a standoff with law enforcement for nearly six weeks, until police arrested the last occupier. One occupier was shot and killed by police during a traffic stop near the refuge in the midst of the standoff. 
Among the charges the occupiers faced was conspiracy to impede federal officers by force, threat or intimidation. During the five-week trial, defense attorneys argued that the occupiers were exercising their First Amendment right to freedom of assembly.
That verdict frustrated and disappointed refugee employees, Ashe told The Oregonian/Oregon Live in an interview on Friday.
REAL LIFE. REAL NEWS. REAL VOICES.
Help us tell more of the stories that matter from voices that too often remain unheard.
BEFORE YOU GO
PHOTO GALLERY
The Cliven Bundy Conflict