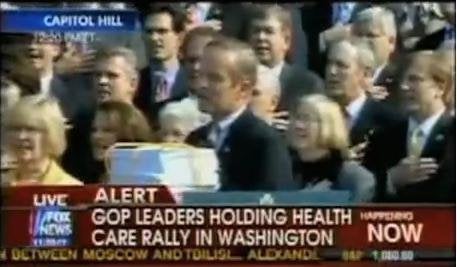 Via Amanda Terkel at Think Progress, here's video of representative Todd Akin (R-MO) treating today's Teabachle to the Pledge of Allegiance. Akin led off with a brief oration on the importance of the words "under God" in the pledge, because someone has to stop Nancy Pelosi from killing God, with death panels. Perhaps the overemphasis on that mid-20th century drop-in was what led Akin to leave out another important word of the pledge: "indivisible." Though the setting strongly suggests that this may have been a Freudian slip.
Boehner's spokesman Michael Steel responded by saying: "Both texts are vital to the liberty beloved by every American." Very true. So vital, that many actually learn them!
Calling all HuffPost superfans!
Sign up for membership to become a founding member and help shape HuffPost's next chapter