A California man is hopping mad that a costumed bunny ruined his Halloween by helping herself to handfuls of goodies that he and his roommates left out for trick-or-treaters.
"We were definitely upset," Nathan Brown, 20, of San Diego, told The Huffington Post on Tuesday. "We didn't expect it."
According to Brown, he and his roommates left nearly 100 full-sized candy bars on a table outside their front door on Halloween night, along with a note that read, "Help yourself, but please be considerate."
"We thought we would put the full-size candy bars out there because that would be cool for the kids," Brown said.
The roommates left their home for about an hour and when they returned, all they found was empty candy boxes.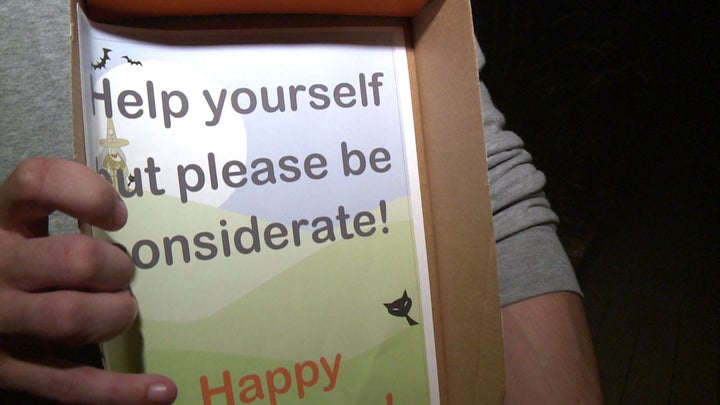 "We thought it would be fun to watch the security cameras and see who took it all," said Brown. "We thought it would be a kid and we thought that would be fine."
But, that's not what happened.
The video shows the hare-raising moment a woman clad in bunny ears walked up to the front door and stuffed her treat pail full of candy bars. At one point, she even appears to encourage her child to partake in the candy caper.
"When we saw the mother take it we were really upset," Brown said. "Especially because it was right in front of her kid, and you could see her kid come up and take one or two, which was fine, and then she comes up and starts grabbing them all and tells her kid to grab them with her."
Brown said everyone, with the exception of Bunny and Clyde, who he estimates took between 20 and 50 candy bars, was considerate. "I was disappointed."
No bunny knows why the woman took so many candy bars. The police haven't combed the area for any hares and Brown says he has no plans of settling the dispute in a pellet court.
So, while there might not be a hoppy ending, Brown did say he's learned a valuable lesson.
"I'll do it again next year, but I'll hand it out myself," he said.
REAL LIFE. REAL NEWS. REAL VOICES.
Help us tell more of the stories that matter from voices that too often remain unheard.