Numerous schools for Native American students are in abysmal physical condition, and it is the federal government's fault, according to a preliminary report from a congressional watchdog group.
A 29-page interim report from the Government Accountability Office released last week highlights some of the poor structural conditions facing Bureau of Indian Education schools. Personnel issues and inconsistent data collection hinder the government's ability to effectively keep up with BIE-run schools, the report finds.
The BIE, an agency under the U.S. Department of the Interior, operates 185 schools for around 41,000 students with the Bureau of Indian Affairs. Less than 10 percent of Native American students attend BIE schools, while the rest attend public schools. Students in BIE schools tend to perform worse on standardized tests than Native American students in public schools, and in the three states the report focused on -- New Mexico, Oklahoma and South Dakota -- these schools face severe maintenance challenges, the report says.
"While national information is limited, GAO's ongoing work has found that BIE schools in three states faced a variety of facility-related challenges, including problems with the quality of new construction, limited funding, remote locations, and aging buildings and infrastructure," the report says.
Staffing cuts and limited funding have made it difficult for federal employees to keep track of and manage schools in need of maintenance repairs. Poor communication between tribes and personnel has exacerbated this problem, says the report.
Some schools visited by GAO officials reported issues with aging facilities. The photo below, of one school's aging boiler system, is an example. School officials described the boiler system as "old, unreliable, and costly to maintain, and sometimes it is necessary to close the school when they fail to provide enough heat," says the report.

The following picture shows a crowded dormitory in an elementary school built in the 1940s. School officials told the GAO that "students had received head injuries from bumping their heads on the pipes and some students had attempted suicide by hanging from them."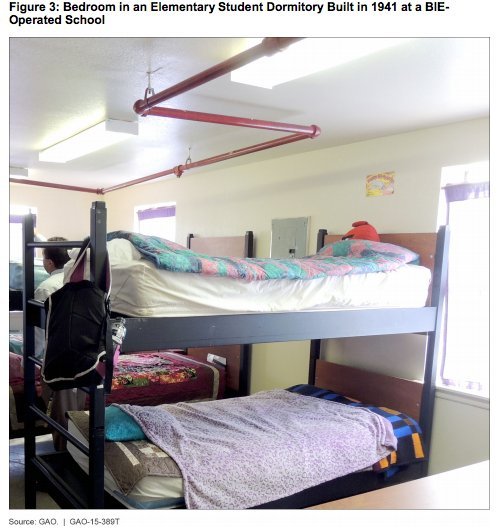 And even when schools receive construction help, that does not mean the job is done right. For example, at one school, a $3.5 million roof replacement project overseen by the Bureau of Indian Affairs has run into a multitude of problems since 2010. The roofs are leaky and cause damage to ceilings. While "Indian Affairs has monitored this situation," the department "has not addressed problems with the roofs," notes the report.
A representative for the Department of the Interior told The Huffington Post that because the GAO's recent release is only an interim report, the department would not be able to formally respond to findings until later in the process. Notably, though, in June 2014, the department began restructuring the BIE to help solve these problems.
Increased funding for BIE schools would help rectify these issues, notes the report. President Barack Obama's proposed budget for fiscal year 2016 requests almost $60 million for repairing BIE schools -- but even this amount would not be able to reach all schools in need of help.
"It's hard not to feel sad or angry when I look at the condition of the facilities," Secretary of the Interior Sally Jewell said in a January call with reporters about the president's budget. "We can and we must do better for Native people."
"The future of Indian Country rests on ensuring American Indian children receive a world-class education that honors their cultures, languages and identities as Indian people," Jewell said in a June 2014 statement. "The redesign of the BIE reflects President Obama's commitment to promoting tribal self-governance and self-determination, enabling the BIE to more effectively support tribal educators who best understand the unique needs of their communities."
Jewell told The Huffington Post in December that poor facilities for Native students is a result of "decades of neglect," and the current administration is "working in a way that is leveraging our dollars more effectively."
To take action on pressing education issues, check out Global Citizen's widget below.
Before You Go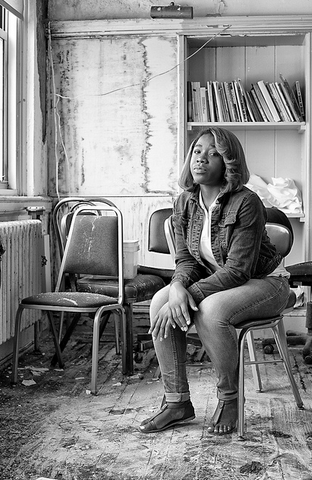 The State Of New Jersey Schools
Popular in the Community