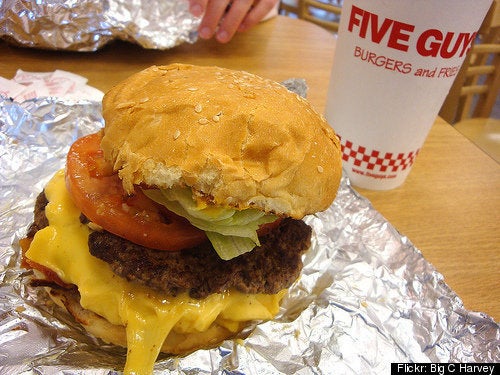 Found via LA Biz Observed, the OC Register reports on the brewing burger battle as Virginia-based, Obama-approved Five Guys Burgers muscles into the West Coast territory traditionally dominated by In-N-Out.
The Register chronicles one Five Guys newbie''s first impressions of the chain:
...Skeptics like Johnny Nielsen of Tustin have found the fuss hard to believe...

...We want to see if this can really beat In-N-Out," said Nielsen, while waiting in line with his friend Rick Davies.

After ordering a burger similar to In-N-Out's signature Double Double, Nielsen reluctantly shared his thoughts.

"It's pretty good," he said with a tone of surprise. "It's like eating a burger made at home. The meat is good like something you would get at a local butcher."

Other Five Guys newbies were equally impressed.
Does In-N-Out have reason to worry?
Related
Popular in the Community