NEW YORK -- Burger King is getting whopped over its plan to avoid U.S. taxes by fleeing to Canada.
People flooded the fast-food chain's Facebook page on Monday with threats of a boycott after the company announced talks to merge with Canadian coffee and doughnut chain Tim Hortons. The combined company would be headquartered in Canada.
Burger King is just the latest American company to attempt a so-called tax inversion -- where a bigger U.S. company buys a smaller foreign firm in a country with a lower tax rate, renounces its U.S. corporate citizenship and then reincorporates in the other nation. Politicians and pundits have said the moves amount to little more than unpatriotic ploys to avoid paying taxes. The corporate tax rate in the U.S. is 35 percent, the highest in the world. Canada's is about 15 percent.
"Move to Canada to avoid paying taxes and I will never darken the door of a Burger King again," Mike Gee, of Magnolia, Arkansas, wrote in a comment. "Does corporate greed in this country ever end?"
Radina Russell, a Burger King spokeswoman, declined to comment.
Taxes aren't Tim Hortons' only appeal to the Miami-based burger chain. The company sells a lot of coffee and doughnuts, and Burger King has struggled to compete with rivals McDonald's and Taco Bell in the fast-food war over breakfast. It's not clear how much the move to Canada would reduce tax costs on the combined company. But the deal would allow it to avoid paying double taxes on profits earned abroad, even though the company would still pay U.S. taxes on domestic sales.
Earlier this month, drugstore giant Walgreen ditched its plan to re-incorporate in low-tax Switzerland after facing intense pressure from politicians and protesters, more than 300,000 of whom signed a petition to boycott the chain. Roger Hickey, the co-director of the Campaign for America's Future, which spearheaded the Walgreen petition, said his group will launch a similar public plea within the next few days.
"On almost every street corner, there's an alternative fast food restaurant where [consumers] can buy food once they learn what Burger King is doing," Hickey told The Huffington Post on Monday. "You don't even have to announce a boycott to let them know that they're going to lose business."
Still, it may be hard to convince diners to change their habits, especially over a wonky tax loophole. Out of 10 people HuffPost spoke with on Monday afternoon at a Burger King in Manhattan, just one had even heard about the chain's possible move. Once the concept was explained to them, all of the customers said that they'd still eat at Burger King even if the restaurant went through with the plan.
Long Island resident Debbie Mevlos, who stops in at Burger King to eat a chicken sandwich every once and a while, said she didn't really care that the company was trying to pay less in taxes. In fact, she said the only news that would actually stop her from eating at Burger King would be some kind of food safety or harassment scandal.
Mevlos, 38, added that it doesn't surprise her that the company is doing what makes the most financial sense.
"Nobody wants to pay taxes," she said.
"They're in it to get richer," said Andre Perry, 48. Perry lives in the Bronx, and he said his hankering for Whoppers brings him to Burger King about three times a week. The news that the fast food chain might be trying to lower its tax rate wouldn't stop him from eating there, he said.
"It's not hurting my pocket," he said.
In fact, the possible plan has deepened some pockets on Wall Street. Burger King's stock price soared nearly 20 percent to $32.40 on Monday. Hedge fund titan Bill Ackman's Pershing Square Capital Management made about $161 million on Monday morning on its Burger King stake, according to data compiled by Bloomberg.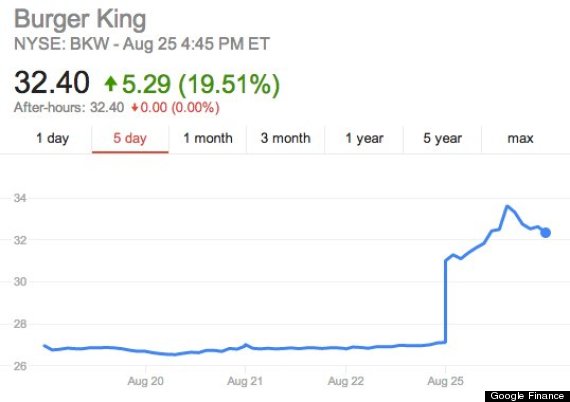 Even as some customers stay loyal to Burger King, calls for a boycott are already proliferating online beyond Facebook. A petition against Burger King began gathering signatures on MoveOn.org on Monday, and the leftist Occupy Democrats group posted similar appeals on its Facebook page. Sen. Sherrod Brown (D-Ohio) outright urged customers to eat at Wendy's or White Castle instead.
"Burger King's decision to abandon the United States means consumers should turn to Wendy's Old Fashioned Hamburgers or White Castle sliders," the Ohio Democrat said in a statement. "Burger King has always said 'Have it Your Way'; well my way is to support two Ohio companies that haven't abandoned their country or customers."
Sen. Bernie Sanders (I-Vt.) said that if corporations continue to shirk U.S. taxes, it will dry up necessary streams of funding for education and infrastructure.
"Burger King is so visible, it puts a focus on the general behavior of corporate America and, in a sense, the contempt they feel for the average American," he said during a Monday appearance on HuffPost Live.
President Barack Obama called tax inversion deals "wrong" earlier this month, and vowed to use an executive order to curb them.
"Get ready to hear fresh charges that some U.S. companies aren't patriotic," Greg Valliere, the chief political strategist at Potomac Research Group, wrote in a note to clients on Monday morning. "Democrats had hoped that a Walgreen inversion deal would help their cause, but Burger King is just as good, if not better."
Frank Clemente, the director of the nonprofit Americans for Tax Fairness, said he was taken aback by the timing of Burger King's move.
"Burger King is as much of an iconic brand as Walgreens, so that's what surprises me most," Clemente told HuffPost on Monday. "That's the problem for Burger King, what the public perception is going to be when the public can just go to a competitor right down the street, like McDonald's."
Related
Before You Go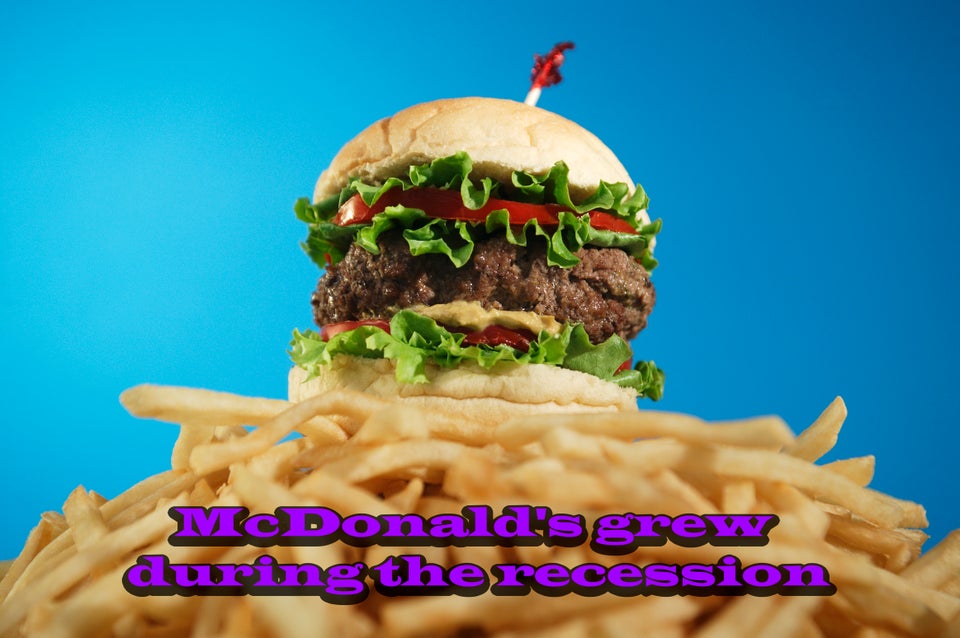 10 Things The Fast Food Industry Doesn't Want You To Know
Popular in the Community