Burger King announced today that it is making its Chicken Fries item a permanent menu item.
In an interview, Chief Marketing Officer Eric Hirschhorn told BurgerBusiness.com that the decision to bring Chicken Fries back for good was all about consumer demand and not about high beef prices. "This decision had absolutely nothing to do with that," Hirschhorn said.
Originally introduced in 2005 but cut from the Burger King menu in 2012, Chicken Fries resurfaced as an LTO last August after what the chain said was a strong and persistent consumer clamor for their return.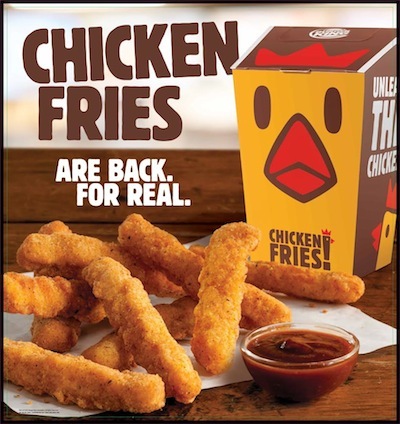 Chicken Fries rejoin the menu in the U.S. and are being added in more than 30 international markets, making them a signature item akin to the Whopper. Pricing remains $2.89 for a 9-piece serving. Dipping sauce options include BBQ, Honey Mustard, Ranch, Zesty, Buffalo and Sweet & Sour.
TV advertising for Chicken Fries' return begins during regional finals games of the NCAA tournament, for which Burger King is a national sponsor. Asked if the timing of Chicken Fries elevation to menu permanency was made to leverage the huge NCAA audience, Hirshhorn said it "certainly was part of the decision-making process" but that Chicken Fries have become a pop culture item whose popularity couldn't be ignored.
Digital marketing support includes a new Chicken Fries emoji keyboard, available from today in the iTunes App Store and Google Play Store.