 While Taco Bell urges America to ty its Waffle Taco, McDonald's promotes McGriddles, White Castle whips up Belgian Waffle Breakfast Sandwiches, Dunkin' Donuts tries its Eggs Benedict Breakfast Sandwich and so on, Burger King is going to sell a breakfast item it already knows everyone loves: burgers.
Burger King is rolling out a new "Burgers at Breakfast" menu that makes selected lunch and dinner favorites available in the morning alongside the chain's regular breakfast items. Previously, the rule was that burgers weren't available until 10:00 or 10:30 a.m. Some franchisees already were circumventing that timetable and selling breakfast burgers. Now corporate has given its blessing.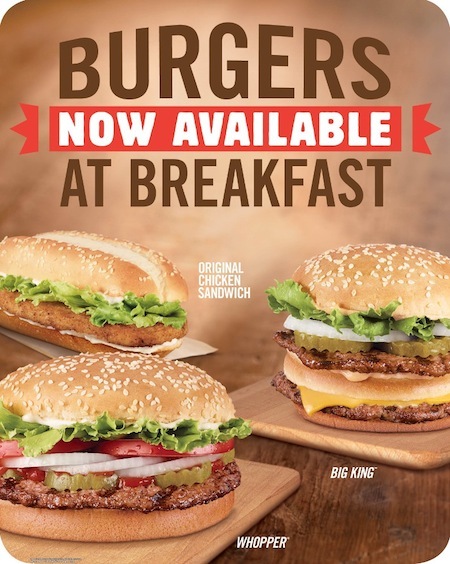 So rather than figure out how to sell breakfast all day -- as McDonald's has been trying to do -- Burger King has decided to instead sell burgers all day.
The company told BurgerBusiness.com that 5,000 restaurants have opted in to run the Burgers at Breakfast program, although it is not in that many locations yet. One operator in Tennessee told BurgerBusiness.com her stores would be activating the program by the end of this month, once merchandising materials such as drive-thru signage arrived.
Burger King has issued a Required Menu for the Burgers at Breakfast program that mandates an extensive selection: Whoppers and Double Whoppers, the new Big King, Whopper Jr. burgers, cheeseburgers, double cheeseburgers, Bacon Double Cheeseburger, Original Chicken Sandwich and french fries.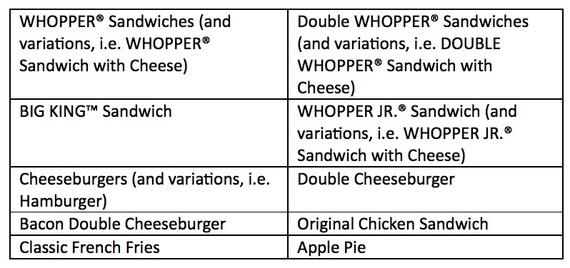 In a statement to BurgerBusiness.com, Burger King said of the program, "Selling Burgers at Breakfast at Burger King restaurants allows our guests to start their day being their way -- either with the great flame broiled taste of our signature burgers and sandwiches or with our delicious suite of breakfast offerings."
Burger King has been promoting a King Deals Breakfast Value Menu with French Toast Sticks; Sausage & Cheese Muffin Sandwich and Sausage Breakfast Burrito starting at just $1.
McDonald's has been wrestling the question of how to extend breakfast hours for many years. As exclusively reported on BurgerBusiness.com, in January 2013 McDonald's began testing a "McDonald's After Midnight" menu that offers a limited "best of" selection of both breakfast and lunch/dinner items between midnight and 4 a.m. That program has since essentially rolled out systemwide but the chain continues to look for new ways to please Egg McMuffin fans after 10:30 a.m.
Research from The NPD Group finds that early morning hours (5 a.m. to 8 a.m.) aren't the most important. It finds that 75 percent of QSR visits before 11 a.m. come in the 8 a.m. to 11 a.m. period.
All the interest in morning business, of course, stems from its being the only daypart showing growth. NPD data earlier this year found that consumers cut back on restaurant visits for lunch and dinner in 2013 while breakfast visits increased for the fourth consecutive year. Every chain wants a share of that increase.
Popular in the Community