If you get fired, you can have it your way at Burger King ― for free.
That's the premise of the fast food company's new, somewhat humiliating "Whopper Severance" package. Burger King will give away 2,500 free Whoppers until Sept. 1 and also offer the first 100 entrants a 30-minute session with online career website The Muse.
"We are always looking for ideas which showcase the fact that we flame-grill our Whopper sandwich," head of marketing Fernando Machado said in a statement to Delish. "This is an idea that basically showcases the love people have for the Whopper sandwich. We know getting fired sucks, but getting a free Whopper doesn't."
According to the terms of the deal, you must publicly announce you've been fired on LinkedIn and use #WhopperSeverance when telling your story. There's a pre-written statement available on the site that will automatically post to your LinkedIn account: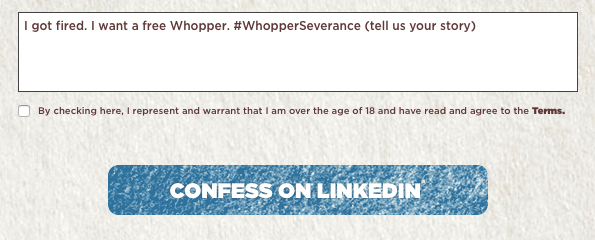 Once you check the box, it'll lead you to a screen like you see below, and ask you to share LinkedIn information: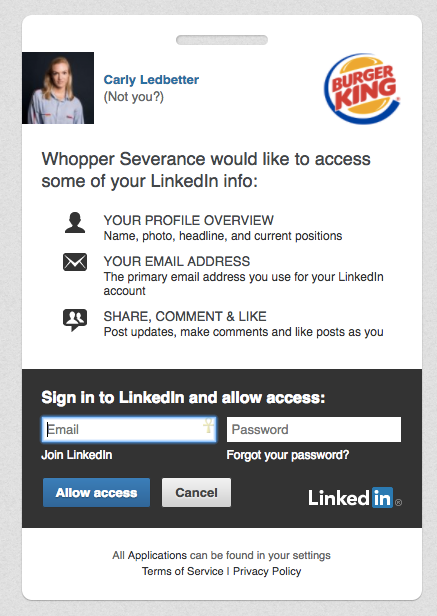 After clicking to allow the company access to some of your personal data, a screen reading "thanks for confessing" announces that you'll get a personalized link to your LinkedIn that will give you access to your Whopper Severance: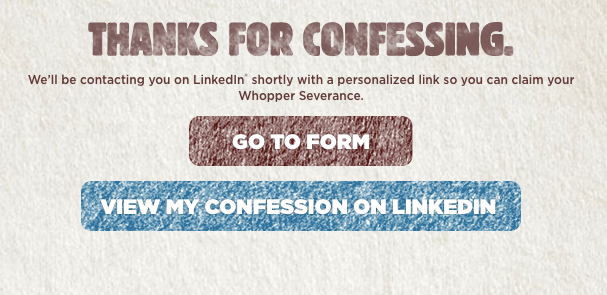 And your #WhopperSeverance message will appear on your LinkedIn like so (with your firing story attached, if you so desire):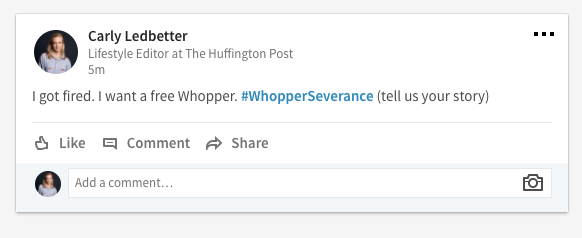 The last step takes you to yet another page, where you must give Burger King an address to claim your package and free sandwich certificate: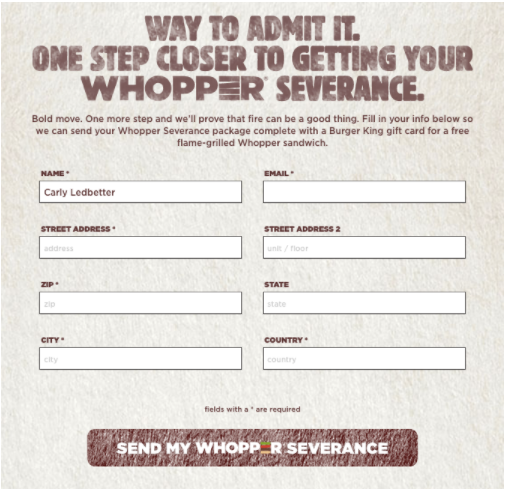 Then you'll get a letter that resembles something like this, with a voucher: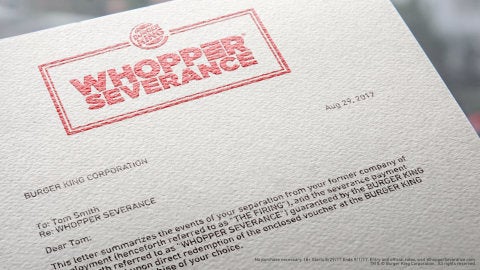 All in all, the process only takes about seven minutes to complete.
If you're looking to get a free sandwich, this doesn't seem like it's too hard to qualify. But it does seem like a rough way to announce you got fired to your LinkedIn connections.