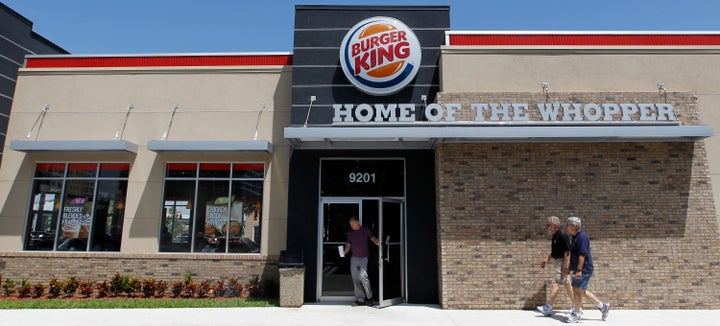 A former manager of several Burger King restaurants in Virginia has accused the fast-food company of firing him because he's HIV-positive, according to a lawsuit filed in federal court.
Christopher Peña, a 7-year Burger King veteran, says the company let him go last September, three months after he disclosed his HIV status to a supervisor. Peña and his lawyers claim the dismissal violates the Americans with Disabilities Act, the civil-rights law that prohibits discrimination based on disability and covers people who are HIV positive.
Burger King did not respond to requests seeking comment, and the company has not yet filed a response in court to Peña's complaint. Victor Viramontes, a lawyer for Pena who is senior counsel at the Mexican American Legal Defense and Educational Fund, said his group sees discrimination against Latinos who are HIV-positive as a serious problem in the workplace.
"When they're fired from their job, they frequently lose their healthcare with it," Viramontes said.
The 35-year-old Peña found out he was HIV-positive in April 2011 and wrestled with the decision over whether to tell his superiors, he said in an interview. He eventually told one manager in June 2011 because he felt they should know in case side effects from his medicine caused him to need time off work. He said he was hoping for support.
"It was a very personal decision that I thought about before I did it," Peña said of telling the supervisor, who isn't named in the suit. "I was looking more for guidance and support, and that's why I did it."
Peña was fired on Sept. 19 for allegedly poor work performance, according to the lawsuit. He claims he had never been disciplined before disclosing he was HIV-positive, but received a disciplinary action afterward, along with several critical emails after one of the nine restaurants he oversaw failed an audit and others had service problems. The company said he was being terminated for "a performance issue."
Peña said he knew other managers who had the same issues with the stores they oversaw, but he didn't see any receive the same disciplinary action. He said he worked directly for the company as opposed to any franchisees.
"After I disclosed, I was not the only person in my position who had these types of incidents occur in their restaurants, and I was the only one who was being treated this way," he said.
Peña began working for Burger King in 2004 as an assistant manager, then worked his way up to a position overseeing restaurants in Virginia Beach and Chesapeake, Va. Despite several job interviews since his firing, Pena said he is still unemployed.
The Americans with Disabilities Act was passed in 1990, defining disability as "a physical or mental impairment that substantially limits a major life activity." Because HIV meets that legal standard, it is illegal to discriminate against someone because he or she is HIV-positive. In fact, it's also illegal to discriminate against someone due to a rumor that he or she is HIV-positive. The law applies to all government employers as well as private businesses with 15 employees or more.
Burger King isn't the first employer that the Mexican American Legal Defense Fund has sued claiming discrimination due to HIV-positive status. The group sued Los Angeles restaurant The Ivy on March 29 over the firing of Reymundo Martinez, another Latino man who is HIV-positive. Latinos are disproportionately affected by HIV, particularly men, who are three times as likely to contract HIV than white men.
Viramontes said they took up Peña's case in part because of what he described as Peña's long history of good-standing with Burger King.
"The fact pattern is very troubling, particularly against a large corporate entity like Burger King," he said. "We wanted to step in and send a message to employers that this is inappropriate."
Popular in the Community