Burger King today is slashing the price for a 10-piece serving of its Chicken Nuggets to $1.49, dealing a double blow to McDonald's, where Chicken McNuggets carry Monopoly game pieces and where "core products" such as McNuggets have been a marketing focus.
The limited-time offer cuts the price for Burger King's Nuggets to nearly one-third the $4.29 price for 10 Chicken McNuggets. McDonald's Dollar Menu & More offers a 20-piece McNuggets for $5, but Burger King now offers that many for just under $3.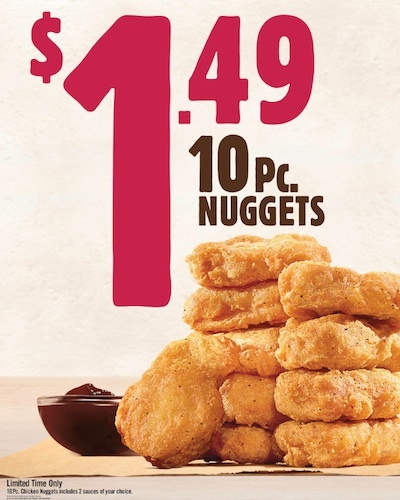 Packaging for the 10-piece Chicken McNuggets has two game pieces for McDonald's recently relaunched Monopoly promotion. The 20-piece McNuggets box has four game pieces. Burger King is betting that consumers will opt to save money rather than try to collect all four railroad pieces once again.
Burger King makes it clear this price cut is a competitive tactic as well as an effort to provide consumers with value. "With the growing consumer demand for chicken menu items, we wanted to offer our guests an aggressive deal rivaling anything our competition has ever done," Eric Hirschhorn, Chief Marketing Officer, North America, says in a release announcing the price reduction.
During the July 22 Q2 conference call with analysts, McDonald's President-CEO Don Thompson emphasized that the chain's rebound depends on traditional products such as McNuggets and Big Macs as well as new menu items. "We need to see baseline improvements in all core products as well as a boost over the baseline based upon the new products that we implement," Thompson said.
Burger King is having fun tormenting McDonald's Monopoly game. As reported here earlier, in Australia, where it operates as Hungry Jack's, Burger King advertised that it would honor Monopoly food-prize winners.
Chicken McNuggets have been an important, iconic menu item for McDonald's since their introduction nationally in 1983. The chain has fooled with them very little since, although this summer it tested Shakin' Flavor Chicken McNuggets. Like the Shakin' Flavor Fries it also has tried, the McNuggets test served them in a bag for shaking with Spicy Buffalo, Garlic Parmesan or Zesty Ranch flavorings.
Popular in the Community