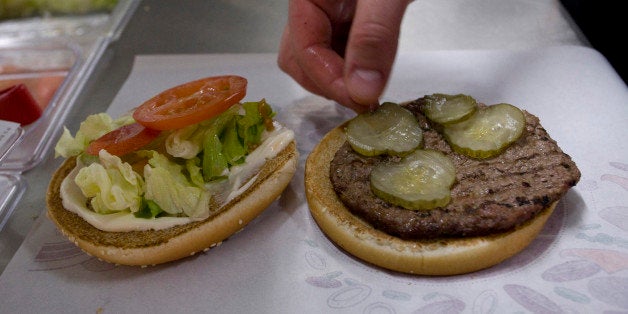 In colorful fashion, a judge with the National Labor Relations Board ruled Monday that a major Burger King franchisee in Michigan had committed various forms of union-busting in the face of worker strikes and organizing.
According to the decision, EYM King, which runs 22 Burger King restaurants in and around Detroit, broke labor law by threatening a worker for discussing protests while on the job; giving a disciplinary warning to a union sympathizer; and enforcing a "no solicitation" rule on its own employees.
Most absurdly, the company was found to have illegally sent a pro-union worker home one day for allegedly failing to "put pickles on her sandwiches in perfect squares as she was supposed to do," according to the decision by Arthur J. Amchan, an administrative law judge.
Union-backed fast-food strikes have rolled from city to city over the past two years, revealing a level of worker militancy that many corporations and franchisees would have previously thought unimaginable. EYM King, it appears, couldn't figure out how to address this new threat without stepping afoul of labor laws. The labor board's general counsel, which acts as a kind of prosecutor, filed a complaint against the company in May.
At its store on West 8 Mile Road in Ferndale, Michigan, the company employed two part-time workers, Claudette Wilson and Romell Frazier, who'd taken part in fast-food strikes in the past. Wilson and Frazier also worked part-time as paid organizers for D15, a worker group that's part of the Fast Food Forward network, which is funded by the Service Employees International Union.
"Frazier regularly talked about the Union and strikes at work," Amchan wrote.
One day last October, a manager told Frazier that "if he was talking about striking again, he'd soon be picking up his paycheck."
It's against the law to punish a worker for discussing wages, working conditions or unionization with other colleagues -- such talk is considered "protected concerted activity" under the law. Yet the company insisted to the judge that it was "plainly entitled" to forbid workers from discussing such matters during work.
"This assertion is simply incorrect," the judge wrote.
On another occasion last September, Wilson was punished by a manager for coming by the store while off-duty to talk with other workers outside. Wilson had asked a colleague who'd just finished her shift to fill out a questionnaire on wages. The manager told Wilson she was violating the store's "loitering and solicitation policy," then wrote her up for it.
Amchan ruled that the enforcement of this policy on employees violated the National Labor Relations Act. The workplace is a "particularly appropriate place" to distribute materials or discuss organizing rights, seeing as it's "the one place where employees clearly share common interests," he wrote. He added, "This is particularly true in the instant case where some of the workers are lower paid individuals who commute to work via bus."
He also reprimanded the company for its attempt to justify its no-solicitation policy by saying that the restaurant was located in a "high crime" area.
"To give credence to such an explanation would effectively deprive millions of the lowest-paid workers in the United States of the ability to assert their Section 7 rights. As I pointed out numerous times at trial, there is no material difference between security concerns in Detroit and those in every inner-city in this country," Amchan wrote.
It was the day after the solicitation incident that Wilson was reprimanded over her pickle placement. According to the decision, the manager sent Wilson home two hours early for it.
Wilson admits that she did not put pickles on her sandwiches in perfect squares as she was supposed to, due to her anger over the written warning she received. However, given Respondent's animus towards her protected activity, as evidence by the illegal warning given to her the same day, I find that the General Counsel has made a prima facie that her discipline (being sent home early) was related to Wilson engaging in protected activity in Respondent's parking lot the day prior. Thus, the burden of proof has shifted to Respondent that it would have sent Wilson home early even if she had not engaged in protected activity. Respondent has made no showing that it would have sent Wilson home in the absence of her protected activity. Therefore, I find that it violated the Act in so doing.
In conclusion, Amchan ordered that EYM King cease and desist from infringing on employees' rights to organize, and that it change its solicitation policy so that it complies with the law. He also ordered that the company pay Wilson for any wages she lost over the pickle incident, and that her write-up over the incident be rescinded.
EYM King couldn't be reached for comment. The company has the option to appeal the ruling to the full labor board in Washington.
In an email to The Huffington Post, a spokesperson for Burger King wrote that "Burger King Corporation does not make scheduling, wage or other employment-related decisions for the franchisees," adding that the franchisees "independently own and operate" 100 percent of all Burger King restaurants.
Big fast-food companies like Burger King are usually insulated from labor law violations through their franchising arrangements; instead, the charges tend to fall on franchisees like EYM King. This could change, however, as the NLRB's general counsel recently named McDonald's a "joint employer" alongside one of its franchisees. The fast-food industry is worried that the move could open it up to new liabilities.

Related
Popular in the Community