VISIT FLORIDA has embarked on an exploration of the state's authentic (and sometimes eccentric) beef patty purveyors for an occasional series called "Flipping for Florida Burgers." Whether you're hankering for a simple, blue-collar patty or a burger with a bit more flair, you'll find something to suit your taste.
Take a look at the first four installments in the series, and stay tuned for more char-grilled adventures!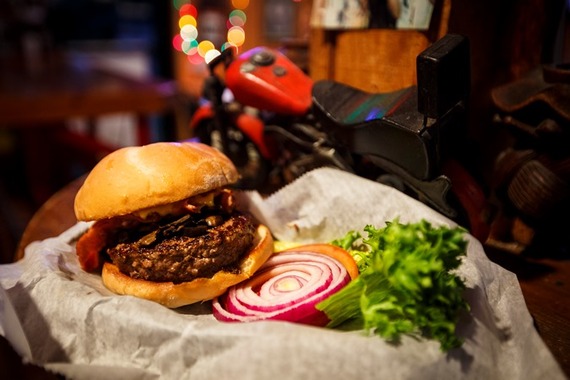 A Full Service Burger at Johnny's Fillin' Station features a beef patty topped with ham, mushrooms and choice of cheese, with lettuce, tomato and onion. Photo by Scott Audette for VISIT FLORIDA
Street signs, an old mailbox, deer heads, neon beer lights, happy family and nightlife photos, yellowed concert tickets, newspaper articles -- you name it, it's probably on the walls at Johnny's Fillin' Station in downtown Orlando. The ambiance is almost as big a draw for customers as the burgers.
Among the 11 burger offerings are the Fillin' Station Full Service Burger with ham, mushrooms and cheese on a toasted Kaiser roll, and the Texas Chili Burger with savory bean-less chili and cheddar atop Texas toast. The 81 percent lean ground beef patties are hand cut each morning.
Click on this link to read more about Johnny's Fillin' Station and its auxiliary components, Johnny's Other Side and Johnny's Beer Shack.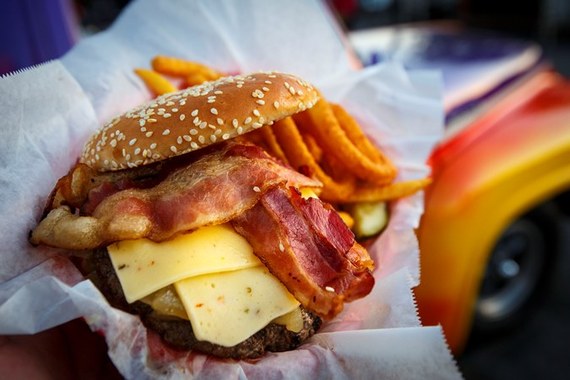 The Knife and Fork charbroiled gourmet burger basket features a half-pound of fresh hamburger and is available anyway you like at Biff Burger. This one is topped with pepper jack cheese, grilled onions and bacon. Photo by Scott Audette for VISIT FLORIDA
In its heyday in the '50s and '60s, the Biff Burger chain that originated in Clearwater had 168 stores throughout the southeast. Now the only remaining operating location is in St. Petersburg and still serves up timeless drive-in burger fare with a heaping helping of nostalgia.
Customers flock to the weekly Classic Car Cruise-In every Friday to ogle in the gleaming vintage vehicles and chow down on burgers made from 100-percent ground beef mixed with a signature blend of seasonings and served with the signature Biff Sauce. You'll find an eclectic crowd of Baby Boomers, 20-something hipsters, classic car enthusiasts and connoisseurs of char-grilled goodness grooving to the oldies piped out on the sound system.
Get the complete lowdown on Biff Burger when you click this link.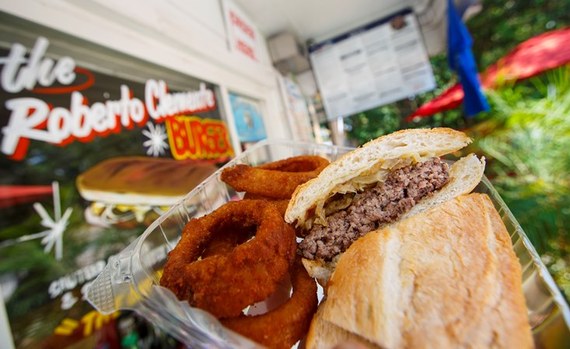 The menu at Danny's All American Diner & Dairy Bar includes the Roberto Clemente burger which features a Danny Burger served with sautéed onions and Swiss cheese on grilled Cuban bread. Photo by Scott Audette for VISIT FLORIDA
Danny's All American Diner in Tampa is more than just your average burger joint. For starters, many of the menu items have a baseball theme. Take the Roberto Clemente burger, a giant patty served with sautéed onions and Swiss cheese on toasted Cuban bread.
The heavy hitter at Danny's is the Triple D Triple Play -- a burger with Swiss cheese, American cheese, a quarter pound of pastrami, a quarter pound of mojo pork and onion rings on grilled sourdough bread, topped with jalapeños, mustard and tomatoes that was invented when Food Network star Guy Fieri brought his "Diners, Drive-Ins and Dives" TV show to Danny's in 2011.
Go a little off the beaten path to discover Danny's All American Diner by clicking this link.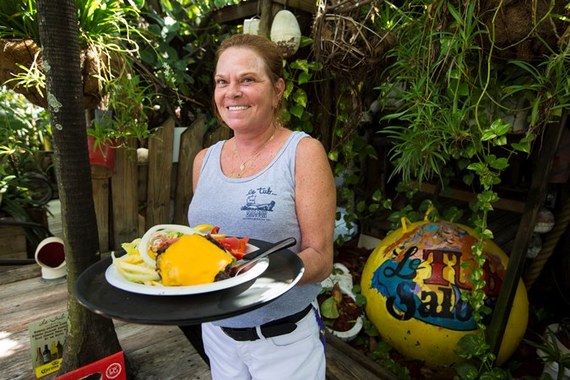 The huge burgers at Le Tub Saloon come with a free smile from co-owner Robin Sidle. Photo by Scott Audette for VISIT FLORIDA
By noon on a Saturday, most of the seat-yourself benches and tables in the outdoor seating area at Le Tub Saloon in Hollywood are taken, filled with young kids, boaters (who tie up dockside), retirees and bikini-clad college students. They're drawn by the casual vibe and funky ambiance as well as the big burgers - 13 ounces of freshly ground beef slow-cooked on the grill and topped with Swiss or American cheese, lettuce, tomato and onion.
That's it -- one style, one size, one big, beefy burger. But the menu also includes a killer seafood salad and house-made key lime pie.
Learn more about Le Tub Saloon by clicking on this link.