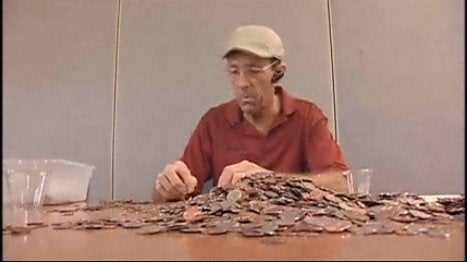 Turns out a few burglars who thought they cashed in, didn't really make bank at all.
An Oregon man is counting his lucky pennies after police recovered most of a rare coin collection that was stolen and deposited into a supermarket money counting machine on Christmas Day, KOIN-6 reports.
Dan Johnson Sr., of Corbett, says that the 100-year-old collection and approximately 60 pounds worth of silver and jewelery-- which police believe were lifted by three men including Johnson's son -- is worth several thousand dollars.
The alleged thieves, however, deposited the money in a Coinstar counting machine, retrieving a mere $450, according to KGW.
"The obvious answer that the crooks were idiots, just simply an idiot," Dan Johnson, Sr., 54, told KPTV, referring to a trio that includes his own offspring. "To not know the value of what they had taken, just to get pocket change for it. Just really a stupid person. Makes me feel good he was a stupid person and didn't realize what he had."
Police managed to track down much of the collection, and Johnson Sr. spent Thursday sifting through coins to locate his prized pennies, nickels, and dimes.
"It was an inheritance, which made it even worse because I lost an inheritance that was meant to go forward for my children and grandchildren," he said, according to KPTV.
While two of the suspects were detained, authorities say that the whereabouts of supposed ringleader Dan Johnson Jr. are still unknown.
Calling all HuffPost superfans!
Sign up for membership to become a founding member and help shape HuffPost's next chapter