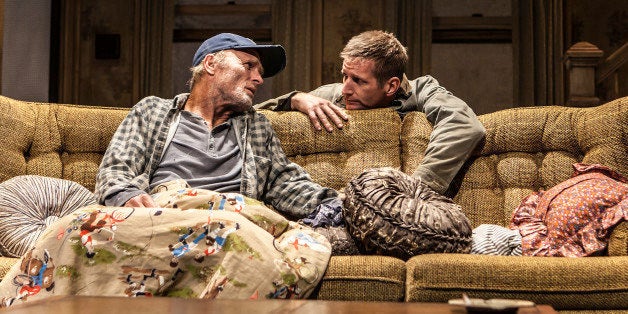 Every family has its secrets, some darker than others, but they don't get much blacker or more ominous than the one in Sam Shepard's Buried Child, now in a riveting revival by The New Group at the Signature Theatre. The skeleton in the train wreck of Dodge and Halie's marriage is not in a closet but somewhere out in the Illinois cornfields they once planted.

With Ed Harris delivering a powerful performance as Dodge, Amy Madigan countering with a first-rate reading of Halie, and Paul Sparks giving a superb portrayal of their grown troubled son Tilden, this is vintage Shepard in the hands of masters.
Buried Child is at once hilarious and haunting, a snapshot album of the absurdities and atrocities that a family is capable of inflicting on one another and a sobering reminder that one cannot escape one's roots. First presented at the Magic Theatre in San Francisco in 1978, it moved to Off-Broadway a few months later, and won the Pulitzer Prize the following year, establishing Shepard as a major American voice.
It is also a play that Shepard has worked on over the decades. He did some rewriting for a searing 1996 Steppenwolf staging that landed on Broadway - Shepard's first on the Great White Way - with a cast that starred James Gammon, Lois Smith, and Terry Kinney.
He has also done some tinkering for The New Group, and with its cast of no less accomplished Shepard veterans it is a Buried Child that captures the symbolism and rich poetic imagery that makes Shepard so unique. Originally written in three acts, this production is played without intermission under Scott Elliott's snappy and smart direction.
At the outset, Dodge is seated on a sofa that has seen better days, wrapped in a quilt that needs washing, sneaking swigs from a bottle of whisky hidden under the cushions, and watching a baseball game on TV. He alternately mumbles and shouts a conversation with his wife Halie, who is upstairs dressing to go out. They snipe at each other, but at the start it's just the usual quarrelsome banter that passes for conversation in any normal dysfunctional family. It is raining outside.
But when their eldest son Tilden enters, covered in mud and bearing a dozen or more ears of corn he insists he picked from a field that has lain fallow for decades, it becomes clear that there is little here that would qualify as normal.
As Tilden shucks the corn, tossing the husks and silks into the middle of the floor, we learn that he has returned to the farmstead from New Mexico where he got into unspecified trouble, that his younger brother Bradley lost a leg to a chainsaw and has a penchant for cutting Dodge's hair, and that a third son, Ansel, was killed in a motel on his wedding night.
When Halie finally descends the stairs, she is dressed in black mourning, on her way to meet a priest with whom she takes solace, hoping to persuade him to erect a statue, or at least a plaque, to the memory of Ansel, whom she idolizes.
But it is only with the arrival of Vince, Tilden's son, who has been traveling with his girlfriend Shelly to New Mexico to see his father, that the real secrets began to trickle out. On a whim, Vince decided to stop in Illinois to visit his grandparents, whom he hasn't seen in six years.
When they first appear, Vince and Shelly are bouncy and fresh and full of enthusiasm. It is annoying to Vince that at first no one in the family recognizes him, but that will change when he returns home a day late from a trip to the liquor store and starts hurling and smashing beer bottles on the front porch. The heir to this disaster of a family has come home.
Harris is quite simply at the top of his game as Dodge. He has that special Shepard delivery down to a beat (even his hacking cough seems timed to the cadences of the play), mining both the humor and the horror of one of Shepard's most familiar father figures.

Madigan is no less spirited as Halie, at once domineering and vulnerable, lost in her fantasies yet aware of the terror that is buried in the backyard. And Sparks delivers an indelible portrait of Tilden, a child-man lost in a world from which there is no reprieve. He is also a top-notch corn shucker.
Nat Wolff gives a fine performance as Vince, making a credible transition from a wholesome American kid visiting grandpa and grandma on the farm to a raging scion of a disturbed family. Taissa Farmiga is convincing as the incredulous Shelly, especially when she gets her revenge on Bradley by stealing his artificial leg. Rich Sommer is solidly menacing as Bradley, whether cutting hair or examining Shelly's molars, and Larry Pine rounds out the fine cast as Father Dewis.
REAL LIFE. REAL NEWS. REAL VOICES.
Help us tell more of the stories that matter from voices that too often remain unheard.