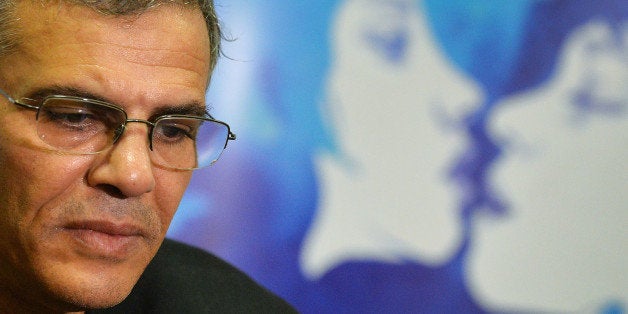 Abdellatif Kechiche's Palmes d'or winning film, Blue is the Warmest Color, has widely been touted for its unabashed erotica and its natural and earnest portrayal of a lesbian love affair. At first glance, it seems the taboo-breaking work of a cinema provocateur. Yet, its French title, The Life of Adèle: Parts One and Two, suggests an entirely different tradition. Kechiche has named his opus after The Life of Marianne, a 17th century novel by Marivaux that the students in Adèle's high-school class read out loud in the first scene of the film.
Like Blue is the Warmest Color, The Life of Marianne tells the story of a young girl from humble beginnings who, through the ministrations of an attentive lover, is inculcated into the proper codes of bourgeois conduct. Adèle, the protagonist of Kechiche's film, is low-brow to a tee. Her loose mores, her constant tugging-up of her pants, her habit of stuffing her mouth with pasta and burgers, even her solid practical parents, speak to her working-class origins in the industrial town of Lille. She is totally unprepared for the coup de foudre that strikes her when she first sees the blue-haired Emma, an upscale college student from the nearby school of fine arts.
Or is she? The selection from The Life of Marianne that Adèle's adolescent classmates awkwardly intone, describes Marianne's own experience of love at first sight. Adèle's English teacher exhorts his students to invest in their reading; to imagine themselves as Marianne. Adèle takes these instructions to heart. She gives her first boyfriend, Thomas, a copy of the novel. But she still feels that something is missing. She roams the streets looking for love.
Like Madame Bovary, Blue is the Warmest Color explores how literary codes are adopted by a novel's readers. Yet, Adèle is no Marianne; no orphan raised by a local Parson, whose greatest goal in life is self-advancement. Moreover, this is hardly 17th century France. Adèle's classmates are second-generation Arab and African students. They have better concerns than polishing off their courtly affect.
Kechiche has made several other films, most notably Games of Love and Chance and The Secret of the Grain, each of which won two Césars (France's National Film Award) for best film and best director. Both of these prior films focus on the milieu of marginalized immigrants of Arab and African origin in modern-day France. They explore themes of social and cultural exclusion, and articulate their political commentary through documentary style filmmaking and a nuanced and ethical vision of lower-class life that challenges conventional stereotypes.
Blue is the Warmest Color is no different; at least, at first. Framed by black and Arab faces, Adèle marches in a protest to demand better funding for education. The music, On lâche rien ("We will never give up!"), by the Algerian-born Kaddour Haddadi, is the official song of the French Communist Party. Yet, soon after she begins her relationship with Emma, we see Adèle protesting again, hip-to-hip with her new lover, at a gay pride parade. On lâche rien has been switched out for the club hit, I Follow Rivers, by the Swedish pop star Lykke Li. All around Adèle swim white, bourgeois, homosexual couples. What was once political is now just a party.
As a coming-of-age story, The Life of Adèle must have its growing pains. The conspicuous trauma of the film is Adèle's rejection by her peer group after first being seen with Emma. But the secret, subterranean trauma of the film is how the embryonic class and racial consciousness of Adèle's classmates is relentlessly reoriented towards an amorous agenda. The schoolteachers foist these romantic narratives on their students through literary selections like The Princess of Clèves and The Life of Marianne. The film does so as well. The color blue, Emma's color, hovers everywhere like a promise and a curse.
From blue hair, to blue fingernails, blue jewelry, blue bed-sheets, blue illustrations, blue jeans, blue jackets, blue benches, and blue books, blue is certainly the film's warmest color. However, blue is but one of many colors. Other colors, like black and brown, are effaced by its overpowering presence. White bodies writhe on a blue bed, but, in a particularly heavy-handed metaphor, black bodies are literally buried in the sand.
Over the summer, Adèle brings some of her preschoolers to the beach. She is a teacher now, and she surveys her class. Six of them pack another child deep in the sand. Adèle cautions them to be careful, to watch out for the girl's eyes. What she fails to notice is that all the students are white, save for the black girl slowly disappearing beneath the beach.
Adèle is practical, straightforward. She understands nothing about "representational" politics. She forces her boyfriend Thomas to read the very heteronormative novel, The Life of Marianne, that will later underwrite her social exclusion. She never even considers the cultural appropriations that underlie the drum circle and African dances she organizes for her pre-school students.
Emma, by contrast, is master of representation. A painter and art student, her look is suavely curated to express her lesbian identity and supposed engagement. Yet, for all her talk about Sartre, she is not political in any real sense. She expediently drops her blue hair towards the end of the film when it aids her career. Moreover, her belligerent insistence on lesbian "politics" makes her blind to the exploitative nature of her relationship with the much younger and lower-class Adèle. She complains that Adèle is not an artist, but she never forms her as one. After taking all she can from her, part "muse" and part domestic, after letting her cook and clean for the entire film, Emma kicks her out.
Adèle's secret counterpart in the film is the Tunisian-born Samir. While the artists pompously discuss the stylistic differences between Egon Schiele and Gustav Klimt, they chow down on Adèle's pasta Bolognese, the very symbol of her working-class origins. (It is her father's specialty.) Adèle waits on everyone. The artists never lift a finger. That is, until the similarly blue-collar Samir intercedes. He tells Adèle to take a break and serves the pasta himself.
Samir, like Adèle, is utterly guileless when it comes to representative politics. Later the same night, the two of them sit in intimate chiaroscuro lighting. He recounts how, as an Arabic speaker, he was offered a job as a "terrorist" in a big, Hollywood action flick. He ingenuously laughs when he tells her how "cool" the Americans found it when he shouted Allah-u Akbar ("Allah is Great") and shot off his fake gun. Though it seems like something is brewing between the two of them, nothing happens. For almost the rest of the film, Samir is nowhere to be seen.
At the very end of the film, Adèle encounters him again at Emma's biggest art opening to date. Adèle is all alone. Emma has a new lover and a family. However, on every wall, hang images of Adèle in bluish buff. The gallery owner compliments her. She will never work again as a model, she tells him. Then she sees Samir. She asks him if he is still an actor. No, he says. Something about the movie business has troubled his conscience. He, like her, realizes that his likeness has been used for improper ends. Suddenly, he is pulled aside.
Kechiche's overlooked, hardly-discussed ending, offers the film's most surprising twist. The camera, which has luxuriated on Adèle for nearly three hours, gives its final shot to Samir. As an action-movie actor, who has ingenuously played the role of Arab terrorists in blockbuster American films, he seems an odd choice to conclude a story of lesbian awakening and selfhood. To add to the twist, the last image is a heroic one. The hetero-normative action hero runs after the crying Adèle, promising her rescue. It is an ending that dismantles everything that came before it.
Read backwards, Blue is the Warmest Color holds more than its bluish surface would suggest. In a finishing flourish, Kechiche reunites his two working-class characters. For the length of the film their images have been exploited to further the careers of an entitled elite. At the same time, their class-consciousness has been suppressed. Now, though, their eyes are open. If parts one and two of Adèle's life recount her romantic coming-of-age, by having the film end with Samir, Kechiche suggests that her political awakening may be next.
Calling all HuffPost superfans!
Sign up for membership to become a founding member and help shape HuffPost's next chapter