We feel woefully inadequate as we hand the keys to our rented Ford hatchback to the valet in front of the Burj Al Arab, the most luxurious hotel in the world. Around us is a flurry of activity as guests and valets drop off and hand back extravagant vehicles -- mostly blinged out SUVs that dwarf our modest little car.
No matter. We shrug off our inadequacies and enter the hotel confidently even though we are not guests at the hotel. We've only come to indulge in an afternoon tea at the Skyview Bar.
Massive pillars and gold leaf bombard us as we make our way through the lobby and up to where our tea and goodies await. The hotel interior screams decadence and we cannot help taking pictures at every turn. I discreetly eye my surroundings and take extreme care not to include any people in my photos, for signs everywhere tell me that the privacy of the well-to-do guests is of the utmost importance. I wonder if any big names in entertainment are in the building.
We go up in the elevator, step out on floor 27 and are directed by the kind staff to our table in the Skyview Bar. Having arrived just before the 1 p.m. sitting for tea, the bar is nearly empty and the atmosphere is relaxed, yet elegant. Soon, smartly dressed people appear and are lead to other tables around the half moon-shaped bar, itself a sea of greens and blues which have a strangely calming effect.
The tea itself is quite the affair, with seven delectable courses that leave one satiated. We begin with champagne and a cup of tea chosen from an extensive list that spans a few pages of the menu. I opt for an Earl Grey, longing rather to eat and not drink, barely managing to quell my hunger and excitement. I came hungry on purpose, acutely aware of the variety and abundance of food to come my way. And what a joy it is when it arrives. Included in the feast are assorted berries with fresh cream, small sandwiches with fillings ranging from tuna to egg salad, scones with clotted cream, and patisseries. I eat everything and have to refuse the final course, which consist of squares of rich chocolate.
I am way too full to accept the extra sandwiches proffered by the neatly dressed waitstaff.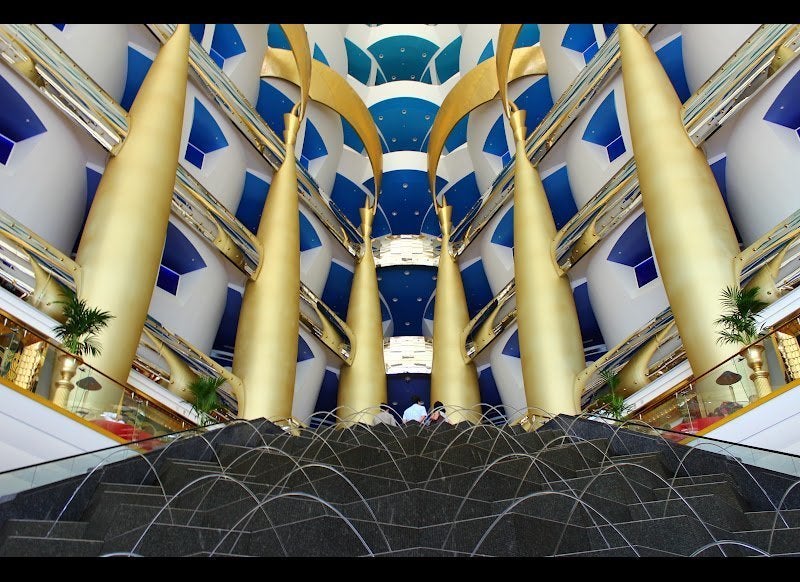 Gallery
Popular in the Community