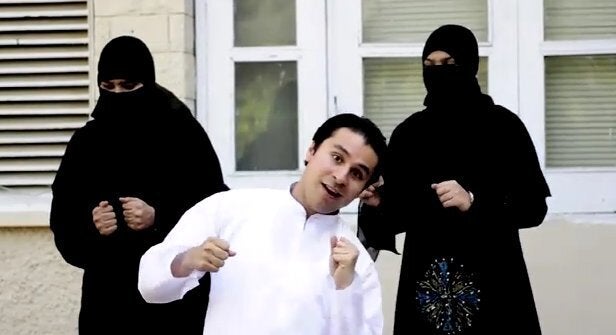 A Pakistani comedian's music video send-up of the pop classic "Oh, Pretty Woman" is being slammed in the blogosphere as a mockery of Muslim values.
As the Telegraph reports, Saad Haroon's "Burka Woman" re-works Roy Orbison's signature 1964 tune as a serenade to an Islamic woman hidden beneath a black niqab with only her eyes visible, referring to her as both a "sexy ninja" and a "mystery prize."
In between scenes of the comedian in a white suit performing the tune with a live band, Haroon dances with a pair of burka-wearing women in and around a children's playground. "Burka woman, I love you still...c'mon and give me a thrill, show me your left nostril," the comedian sings, while suggesting he will go home and "practice with his living room curtain."
The clip has divided its YouTube audience since it was uploaded. "There is a right way and a wrong way to do things," wrote one viewer. "Obviously, making it a joke for the world to see is not a very productive method, that will only create further divisions and friction within Pakistan. Think long term!" Still, others reportedly are rallying in the comedian's favor. "This was so funny, I had tears running down my face," another person wrote. "Your belief system should not crumble just because someone sees humor in their own beliefs. Thanks for this brilliant bit of social satire!"
For his part, Haroon has shrugged off most of the criticism. "Everyone has a right to say what they want," he told the Telegraph. "The crazies always shout loudest, but I've also had positive comments from women in burkas who have come up to me after shows, saying how funny they found it."
Watch "Burka Woman" here:
Popular in the Community